Explore award winning Taxi Booking App for your business
Have you ever thought of digital transformation to run your company more reliably and effectively? Taxi booking app developed by our specialist developer will help you automate everything from taxi bookings and payments to the total number of drivers and taxis, and produce data. Isn't it going to take too much weight off of you?
Riders Application
Our software developers have designed native apps with all the key features and an elegant UI.
Explore
Drivers App
Your driver partners will obtain and accept travel requests from users in a credible way.
Explore
Control Dashboard
We enable you to access and track all facets of operations from a single control panel.
Explore
Central management platform for taxi company operators
Get a free quote with an instant
15% discount*
Our taxi management software development allows your customers to access the list of licensed cabs that are nearby. You can see the cost of each type of cab service. Your consumers can even access the road map of their destination. Besides, our program is built separately for your clients, taxi drivers, and administrators.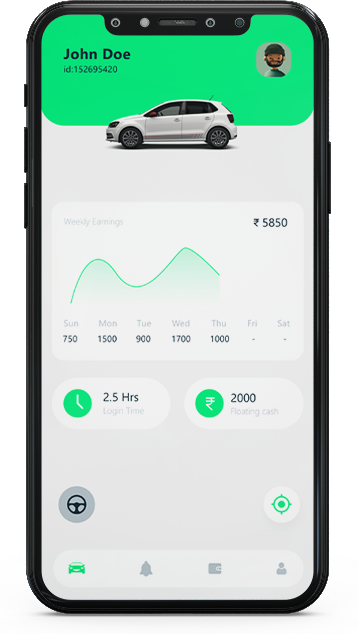 Key features of Cabture Passenger Application
Registration
Easy Booking
Streamlined Payments
Push Notification
Ride History
Review & Rating
Overview of the
Taxi Booking Applications
Riders Application
Book a Trip For Others
Make it easier for passengers we provide you an option to not only book rides for yourselves but a platform to book ride for others by entering their name and contact number.
Add Multiple Destinations
Cabture, Taxi Management software brings you a platform where you can book multiple destinations for your ride, not only that you can add destinations in between a trip also in an easier manner.
Schedule Your Rides
We provide you with the possibility of scheduling a trip for a future date, i.e. you can pre-book a trip for a future date and a future time by entering the details.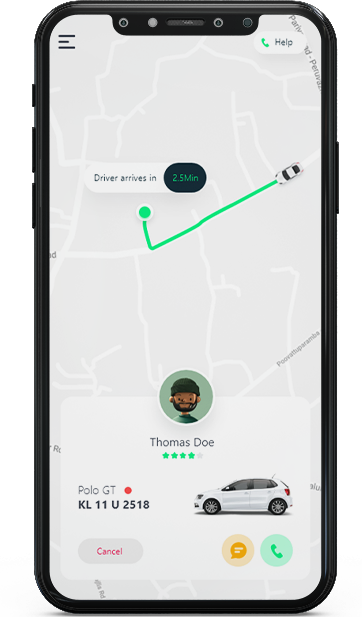 Fare Calculator
If you integrate this function, the estimated cost of the journey will be displayed as soon as the passenger chooses the vehicle type and reaches their destination.
Live Tracking
Our taxi management software allows your customers to monitor their location throughout their journey Your customer can also watch your passenger's position live on Google Maps.
Hassle-Free Payment Options
Many options are given to your consumers to make the payment of their ride. Your customers can choose Net Banking, Card Payment, Wallet Payment or Cash.
Drivers Application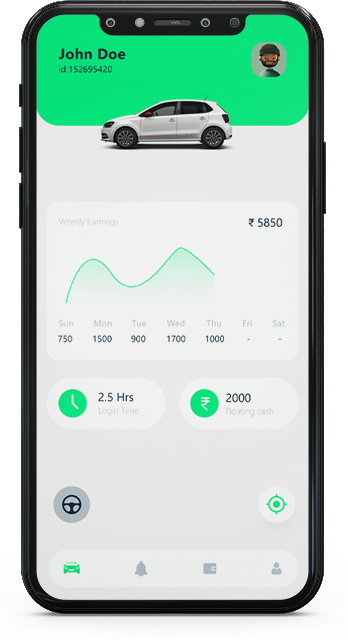 Display Map & GPS Monitoring
Using the GPS and looking at the screen, the driver will decide the position of the customer and even get directions from the most optimal route. This functionality will be built into the rider app to help them keep track of it.
Ratings & Reviews
Riders have the option to leave feedback, recommendations and ratings to the drivers after the ride is over. Drivers can see the reviews they have received from the passenger and realize what they miss.
Real-Time Requests
It is critical that the app sends immediate and real-time requests to drivers in the vicinity. If the drivers have a trouble accepting the order, it affects their earnings and your company.
Driver Dashboard
The driver would be able to search different information on the dashboard, such as past trips, future trips, cumulative profits, number of hours he was on-line, and other such data.
Trip Details
Drivers are provided with user travel information and built-in navigation to ensure a smooth pick-up and drop create customer loyalty and help them save time as navigation provides them with the shortest route.
User Information
Drivers are provided with user travel information and built-in navigation to ensure a smooth pick-up and drop, create customer loyalty and help them save time as navigation provides them with the shortest route.
One Point Analytics Rich Control Dashboard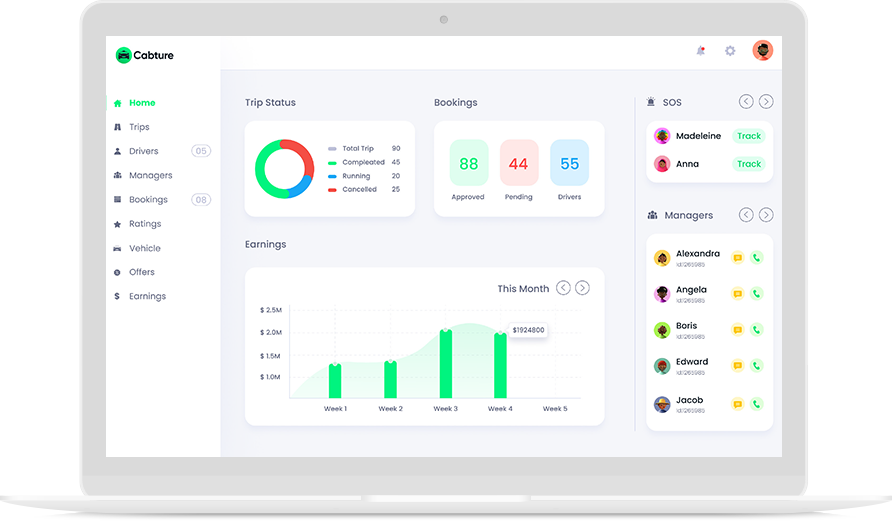 Admin Dashboard
An comprehensive admin dashboard will allow you to set up fares, commission, review active and complete drivers, check each driver's background and data, check earnings for that day or the past, produce reports and invoices, and do a lot more! It allows you to run your company smoothly.
Tariff Operations
You can use this specific function to measure the fare by entering the standard fare, fare according to the distance, fare per minute, fare for waiting, toll cost, price rise and other such rates. This will automate invoice production based on a number of variables, making it easier for you.
Reports & Analytics
You can generate all kinds of reports from the admin panel, such as a month or day attrition or a certain span of time, the number of drivers and their details, the total number of vehicles, the sum to be charged to the drivers, the details of the trips and the passengers etc.
Trip Tracking
We allow the admin to monitor the location of each ride. The admin can also monitor any trip location live on Google Maps. In addition, the admin can see the precise path of the trip on Google Maps.
Dispute Panel
What's a great way to discover the pros and cons of your application than to read feedback of people who have used the app? As an admin, you can review all reviews and ratings that users send to the app and even address the complaints of each user.
Registration Management
Admin will add drivers, upgrade addresses, activate/deactivate their services. Admin can access and distribute messages to all approved customers. Admin may also incorporate vehicle types and vehicle detail.
What People Say

Lilac gave me the best chance to push my taxi booking service to the next stage without apprehension by presenting me with CABTURE. Working with the Lilac team gives me several clearances on client specifications for new conditions. Not only is the project done on budget, but it is also a qualified project.
Shafeeque

The Lilac Taxi Management software solution they call 'CABTURE' has been easy to understand and much easier to execute an app that specifically fits our needs. Nothing more, nothing less! I'd say this left us with happy clients.
Muhammed Jaseem
Our Process of Taxi Booking
App Development
Requirements Gathering
The first step is to consider your taxi business, its basic specifications and its processes. Our sales representatives will contact you to clarify all your criteria and the details you need to address the types of taxi solutions you need for your company.
Strategy Planning
When you've got an idea, you need to prepare for the future of your app. One of the easiest ways to start is to define the competition. Practice as much as you can free of charge. Errors are time consuming, irritating, and costly. You also have to test a few ways before you get it right.
UI/UX Design
There's a lot going on to decide the app's UI/UX. You ought to know who you are and who your clients are going to be. Will the app be used at night or day? Which theme would fit better, so as not to blind the users? Try to keep the clumsiness to a minimum and get the key point across.
App Development
At Lilac, we're aiming for native applications, which mean that you've actually got a custom version for every operating system. This style of development encourages faster efficiency to be achieved, increases security and helps ensure improved service for customers.
Quality Assurance
It's normal to test any aspect of the product manually and automatically when making your own app. The type of Quality Assurance method used depends on the project, but no matter which method is used, we make sure that the finished product delivered is of the highest quality.
Deployment
Finally, we're delivering the app and it's released for users to download. Optimization of the App Store is particularly beneficial. It allows consumers to find your product in an infinite array of alternatives. The high quality of promotional materials would also make your app appealing.
Planning to start taxi app?
Planning to start your own taxi business or already have one that you want to grow? Let's connect and discuss how taxi booking app development grows your business worldwide.
Need Assistance ? Call +91 83601 39952
What's Next?
One of our Account Managers will contact you shortly.
Why Choose Lilac Infotech as Online Taxi Booking App Development Company?
Expertise in Developing Taxi Booking Apps
Single Point of Contact
Flexible Hiring Models
24/7 Total Technical Support
Frequently Asked Questions (FAQ)
What is Lilac Cabture?
Cabture is an online taxi booking solution.
Is a taxi business profitable?
The taxi business is a capital-intensive enterprise that can deliver returns on investment easily, based on how well it is managed.
How does Lilac's Cabture differ from another taxi management software?
Cabture comes with all the latest features including adding multiple destinations, booking a ride for others, scheduling the rides, etc.
How much time do I need to get started with your application?
The time needed for the development of Cabture depends on the requirements the client comes up with. Since Cabture is a customizable application, we can include all the features the clients are looking for.
What will be included in Lilac Cabture?
Lilac Cabture comes with an user app as well as a driver app.
How will your taxi booking app solution benefit my taxi business?
Looking for a cab has been a simple job thanks to the advent of a taxi booking app. Customers are using a taxi booking application to find the closest taxi and book it in a few taps. Apart from a fantastic booking experience, riders can communicate easily with drivers. With the rise in the number of smartphones, the travel sector would foresee a much greater change in the usage of a mobile app.
See all FAQs
Learn more about Taxi App Development
We hope to update our users with all the latest technology. Stay with us to know the latest tech trends in the taxi development industry.
Let's Work Together
We love working with new people and companies. Please take a moment to tell us about your project.
Your messages will be responded to within ONE BUSINESS DAY.
Call Enquiry Assistance
We are always available on call to assist you with any questions you may have.
Project Consultation
We provide you with all technical consultations for your project.
Project Estimation
You come to us with your project, and we do all of the planning and costing for you.
Schedule Your Appointment
We assist you in scheduling appointments whenever you wish to meet us.
Our Locations
The Lilac Infotech has been universal in its way to deal with business from its beginning.
Collaborate with us today for a noteworthy service experiences.