Seamless Food Delivery Software: Delighting Customers and Vendors.
Discover the future of food delivery with our seamless and intuitive restaurant management system. With Lilac Foodmine, you can streamline your operations, enhance customer satisfaction, and empower your vendors to thrive in the digital age. Our robust features and user-friendly design make managing your delivery business a breeze, allowing you to focus on what you do best – delivering great food and service. Join us and experience the ultimate restaurant management system that takes your business to new heights.
Get your customized solutions from the industry experts
Get a free quote with an instant
15% discount*
Transform and streamline your entire delivery operations with our robust instant restaurant management system. Our powerful application ensures your customers enjoy an exceptional experience, from efficiently planning the driver's route to delivering mouthwatering cuisine – we provide features that seamlessly connect it all!
Elevate your entire restaurant management system with our robust instant food delivery application. It not only empowers your customers to enjoy a seamless experience, from optimizing the driver's route to delivering delectable cuisine but also integrates all the essential features to connect every aspect. With Foodmine's restaurant management system, you can efficiently expand your business and reach new customers, thanks to our comprehensive logistics team that ensures your operations are well-covered. Experience the future of restaurant management and food delivery with Foodmine!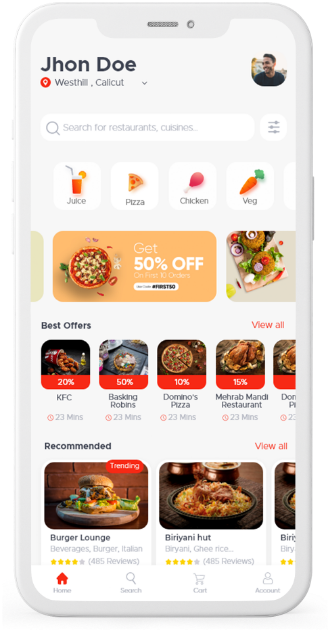 Essential features of Foodmine Delivery Solution
Quick Order
Completely Customizable
Push Notification
Simple Restaurant Search
Digital Menu
Review & Rating
Required apps and web solution from Foodmine
Customers Application
Easy Login
Simple login interface makes logging into your application simpler by either entering your basic information or opting to log in to social media.
User Friendly Interface
Using the convenient interface, you can scroll through the complete menu, filtered by dish, restaurant name or a category.
Location Based Search
You can search for the restaurants in your locality based on the location-based search.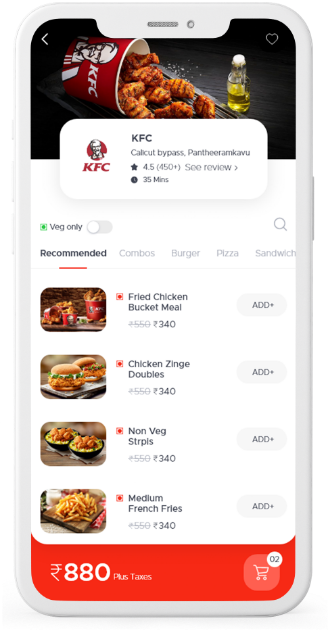 Real-Time Delivery Tracking
Once a food is ordered you don't have to simply wait for it, you can keep a track of the delivery with the real-time tracking provided.
In-Built Chat & Call
Calling up the delivery boy for any reason is a simple task with the in-built chat and call facility.
Ratings & Reviews
Once the food is delivered and you are done with eating, you are provided with options to rate the food and services, which will help improve the quality of the entire process.
Delivery Application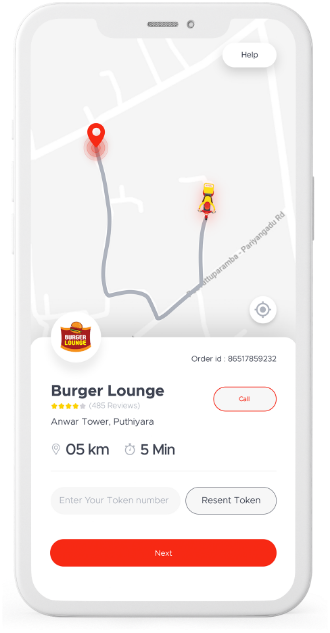 Signup & Login
Enable your drivers to register in the app via Phone number or social media networks of Gmail and Facebook which will make it easy for drivers to log into the app by entering personal data.
New Order Notifications
Drivers to receive push notifications on new orders and when the food procurement request is closed, a sound note can be sent for the order.
Manage Multiple Deliveries
Drivers can also manage multiple food deliveries at the same time and fulfill all orders near other delivery points.
GPS Map Assimilation
In the end, the delivery boy has to pick the fastest and easiest way to hit the spot in a last-minute delivery and delivery on schedule. It also helps him get to the right location.
Ratings & Reviews
The driver is rated for his order delivery from the restaurant as well as the user. This helps him improve his performance for further deliveries.
Driver Profile
Preserve a full profile that contains a photo, name, e-mail address, phone number, and other valuable details about your drivers. Drivers will maintain updated profiles.
Restaurants Application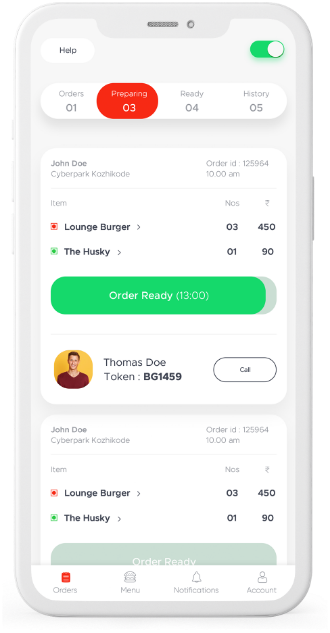 Dashboard
The restaurant owner establishes a restaurant account and they are routed to the dashboard's homepage. They will keep track of outstanding requests, finished and deliverable orders to help explain and sum up what is happening.
Order Management
This is the key part of the creation of for on-demand food distribution app, since it is necessary to produce food on time. If you take a longer time than expected, you can cancel the order and view the error as a failure that can leave a bad impact.
Individual Account Management
Any restaurant owner can add photos, name, logo, food images, operating hours, minimum order volume and add all available menus along with the price and estimated delivery period to the restaurant owner's account.
Payment
The customer must send money to banks and other platform or Wallet app at their convenience in the payment segment. The display of daily revenue reports can also be applied to the background.
Order Summary
The restaurant can view all the orders together in dashboard, be it the daily, weekly, or monthly order history, everything can be tracked.
Digital Menu
The menu can be easily updated since it is digitally done in simple steps; this helps the restaurant to update any changes in the menu easily.
Single tap control dashboard of Foodmine
Delivery Solution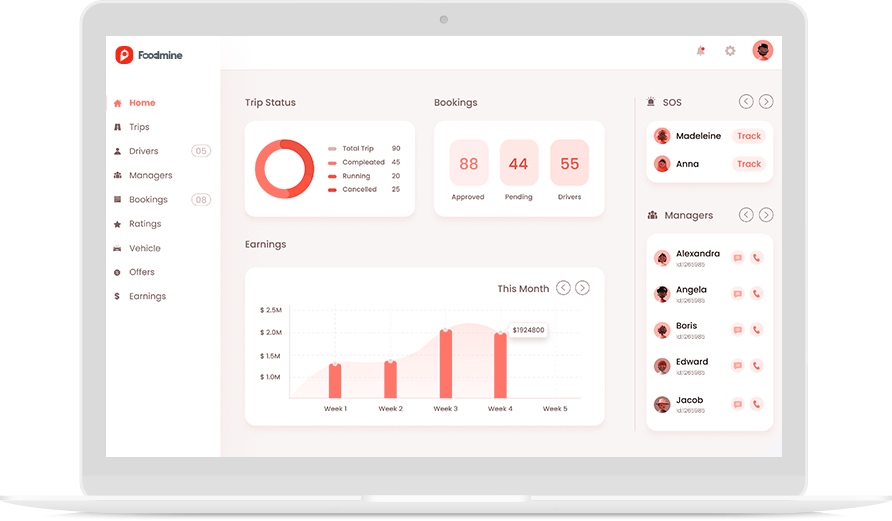 Analytics & Reports
The admin of the instant delivery application has the authority to generate all the reports at a regular interval to monitor performances which helps him to track the status of the users, delivery boys as well as the restaurants.
Backup Database
The Restaurant management system saves the customer data which, the admin has access to, and this data can be used by the admin for the future to know the customer's taste and send offers accordingly.
Create & Manage Offers & Promo Codes
Offers and promo codes play an important role in the restaurant management system. The more the offers are brought in, the more the customers will be attracted. The admin has an option to generate and manage these offers.
Feedback Management
Once the food is delivered, the user is provided an option to rate the restaurant as well as the delivery partners. This feedback helps the admin to analyze the performance and to also keep up with the standards.
Send & Manage Alerts
The email and alerts helps the admin to stay connected with the users. The new offers and alerts are sent to the users which helps them to stay connected to the application.
Location Management
The admin manages the location which plays a major part in the delivery process. The location is divided into territories and all the reports are managed by admin territory wise.
What People Say

Lilac has a highly ambitious and competent squad. During the discussions for FOODMINE, they made it simple and discussed our needs carefully. You delivered the application in a short time and added a great experience! You brought us an awesome app.
Shafeeque

Lilac is one of the best mobile application development companies, when we wanted an app to promote our food delivery business we were offered the perfect solution for our food supply enterprise called FOODMINE. Throughout the planning process, the development team remained in contact with us and ensuring that they meet all our needs.
Muhammed Jaseem
Our Process of Food Delivery
App Development
Acquiring Information
The first step is to understand the basic criteria and processes of your restaurant business. Both, the requirements and the information you need to discuss the strategies required to develop your food delivery business are explained by our sales representatives.
Strategy Planning
If you have an idea, you must plan your application for the future. Defining the market is one of the best ways to start. Do as much free practice as you can. Errors take time, are annoying, and are expensive. There are even a few opportunities to verify it before you get it right.
UI/UX Design
A lot will be done to determine the UI/UX app. You should know who you are and who your customers will be. Is the app going to be used by night or day? What subject will be more fitting so that consumers are not blind? Learn to minimize the timidity and make the best of it.
App Development
At Lilac we strive for native uses, which ensure that every operating system has a custom version. This production style emphasizes accelerated performance, greater protection and better customer service.
Quality Assurance
It is natural to manually and automatically evaluate any part of the product when you build your own app. The type of quality assurance process used varies on the project but we make sure the final product is of the highest quality no matter what method is used.
Deployment
Finally, we have the application and it is available for use by users. The App Store is particularly advantageous to customize. It helps customers to search the product in an unlimited variety of choices. Your appeal will also be the high quality of promotional materials.
Planning to start your own food delivery app?
Planning to start your own food delivery business or already have one that you want to grow? Let's connect and discuss how food delivery app development grows your business worldwide.
Need Assistance ? Call +91 83601 39952
What's Next?
One of our Account Managers will contact you shortly.
Why Choose Lilac as your Food Delivery App Development Company?
Expertise in Developing Food Delivery Apps
Single Point of Contact
Flexible Hiring Models
24/7 Total Technical Support
Frequently Asked Questions (FAQ)
What are the main key features of Lilac Foodmine?
Foodmine is a user-friendly food delivery app with all the latest features like live tracking, multiple payment gateways, in-app chat, etc.
How much does it cost to make an On-demand food delivery app?
Is it still worth investing in an on-demand food delivery business?
Food delivery industry is never going offboard, for the simple reason that food is a necessity. Also the recent pandemic situation also saw a major growth in the food delivery sector.
Can I customize the app?
Yes, Foodmine is fully customizable.
See all FAQs
Learn about Food Delivery App Development
We hope to update our users with all the latest technology. Stay with us to know the latest tech trends in the Food Delivery development industry.
Let's Work Together
We love working with new people and companies. Please take a moment to tell us about your project.
Your messages will be responded to within ONE BUSINESS DAY.
Call Enquiry Assistance
We are always available on call to assist you with any questions you may have.
Project Consultation
We provide you with all technical consultations for your project.
Project Estimation
You come to us with your project, and we do all of the planning and costing for you.
Schedule Your Appointment
We assist you in scheduling appointments whenever you wish to meet us.
Our Locations
The Lilac Infotech has been universal in its way to deal with business from its beginning.
Collaborate with us today for a noteworthy service experiences.