Build your Homestay & Vacation Rental App from the best App Development Agency in India
By working with us you will get access to a dedicated team that will work to ensure the solution is customized to your Home Stay & Vacation Rental requirement. We are a vigorous and scalable technology stack with thoughtfully designed platform architecture for the best results.
Why choose us for your Home Stay & Vacation Rental Mobile Application Development Services
The solution will be tailored to your unique business needs
Our vacation rental app solution has been carefully architected to work for different parties and business needs
Run your vacation rental business in multiple markets
Need Assistance ? Call +91 83601 39952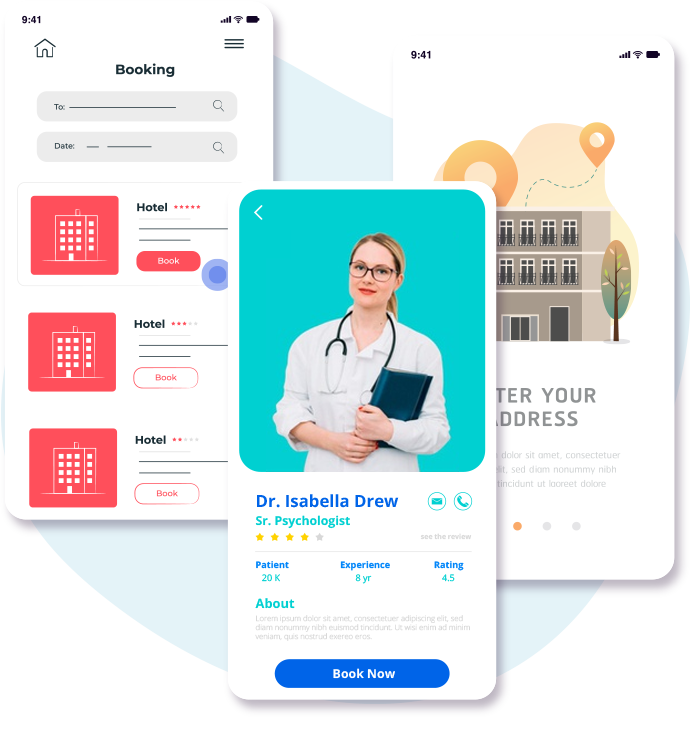 Key Benefits of Home Stay & Vacation rental Mobile Application Development Services from Lilac Infotech
We offer you a thorough and tailor-made vacation rental marketplace development solution for the rental economy. Scale up your rental business by taking benefits of digitalization by the customizable Homestay & Vacation rental app.
Pre-Packaged Solution
A ready to be installed Homestay & vacation rental service application for a faster time to market, without a significant time or money.
On-Premise Implementation
Our Homestay & vacation rental application is conveyed on your private servers to give full command over the significant data generated.
Domain Proficiency
Grasp Homestay & vacation rental service from the pioneer among the industry for better understanding.
Accept Payments Globally
Presence of new-gen popular payment gateways and easy additions of new ones as per the business needs.
In-built User Experience
Nicely designed Homestay & vacation rental application and web interfaces to offer an astonishing client experience to all the users.
Flexible and Robust
Presence of uttermost flexibility in our Homestay & vacation rental with the option to upgrade capacity according to the necessities.
How We Make Your Homestay & vacation rental Application Service Happen
Lilac Infotech aims to enable clients in enhancing business growth with the best tools available in the market, offering exceptional homestay & vacation rental applications with the best value. Look at how we offer subsequent output for you and be persuaded why we should be working together.
We Build Business for You
Customized mobile applications for multiplying your vision into profits. Let's discuss your crazy idea with our experts and make it happen for your business.
Need Assistance ? Call +91 83601 39952
Let's Work Together
We love working with new people and companies. Please take a moment to tell us about your project.
Your messages will be responded to within ONE BUSINESS DAY.
Call Enquiry Assistance
We are always available on call to assist you with any questions you may have.
Project Consultation
We provide you with all technical consultations for your project.
Project Estimation
You come to us with your project, and we do all of the planning and costing for you.
Schedule Your Appointment
We assist you in scheduling appointments whenever you wish to meet us.
Our Locations
The Lilac Infotech has been universal in its way to deal with business from its beginning.
Collaborate with us today for a noteworthy service experiences.