#1 Online Food Delivery App Development Company
Create a food delivery app with Lilac Infotech, India's leading food delivery app development company. Our white-label Food Delivery App is intended to help you expand your food delivery business. Our developers build customer-focused designs with cutting-edge UI/UX, real-time delivery tracking, and intelligent menu search. Streamline your delivery process, from tiny restaurants to giant chains, and gain access to a larger client base, increasing revenue for all businesses.
As a Top Food Delivery App Development Company in India, the USA, UAE, Canada, and Germany, we have years of experience in the domain.
Features of on-demand Food Delivery App
Online Ordering with precise booking slots
Round the Clock Support with ready to use the app
Full-cycle support with awesome UX
Resource and Dispatch Management
Automated Delivery Scheduling
Route Optimization & Real-Time Tracking
Detailed Reports and Analytics
Powerful Integrations for extended functionalities
20+ Payment Gateways Integrated
Monitorization of the progress of delivery management app closely at all times
Need Assistance ? Call +91 83601 39952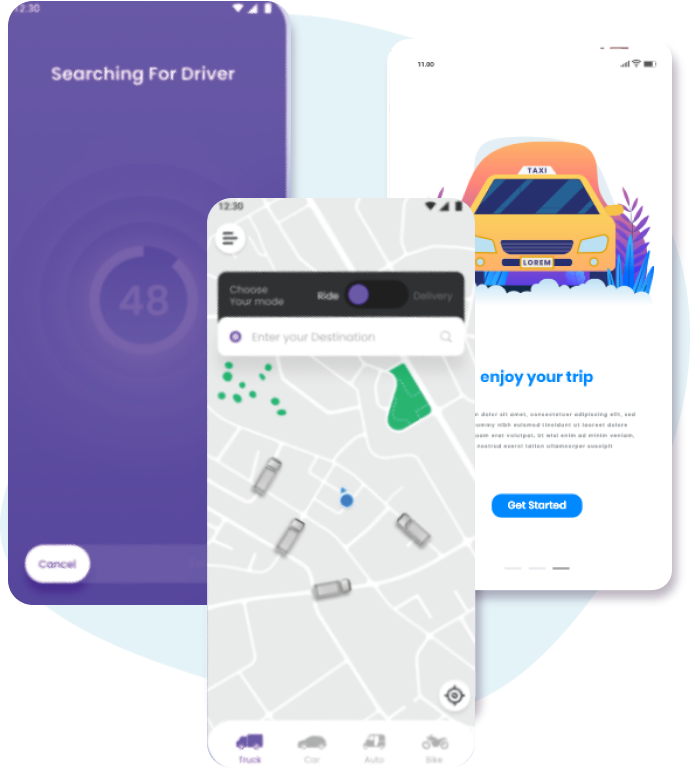 Benefits of on-demand Food Delivery App Development
As a leading on-demand food app developer, we create full-fledged ordering and delivery applications, helping you stand out like Swiggy, Zomato, and UberEats. Build a unique brand identity, attract food enthusiasts with innovative features, and establish a remarkable online presence.
Pre-Packaged Solution
A ready-to-establish on-demand food delivery application for a fast period on the market, without a significant amount of time or resources.
On-Premise Implementation
Our on-demand food distribution service is forwarded to your private servers to give full control of the significant data generated.
Domain Proficiency
Grasp on-demand food distribution service framework from the industry's leader to better solutions.
Accept Payments Globally
Presence of new-generation common payment gateways and simple addition of new ones as per business needs.
In-built User Experience
Nicely built on-demand food delivery technology creation and online interfaces to give an outstanding customer experience to all consumers.
Flexible and Robust
Presence of the utmost versatility in our on-demand foodservice application services with the ability to update capability as required.
On-demand Food Delivery App Development process
Food delivery applications are changing with the demands of customers. Convenience is the key explanation for why people buy food online. People want a food option right on their mobile screens. They want a way to order food that will save their time and give them options from a range of restaurants. To counter this growing need, you need an app that can enrich your experience and improve your commitments.
We Build Business for You
Customized mobile applications for multiplying your vision into profits. Let's discuss your crazy idea with our experts and make it happen for your business.
Need Assistance ? Call +91 83601 39952
Let's Work Together
We love working with new people and companies. Please take a moment to tell us about your project.
Your messages will be responded to within ONE BUSINESS DAY.
Call Enquiry Assistance
We are always available on call to assist you with any questions you may have.
Project Consultation
We provide you with all technical consultations for your project.
Project Estimation
You come to us with your project, and we do all of the planning and costing for you.
Schedule Your Appointment
We assist you in scheduling appointments whenever you wish to meet us.
Our Locations
The Lilac Infotech has been universal in its way to deal with business from its beginning.
Collaborate with us today for a noteworthy service experiences.