Get Your On-Demand Grocery App from Top Indian App Development Agency
Now is the perfect moment to elevate your grocery delivery business to new heights. Join us to develop a cutting-edge on-demand grocery app that will increase your company's exposure to a large, targeted audience and bring it to long-term success. Don't miss out on the chance to transform your business!
Why Opt for Our On-Demand Grocery Delivery App Development Services
Ready to own your own grocery delivery app like JioMart and Grofers? Partner with Lilac Infotech, the leading grocery delivery app development company, and become the next big online grocery delivery hit!
Personalized grocery solution for all types of marketplaces
Push alerts and real-time analytics
WhatsApp Order Intimation
GPS tracking, google Map Integration, & Route Planning
Customized solution at minimal time span
Need Assistance ? Call +91 83601 39952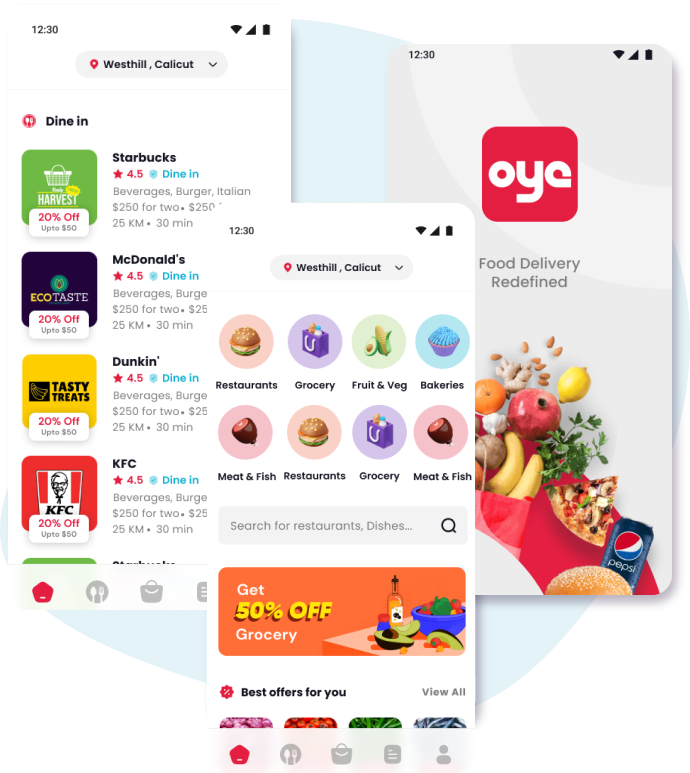 Features of Lilac's Grocery
Delivery App
At Lilac Infotech, we specialize in creating specialized on-demand grocery delivery apps to fit every grocery platform, whether it's a single vendor, supermarket chains, or marketplaces. Our team creates a custom app solution after carefully examining the regional details of your food delivery business. We're committed to expanding your reach and aiding growth as a premierGrocery App Development Company in India.
Pre-Packaged Solution
Choose our ready-to-deploy grocery app solutions to speed up your time to market with minimal effort or expense.
On-Premise Implementation
Our team makes sure that your grocery delivery application is hosted on your private servers, giving you total control over the critical data generated.
Domain Proficiency
Get premium grocery delivery on-demand service applications from the foremost specialist in the field providing complete and effective solutions.
Accept Payments Globally
The availability of modern, well-liked payment gateways and the simplicity of adding new ones in accordance with business requirements.
In-built User Experience
Create websites and applications for on-demand grocery delivery that will amaze your users and give a wonderful customer experience.
Flexible and Robust
Our on-demand grocery app services give you unparalleled flexibility by letting you quickly adjust your capacity to satisfy your particular needs.
How We Transform Your On-Demand Grocery Delivery App Idea into Reality
At Lilac,our mission is to empower clients to achieve exponential business growth by leveraging the finest tools available in the market. We take pride in delivering exceptional grocery delivery on-demand app development services that offer unparalleled value. Let's take a closer look at the impressive results we can deliver for your business and discover why a partnership with us is the right choice
We Build Business for You
Customized mobile applications for multiplying your vision into profits. Let's discuss your crazy idea with our experts and make it happen for your business.
Need Assistance ? Call +91 83601 39952
Let's Work Together
We love working with new people and companies. Please take a moment to tell us about your project.
Your messages will be responded to within ONE BUSINESS DAY.
Call Enquiry Assistance
We are always available on call to assist you with any questions you may have.
Project Consultation
We provide you with all technical consultations for your project.
Project Estimation
You come to us with your project, and we do all of the planning and costing for you.
Schedule Your Appointment
We assist you in scheduling appointments whenever you wish to meet us.
Our Locations
The Lilac Infotech has been universal in its way to deal with business from its beginning.
Collaborate with us today for a noteworthy service experiences.