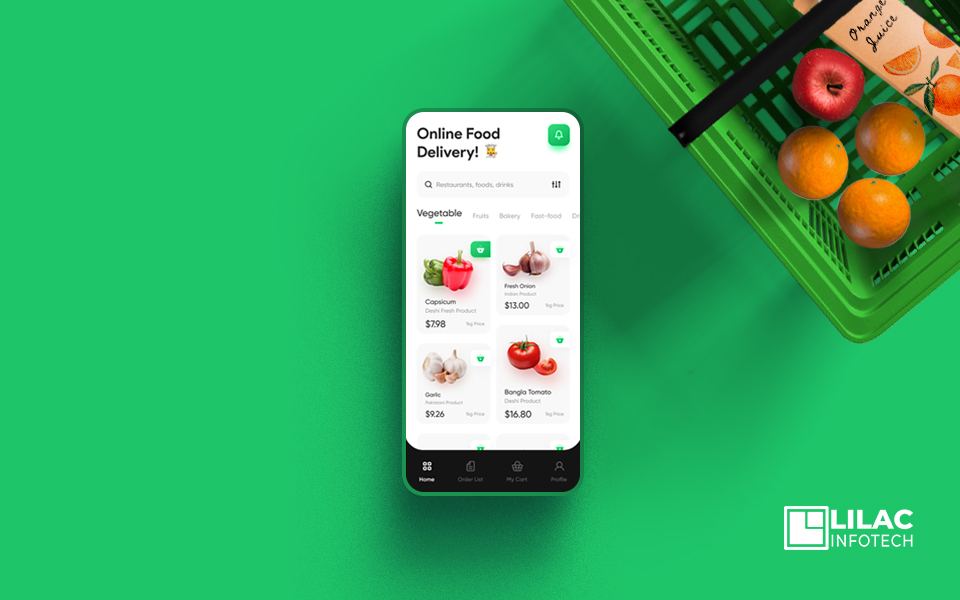 ---
With India's vast geography and travel prices,on demand grocery delivery is a way ahead. In a few taps on your phone, you'll get your favorite groceries at your door in a matter of a few hours or a single day, no more time-consuming visits to the store. All you need is a supermarket android app to deliver all your grocery orders from the comfort of your home. In fact, you can complete your shopping orders by just clicking a few taps on your mobile phone. You can see the degree of comfort here. Online grocery shopping in India is having a big business market.

In addition, all orders are specially processed and carefully sent to clients by qualified staff whose goals are customer loyalty. Through online Instant grocery delivery, you are assured of service. Apart from consistency, what about hospitality? Shopping applications provide users with phones and addresses that they use to lift their complaints or to commend their services.
There are a variety of applications available to the public in app stores. Mobile app development firms are putting a great deal of effort into the applications they are developing to make the lives of consumers easier and quicker.
Types of On demand Instant Grocery Apps
The first step in developing a supermarket app is to figure out what you're planning to design. The classifications provided will assist you in deciding what sort of grocery app to develop in the future. So, let's have a look at the alternatives available to developers.
Some types of Grocery Apps available are:
Growth in online Instant grocery applications is convenient. It works when a marketplace has delivery personnel who can bring products to clients' homes. Users need to be informed about the items that the store shall supply to them within the specified time.
The mentioned services will produce lists of relevant foods in the region for users. Customers would be delighted to choose from such a selection of supermarkets. They simply have to choose the goods they require from the store's product selection using a specific instant grocery's mobile application. It makes no difference how much you spend. Customers just have to wait for the store to confirm their orders after completing the payment portion - by the way, various alternatives are appreciated.
Grocery delivery app for a specific location
You could one day notice the necessity to develop a request for your supermarket if you possess a particular type. In this scenario, you will need to manage multiple mobile shopping stages, like to ensure your application is operational correctly, update your menus online, deal with in- and in-store transactions, etc. We will speak a little bit later about the aspects of developing an app for foodstuffs.
As you know, the commissions of the owners will depend totally on the quality of a grocery company and the application on the shopper's list. Alternatively, if we take interaction logic into account, online food services will be classified differently.
10 Best Instant Grocery Delivery Apps
1. BigBasket
BigBasket is India's first comprehensive on-demand food delivery app. Bigbasket is taking the entire store to your fingertips. You'll get your favorite lipstick to farm-fresh and crispy veggies at your doorstep with the Bigbasket smartphone app. The program has promotional incentives for new customers as well as several other discounts for existing users.
For consumers, various payment options are available to ensure easy checkout. Payment options include cash on arrival, e-wallets, credit and debit cards, net banking, etc. The return policy is so direct that the consumer (bb royal and bb famous customers) will not be asked any questions about the procedure. The goods are made available directly to the farmer to be selected by the customer. Bigbasket is available in different languages and serves people throughout many cities in India.
2. Grofers
Grofers is one of India's best on-demand food applications. The app lets you meet a lot of brands from your mobile. Vegetables, fruit, and food products will be shipped at your door at the lowest price possible on the market. Value has never been affected. Many payment choices are available, making it easier for consumers to make purchases. Offers and discounts to make shopping with Grofers fun and affordable are also an enticing aspect. About six languages are available for consumers to browse and order the products they want. In-app chat and e-wallet are some of the other features of Grofers.
3. Nature's Basket
Nature's Basket strives to offer the freshest and finest food and staples to its consumers throughout India. As one of the best food delivery apps in India, Nature's basket is trusted by many Indians for fast shopping. There are a lot of sales and discounts on food products if you order them from the app. Daily alerts on developments and regular sales will be made available as user awareness reminders. Different payment options and express 3-hour shipping schedules are some of the other characteristics of Nature's Basket.
4. Big Mart
The number of online shopping apps in India is on the rise as never before. Big Mart helps you to take advantage of your time spent shopping for a great deal of profitable quality time. Now, with a few taps, you can order the finest grocery stores from the comforts of your homes. Since its inception in 2016, Big Mart has been supplying its consumers with high quality and fresh items across India.
5. Amazon Pantry
To set up your online grocery shop, there are many examples that you should look up to today. When Amazon's e-commerce giant wanted to try their luck with on-demand food delivery software, Amazon Prime Pantry was born. The app offers consumers a lot of promotions and discounts. Shipping costs can be relatively poor, and timely distribution would make the software user-friendly. Payment options and a hassle-free shopping window are some of the other advantages of Prime Pantry to boast regarding.
6. Foodzu
Rising to be the fastest growing online grocery shop, Foodzu has many unique features to sell. E-commerce grocery patterns are evolving at an alarming pace. Foodzu promises a hassle-free shopping experience for residents in and around Bangalore. Best offers and promotions are open to customers and new sign-ups. The timely distribution of premium goods would make Foodzu the favorite app for food delivery.
7. Spencer's
While browsing the internet for tips on how to improve your grocery company, the first recommendation to come up is to create an online grocery smartphone app. Spencer has a wide variety of food types to pick from for consumers. Delivery agents promise to deliver within 3 hours of the order being put. The distribution slots are adjustable, making the app experience even easier.
8. D Mart
DMart is an online food distribution app that runs in Mumbai, Thane, and Navi Mumbai. If a smartphone software maker produces an app for the use of the user, they make sure the features are trouble-free and easy to surf around. The distribution agents shall ensure that the delivery takes place without fail within the specified time and date. Offers and discounts are open to consumers. Some of the mentioned DMart pickup centers deliver your order without charging any shipping costs.
9. Brownbag
When you're dreaming of making a smartphone app for your grocery store, you're going to have a lot of success stories to validate your theory. Brown bags one of those grocery apps that can make your lives easier. The app delivers 15000+ items at the lowest available prices and multiple time slots to select from, making Brownbag the choice of its users. Return plans are straightforward and hassle-free meaning you don't have to undergo a lengthy and tiring return process.
10. SuprDaily
SuprDaily comes with a lot of advantages like no minimum order limits and you can also set your order for delivery. When it comes to SuprDaily, the checkouts have been old. The 24*7 help service is just another attraction of Supr Daily's order for grocery delivery. Now that you've been through all of these on-demand smartphone applications for grocery delivery in India, you might have a basic understanding of the functionality and services they offer.
Cost of Grocery App Development
The cost of the Grocery app development mainly depends on Client requirements and the location of the development team. On demand Grocery App Development Company mainly looking for clients' requirements, and development costs are charged on a per hour basis.
Indian companies make low prices compared to Europe and America.
India : $10 to $ 40 per hour. But the U.S and Europe $50 to $150 per hour.
Conclusion
The online grocery business will continue to expand with smartphones. There is a myriad of factors that make the venture appealing to customers. Variables shall include:
Price and consistency of the goods
Simple and safe means of payment
Dependability and credibility of the vendor
Flexibility for modifying orders
The new generation is stuck on the phone and the internet. They appear to do whatever they can by using their phones. Much of their shopping is done by phone. They are hooked on the internet. This allows them to compare online items, and then choose whether to purchase or not. There is a strong probability that the generation will accept online grocery applications over time.
There is no doubt that online supermarket applications are hitting the industry at a fast pace. There are several aspects that make them hotcakes. Technology today is the leading theme of any human activity. People don't want to wait long for services; instead, they like them at their doorstep. Our generation prefers to invest their time producing money instead of looking for utilities. Apps cater to consumers when they fix these problems.
We, Lilac Infotech, are the leading Grocery app development Company India and UAE that offers potential for a variety of services to our consumers. Rigorous insights and suggestions will be sent to clients before the start of the project. Our background in designing applications is something that we proudly keep put across. You can also recruit our mobile app developers to help you grow your mobile app. Our other expertise includes taxi app development, e-commerce app development, educational app, and many more
---
---