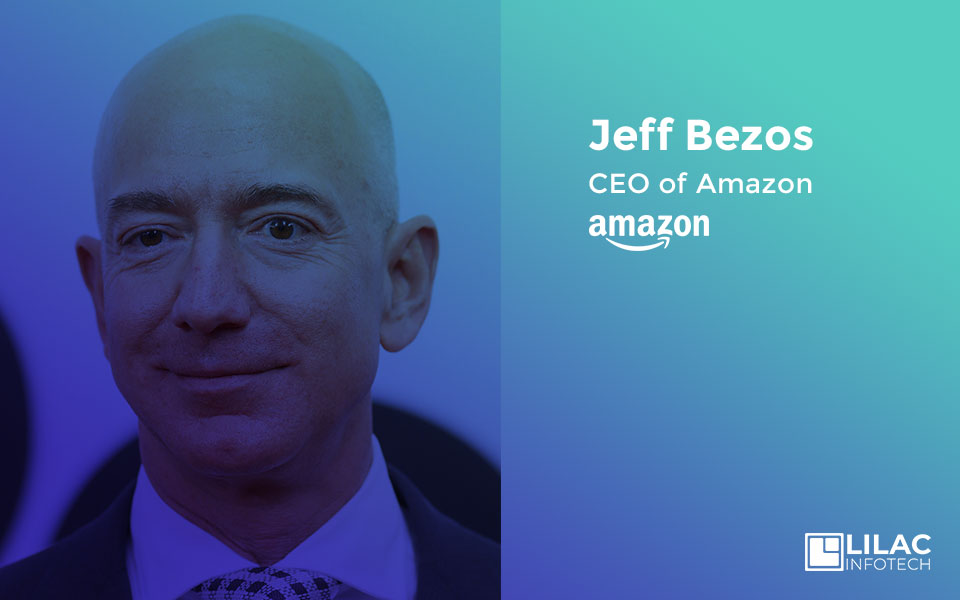 ---
An American entrepreneur and e-commerce pioneer, the online merchant of everything that has played a significant role in the upliftment of e-Commerce as well and the creator of online store Amazon.com. Today, with an estimated net worth of $66.7 Bn, Jeff is listed as the 3rd wealthiest person in the world (August 2016). Under his guidance, Amazon.com has also risen up to a market cap of $292.6 Billion.
Jeff Bezos and the rise of the largest online retailer in the world isn't a new one, but it has staying power. In an age where a business is hyper-focused on the next, newest, brightest idea, Amazon dares to rest its future on a set of principles that were written in 1997 when the company first went public. Bezos, with a net worth of nearly $130 billion, has rarely strayed from those ideals, and it's earned him the title of Richest Person in History. Since then, he's forayed into a variety of industries including health care and space exploration. About his first brainchild, Bezos says to Brad Stone, author of The Everything Store: Jeff Bezos and the Age of Amazon:

Bezos always has his customer in mind, no matter what he is working on. His number one priority is making it as available and easily accessible as possible. A hyper-intelligent, ultra-driven individual, Bezos's a dual-personality can turn him from a compassionate person to a rough executive within seconds. An extraordinarily ambitious person, Jeff Bezos to this day seeks to push the possibilities of modern technology beyond the imaginable.

How has the journey of Amazon been?
When Jeff Bezos founded Amazon.com in 1994, the age of the online-only retailer appeared to be far off. He first got the idea to start an Internet enterprise in 1994. He was surfing the Internet in search of new ventures for D.E. Shaw & Co. to invest in. That is when he stumbled upon a statistic stating that World Wide Web usage was growing by 2,300% a month.

Within the first few days, I knew this was going to be huge," Bezos said of the launch. "It was obvious that we were onto something much bigger than we ever dared to hope.
Bezos knew that the company's initial success would create imitators and competitors. The keys to Amazon's survival, Bezos realized early on, would be innovation and size. One reason that he'd chosen the name Amazon is that it's the biggest river in the world. His plan, even though Amazon initially focused on books, was to make the site into the biggest e-commerce store in the world.

The growing years!
The nineties were intense days at the company, but as Jeff Blackburn, responsible for product development and operations at Amazon, recalls that they were the most fun and challenging. Bezos's 'uplifting' defeat was linked to the network effect – where goods or services become increasingly valuable as more people use them. The Internet was still fresh in the 1990s, and companies were still getting a grasp of how all these things work. Bezos saw the defeat as a crucial step along the way, and first in the series of critical experiments that would expand Amazon to third-party sellers. The zShops platform that had evolved from Auctions also failed to gain any momentum, and the company accepted that the Web's small traders were inseparable from eBay due to the network effect. The most prominent user of these auction projects was, in fact, Bezos himself. This one time, he purchased a complete skeleton of an Ice Age cave bear for $40,000 and displayed it in the lobby of Amazon's then-new headquarters at the Pacific Medical Center building with a sign that reads "PLEASE DON'T FEED THE BEAR."

Amazon added clothing sales to the product line in October 2002, after partnering up with hundreds of retailers including Land's End, Nordstrom, and The Gap. They also organized a subsidiary entitled Amazon Services which allowed customers to order goods from co-branded sites such as Borders and Toys 'R Us. In 2003, Amazon launched A9 – a commercial search engine focusing on e-commerce sites. Around the same time, they opened an online sporting goods store, offering around 3,000 different brands. Amazon's rapid expansion allowed Bezos to continue experimenting with new product lines and services. Some of them, like Amazon's attempt at selling jewelry, didn't work out. While others, like Amazon Prime, which offered free two-day shipping within the United States for an annual fee of $79, proved to be a significant success. In fact, Prime's success led to Amazon's launch in Italy, France, Germany, the UK, Canada, and Japan over the next decade. In addition to securing the customers' loyalty, Amazon Prime service further distanced Amazon from its competitors.

What was interesting to note was that, even though their sales were growing at a rate of 3000% annually and by now, they had become the country's third-largest bookseller: but they were yet to make money. In fact, the company lost about $30 million in 1997, followed by another $1.25 million in 1998. But Jeff belonged to a very different mindset, and all of these things didn't affect him. He wanted to make Amazon the most customer-centric company in the world.

Soon, Amazon was seen to be expanding itself into other markets including music, gifts, and pharmacy sections. To cash in on the growing popularity of online auctions such as eBay and uBID, Amazon also joined Sotheby's Holdings Inc in June 1999 to launch the online auction site sothebys.amazon.com, as well. This strategy of the company worked well in their favor! Although this irked a few investors, the strategy helped the company survive the dot-com bubble burst. And albeit the bubble burst cost them 1500 of their employees; unlike their competitors who got wiped off, Amazon managed to stay afloat.

Jeff becomes the third richest person in the world...!

It was recently reported in July 2016 that Jeff ($65.3 billion) has surpassed Warren Buffett ($64.9 billion) to become the third wealthiest person in the world.

But how did that happen?
Well, Jeff owns close to 18% of Amazon. Now, with the drastic growth in business, their stock price too had risen by 50% since February. To add to that – after Amazon reported better-than-expected results of around $850 million in profit for the second quarter and their share price rose further in after-hours trading as well.
This is what led to Jeff's rise!
Top 5 secrets of Success from Jeff Bezos !!

Surround yourself with the best possible team.
Amazon has a notoriously lengthy hiring process. Potential employees can expect to submit SAT scores and answer questions such as, "How many gas stations are there in the U.S.?" The answer isn't supposed to be correct, rather it's intended to promote critical thinking skills.

Every time we hire someone, he or she should raise the bar for the next hire, so that the overall talent pool is always improving, Bezos says.
Employee evaluations happen in real-time, rather than at quarterly or annual intervals. Rating software allows peers to evaluate, congratulate, and even critique each other publicly.

Consider implementing a more human and live-time evaluation process into your workflow. Entrepreneurs reach out to their peers and trusted friends—ask for candid feedback early and often.

Learn from your mistakes.
Amazon has famously failed more than a few times. To compete with eBay, Bezos once launched its own version of marketplace bidding. It flopped. But it also paved the way for Amazon Affiliates, allowing private sellers to use the site, shipping, and even storage facilities to sell their own goods.

Learning from failure is easy to preach and harder to practice. Remind yourself of The Amazon Story and its many failures when you're struggling with a decision of, should I?

Frugality is a near-direct opposition to modern big business practices majorly in e-commerce. Bezos has preached and practiced it from the beginning. A now-famous picture depicts Bezos sitting behind a desk made out of a door propped up on two-by-fours. Amazon was already a publicly-traded company at the time. Doors were simply cheaper than traditional desks and Bezos always had a thing for symbolism.

An upgraded version of the desks are still used in the Seattle headquarters today, and miniature versions are given out as prizes for cost-cutting innovations. Accomplish more with less, Bezos says. Constraints breed resourcefulness, self-sufficiency and invention. There are no extra points for growing headcount, budget size or fixed expense.
Only in recent years has Bezos graced the media with social appearances. For many years, he was content to work behind the scenes—a kind of "head down, work hard" mentality. His recent social emergence speaks to an evolution of sorts. Bezos understands that in order to stay relevant and growing, you must be willing to adapt. But you must also know when to draw the line. For him, that means sticking to the big vision while allowing the smaller moving parts to fluctuate. For Bezos, compromising customer experience was never an option. Once, he almost shut down an entire email marketing division after an embarrassing customer email was forwarded directly to him. That one email sparked a marketing overhaul.

Amazon was never intended to just be an online bookstore or even just an online retailer. Books just happened to be the easiest entry into the marketplace at the time. And for Bezos, Amazon was just the beginning. In 2000, he secretly founded Blue Origin, a space exploration company, to fulfill his ultimate dreams of not only exploring deep space but eventually colonizing other planets as a backup option for Earth.

Think about your dreams versus the tools you're using to get there. Don't confuse the two, and don't settle for the easier option. You don't choose your passion your passion chooses you, don't abandon your passion. So think big stay calm, accept failures. Because failure and invention are inseparable twins in our life. Give it a try numerous times until it becomes reality and then help others to achieve their goals.

---
---