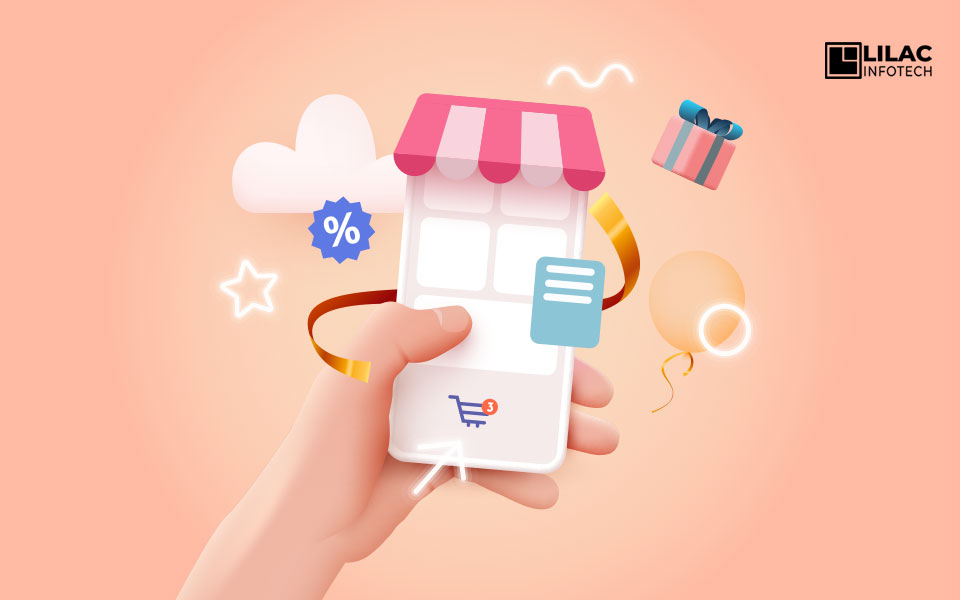 ---
Technology and mobile apps rule our world today. The growth of the e-commerce industry is very fast and according to modern business tactics, web presence is not only enough to attract your customers and make more business profit. The rise of shopping apps and the trend of purchasing online are more beneficial to business online owners to enhance their business in e-commerce. So, creating a shopping app for an online purchase store is most essential for increased sales and revenue. Why can't you also start an online shopping app which drives more users and money? Let's get into deep about how to start an on-demand e-commerce app store.
The global mobile e-commerce store is growing year-to-year sales. In 2021 the estimated growth is almost $3.56 Trillion. The best time to start your online e-commerce business is now.
How e-commerce is affecting retail stores?
E-commerce helps the online store for sales in a disruptive force. This is what makes amazon powerful and branded. The shopping process of amazon and customer experience is very cool and to make a shopping app for yourself you can check with Amazon features. Traditional ways of purchasing goods and products were replaced by eCommerce stores now. Purchasing online makes it the users easier to not visit a shop physically for buying. There was developed modern style of marketing and mobile apps developed for high user experienced, unique and easy purchase from the app. This made a way for all small business owners to increase their sales and launch new products to their app store. Retailers were increased in shopping apps development too.
Advantages of Mobile on-demand shopping apps
Mobile apps have several features and capabilities with smartphones. This brings you tons of business opportunities into the market. You can attract clients; showcase your products, easy method, on-time delivery, product details, customer reviews, instant chats, etc.
Make user engagement more
Chances of high conversion
New marketing ideas and possibilities
Customer trust
Brand awareness
Better UI/UX
These are the basic pros for your e-commerce app store. Make sure you can focus on these things while you create your own shopping app.
How to develop a shopping app with several key features?
Today's market creates a number of business opportunities that allow you to focus and target customers to sell more goods and make a profit more.
It will help all the customers where they can find their product easily and instant contact with your brand if they need assistance.
To work flexibly with your application we recommend following the structure of your app like
1. Products on-screen
They mainly visit your app for one thing because it will help them with their needed goods or product and to check them visually also while interacting. Making upfront of your product with images and videos will help a lot to showcase the items. Forgiving a better customer experience and makes them happily follow something's like
Your screen structure with product details and recommendations. It should be specified with size, color, product on sale, etc. the screen should be perfect for the visitors.
Always remember that UX should be better for your app will make customers stay on your app making them shop with your applications
To get more deals on shopping you can standardize navigation patterns that are easy and simple for customers to use the app.
2. Product search and filter
To narrow down the search and purchase of products you can utilize these options well who are randomly checking without any particular product in mind. Your application helps them to find price sorting, filtering, and advanced search options.
Search features help them to move on to a particular product that needs to buy and re-order the search request which is relevant to users.
Your app should suggest the related products to users where they can jump to the related products which make them buy.
3. Landing Page
On-boarding into your app, customers will get to the landing page. It includes your app information and eye-catching designs with all features. So customers will stay on your app to search product categories, latest deals, and so on.
4. Add to cart
The cart can be used by customers where they can add to their wish list where they are not purchasing but they liked the product and plan for buying. They will get notifications from the wish list products also.
5. Payment gateway
For easy shopping, this is a must and helps users to transfer amounts online. Paypal, Android, Apple pay, credit card, etc. make simple transaction details too.
6. Push notifications
This is the important feature where you can target and re-communicate with your users. You can mention current offers, trends, etc, to notify them. People who left your app with adding on cart may remember to make a purchase the product while push notification sees.
Customize your message for people who are targeted to different products
After alert your users there are more chances to make an in-store purchase
7. Order and delivery details
It is important that you must give the details to users about their purchase order, delivery date, and place of shipping. So customers can analyze them and expect their delivery date.
8. Reviews and Ratings
Getting customer feedback for your service and product from users gives more trust in your brand and store which drives more users to the app. This will also help new users to find the products and analyze the best review products to buy the same.
Development steps for on-demand e-commerce app store
If you have an idea to develop a mobile shopping app you can go with an app development team who can fulfill your concepts to make a perfect shopping app. Before that, you should analyze the market how the competitors were stepping into business and enlarging the users with the app. What are the things you can do with your business and app? By research and ideas, you can develop your shopping app well and make it successful.
Creating the best idea for your app
Research and analyze competitors
Get for a perfect development team
Explain your ideas to them
Develop better design
Make perfect of every page
Include more images
Testing should be done for every stage
Bug fixing
Admin and User part development
Completion of project
Perfect launching of mobile app
Seo and marketing for smooth business
Cost estimation for your app development
While estimating the cost to develop online shopping mobile apps it varies with different factors like time duration, development tools, manpower, a platform for the app, and other features. For creating a tailor-made online shopping app the cost will change according to your customization. For a budget-friendly shopping app development, you can visit Lilac InfoTech who helps you perfectly.
Conclusion
We know that shopping app development cannot be done overnight and a team is a must for the perfect launching for the mobile app. If you are planning to develop a shopping app that meets all quality and user experience levels we are here for you. The mobile app development process can be taken care of and we deliver you the best on-demand e-commerce online app. The shopping app which is going more trendy and high in the market helps to get you good revenue and growth in business. The retail business with a mobile app is very important and you can compete with other ones with a mobile app only. Don't wait for the business to happen to create it with us with your fantastic shopping app ideas.
---
---