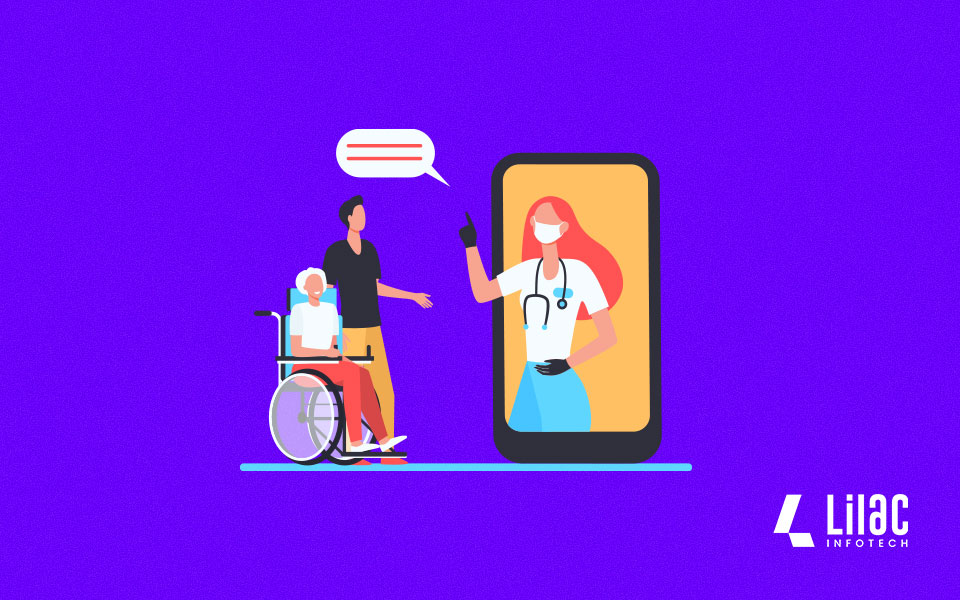 ---
Today's healthcare system is in a continual state of flux. Patient care has improved substantially since the introduction of electronic medical records. However, when it comes to hospital technology, there are several chances for advancement. The three digital techniques listed below help to improve patient care.
Healthcare Apps
Mobile healthcare applications are an important digital technology approach for enhancing patient care and experience. As a majority of the population owns a cell phone, mobile healthcare apps are now available for both Android and Apple devices. These applications make it easy to get medical information. Diagnostic tools, lab reports, appointment dates, prescription lists, and other information are included.
Some of these applications also allow you to take your vital signs by making a few clicks. These apps even remind you when it's time to take your medication or go for a walk! These things imply that people have more influence over their own healthcare decisions than they have ever had.
As a lot of people use smartphones and other mobile devices, hospitals must develop effective digital healthcare solutions. Smartphone users are seeking more effective mobile healthcare apps than ever before. Healthcare applications like doctor booking app, medicine delivery application, and medical laboratory applications will save time, increase efficiency, and improve communication. With all of this potential, it's no surprise that many people are confident about the future of digital healthcare.
Essential Virtual Care
The technique of providing healthcare remotely using electronic technology is known as essential Virtual Care. Patients may now communicate with physicians, nurses, and other professionals via video chat or virtual reality. The physicians or medical experts will then identify and treat their health problems without them ever leaving their house.
Patients save time by not having to travel to appointments. For some, virtual care also entails having more access to specialist physicians. Virtual care is an extra benefit for people who are not physically fit to go a great distance. It also benefits people who live in areas with a scarcity of specialists. Furthermore, patients can obtain treatment from the comfort of their own homes by utilizing a doctor's knowledge through a video streaming application. Virtual care has the potential to reduce long-term healthcare expenditures. It will also lead to higher patient satisfaction
E-Medical Records
Computerized patient information records are what electronic medical records are. They contain diagnostic test findings as well as medical remarks. In many aspects, this system has altered how healthcare is delivered, making it inexpensive, accessible, and beneficial to patients. It also saves lives by giving doctors a complete picture of a patient's health.
Anyone with the necessary credentials, including the patient, can access cloud-based EMRs. Instant access to medical records makes it easier for patients to take charge of their healthcare. It also helps them to communicate more efficiently with doctors about test results and treatment plans.
Healthcare is transformed by electronic medical records, by facilitating improved communication among healthcare practitioners, patients, and researchers. Instead of depending on recollection or handwritten notes that may get lost or unreadable over time, doctors will follow a patient's development over time. The availability of such information may also assist researchers in identifying previously undiscovered connections between diseases or therapies. It will also allow them to perform more investigations and achieve medical research discoveries. You can trace vaccination history using electronic health records. It also allows you to keep track of what medicines patients are taking and when they were last visited by a doctor. They can detect possible drug interactions that might result in serious damage or even death if used with other medications.
Use Artificial Intelligence to Manage and Protect Health Data
Artificial intelligence is perfect for collecting and storing huge volumes of data, such as patient data acquired via mobile health applications, and assisting healthcare practitioners in analyzing it.
AI can minimize the number of needless in-person doctor visits each year. Because AI can enhance diagnoses and even detect diseases based on facial characteristics, retina scans, X-rays, and voice, people will be able to recognize and begin to diagnose their symptoms before visiting a doctor.
AI can be utilized to simplify manual procedures and free up healthcare staff to spend more time at the bedside, in addition to empowering patients. As physicians begin to utilize AI on a more frequent basis, the technology will be able to recognize a user's preferences, decreasing the number of clicks and effort required to complete a task. This allows for more accurate medical analysis and reduces the possibility of human error.
Young patients want more flexible care options
Younger generations aren't satisfied with the healthcare industry's status quo and are the most willing group to try non-traditional services, the Accenture survey found. When asked what aspect they were least satisfied with, a lot of Generation Z respondents said transparency about their care; another bunch cited the convenience of the treatment location or channel. It's worth noting, however, that telehealth options have proliferated since the pandemic, and regulations have shifted accordingly.
Providers must adapt their thinking and present operational methods to offer and sustain a new level of care. Mobile health solutions, artificial intelligence, and radio-frequency identification will all play a significant role. Using technology will not only assist you in fulfilling the shifting expectations of healthcare customers but will also drive better treatment when it is required.
Patients have more control over their health with mobile health solutions
While it is essential for healthcare organizations to equip physicians and employees with the most up-to-date technology, providers should also examine what they can do to give patients the best solutions. Creating a doctor booking app is one such possibility. These applications, which can be accessed via a patient's smartphone or tablet, are a low-cost approach for clinicians to increase engagement and encourage patients to track their vital signs and symptoms.
Wrapping Up
Every day, new technology is invented. They are also striving to enhance it to make healthcare more accessible and better for everyone. This wave of technology innovation is enhancing patient care by making it easier to use, faster, and more accessible. To develop your healthcare application that suits your requirements you just need the apt app development company that will make your work easier.
---
---