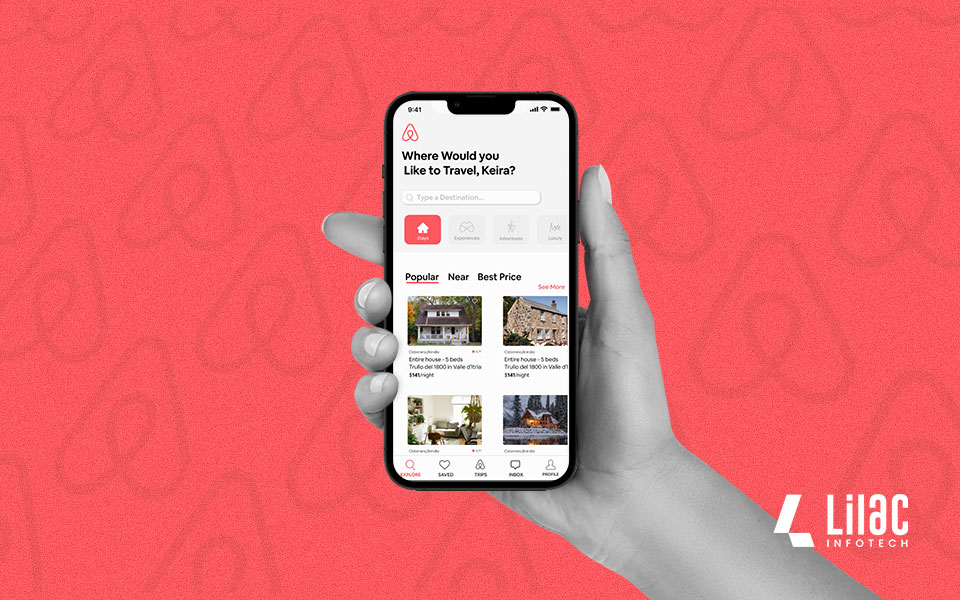 ---
One of the best marketplace which connects people who are looking for rental homes or rooms for accommodation in the local areas. Local people who are interested in renting their homes for other people can benefit from the app Airbnb. This is one of the best-classified websites which was named and started as Air bed and Breakfast in 2008.
Airbnb acts as a broker who can receive an amount from customers for each booking. It gives homestay, lodging, and tourists for customers. So it became the best rental marketplace now. The best option for tourists to love is Airbnb is they can stay for rent in a home, flats from owners of the place they need.
How does Airbnb work?
It is an online traveling app where people book accommodation, buy tickets, and compare prices digitally. That's why this app is growing very fast. While checking the statistics and growth of global Airbnb we can see that around 5.6 million active listings are all over the world. Also, in almost 100,000 cities Airbnb is functioning.
Property owners can list their homes and flats for tourist or traveler accommodation for rent. People can search the locations and homestay facilities in the Airbnb app to book the place and accommodation online. The app list user needed bedroom and other details with filter options. By giving trust to each other and building a good community between travelers and owners. This helps to get good ratings and review each other.
Benefits of traveling apps like Airbnb
1. For the host:
Make money easily by giving their space for rent
Free listings will be there
The hourly rate can be done for spacious and big facility room/home
2. For guest:
Select their favorite place and get comfortable homestay with guest
Price affordable places and facilities should be available.
Best experience and make good friendship between new people and enjoy new destinations
Features available in Airbnb app
Register/Login
Search and manage account
Filters and favorite listing
Online chat and notifications
Booking and review
Listings
Offers and discounts
Security and protection
How can you create a mobile app like Airbnb
Better planning- While starting a business you should plan better before creating an app. So the best way to start the travel app business is to accept the existing method and improve it with new features and ideas.
Choosing the best platform- with a better platform you can start working. You can build the best IOS and Android both also. By planning a proper budget you can choose it for saving cost.
Start developing and testing- With the proper platform start developing your traveling app with the best mobile app development team. For every development part, you should test each section and clear it. Quality assurance is very important, so the app will work smoothly.
Launch your site- after complete development and quality checking, you can launch your app in the app store. After that, you can do the best marketing strategies for brand awareness to people and making more revenue. Your app should be user-friendly, and it should work for user's needs.
This is the best time to start your vacation rental app. Plan to start up the business budget-friendly and always think of strategies, ideas to develop your product more profitably.
If you have a better ready travel app with all features, you can concentrate your business more with different methods like using
Social media
Sharing best blogs
Getting better customer review
Better SEO works
Is it better to choose the Travel API?
For developing a better travel app API can be considered, and it helps you really in a project. The Airbnb API allows the development team to retrieve and integrate the functionalities of Airbnb to other apps. For new business people, you can save a lot of money and save significant time from development.
Revenue factors for Airbnb get an amount of commission percentage from both host and guest. For your own travel app, you can create new offers and discounts for customers, so you get more users and thereby more money easily. This also helps to reach more people about your app successfully.
Cost for developing travel booking app
This includes app full features and the team of developers who are working for your app. While creating a travel app like Airbnb considers different steps like development team size, the number of platforms you need, technology and additional features, hourly rates, design and custom developments, etc.
Conclusion
We know that the tourist and travel industry is growing very fast nowadays. Developing a traveling app like Airbnb is a better option to make a more profitable business. Looking for the best app development company means we can really help you well. While starting your project take action well with considering and analyzing all the above-mentioned factors.
---
---