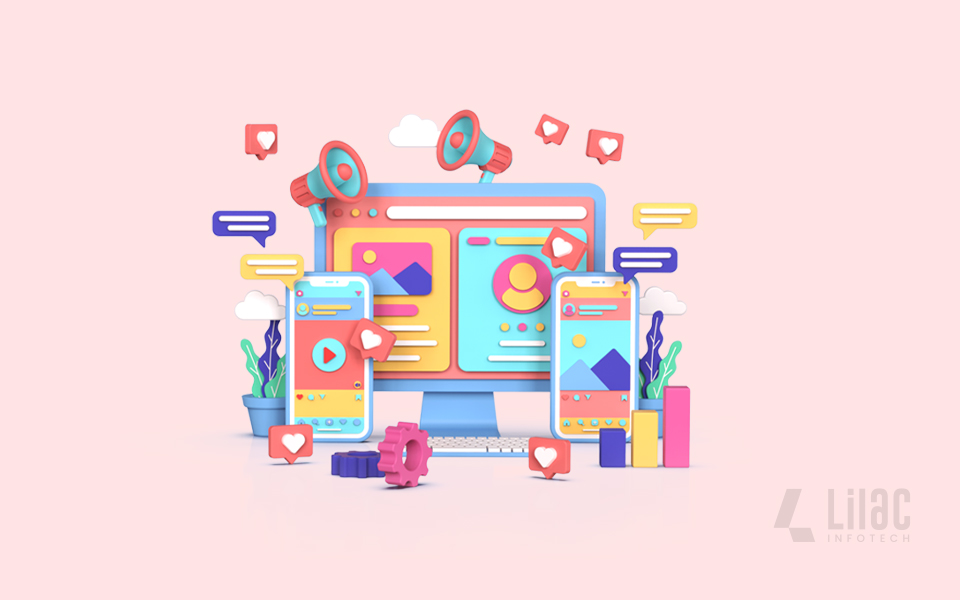 ---
The COVID-19 epidemic has spurred the rise of online purchasing channels, and this trend does not appear to be slowing down anytime soon. To meet the need, businesses of all sizes are attempting to build or join marketplace applications to avoid falling behind.
The aggregate projections for online customers, mobile traffic, and e-commerce transactions illustrate an online marketplace app's enormous potential and reach. Isn't it overwhelming?
Let's get one thing straight: it's the enormous growth potential that marketplace applications like Facebook bring to the table. However, some critical aspects to consider while developing an on-demand marketplace app include the app's functionality, business strategy, and development cost. So, if you're thinking of launching a marketplace app like Facebook, here's everything you need to know to estimate the cost of establishing a marketplace app.
Why Should You Consider Developing a Marketplace App?
There is no question that online markets are thriving these days, especially in the aftermath of the epidemic, when practically everyone relies on internet buying. As a result of this rising demand, several companies are intending to launch a marketplace similar to Facebook with the express purpose of generating billions of dollars in income.
A marketplace mobile app may be a valuable tool in helping your company's development and expansion. By investing in marketplace app development, you may reap several benefits, the most important of which are:
It's called a marketplace for a reason! Who wouldn't want a revenue plan with many income streams? With a marketplace app, you may pick from a variety of common income streams such as listing fees, lead-generating premiums, commissions, adverts, subscriptions, and value-added service costs.
Customer Acquisition That Works
Marketplace applications provide a handy trading platform for firms to manage their supply without incurring asset expenditures. From customer review features and deep discounts to loyalty perks and improved customer experience, marketplace apps provide merchants with a plethora of strategic options. As a consequence, when it comes to client acquisition and income creation, this works wonders for you.
Another commercial perspective is that marketplace applications have a large revenue potential for merchants while also providing the finest purchasing experience for customers. With your marketplace, you'll have a huge range of branding options as well as the ability to on-board merchants at appealing prices. Once you have a good pool of brands and enterprises on your marketplace platform, you will see an increase in web traffic.
Analytics for Sales and Users
Everyone understands how important data has become for e-businesses! A marketplace app may aid in the collection of important sales data as well as the analysis of customer preferences. This allows you to focus on the most successful suppliers, top-selling items, and most popular product categories, to mention a few.
Use this information to make smarter business decisions, such as promoting the most popular items or brands. Collaborations with other firms are the frosting on the cake.
Three Different Business Models for a Marketplace App
Before you look at the costs of marketplace app development, you need to understand the business strategy that will power your app. Depending on your company strategy, you will be able to choose which features to include in your app, which will have a direct influence on the cost of your online marketplace app development.
So, let's take a look at the various revenue strategies that marketplace applications employ:
B2B
Business-to-Business (B2B) marketplace models enable businesses to acquire goods and services from other businesses. Manufacturers, wholesalers, and retailers can collaborate with other firms to make agreements. Typically, companies buy products/services from other businesses to resell them to customers. Amazon Business is the greatest example of a B2B marketplace, where organizations may interact with a plethora of registered merchants.
Pros:
Prospects for easier market penetration.
There is less of a need to market products/services.
Higher average order/purchase value volumes.
Sales consistency is related to repeated business agreements.
Cons:
When it comes to on boarding buyers, the life cycle is time-consuming.
Lead generation might be hampered by a lack of online presence and brand familiarity.
B2C
The most prevalent marketplace model, Business-to-Consumer (B2C), connects vendors with individual purchasers. For example, an online store where you may buy clothing or a new pair of shoes is a pure B2C marketplace. Such a firm focuses on the consumers' particular demands and convenience, providing them with a platform to meet those needs.
Facebook, AliExpress, and Amazon, for example, are some of the most well-known companies in the B2C marketplace business.
Pros:
The sales procedure is quick and simple.
The rapid expansion of the firm.
Increased audience reach.
Leads are easily converted into consumers.
Cons:
In the market, there is the fierce rivalry
It is difficult for new players to afford the price of digital infrastructure
A lower average order value presents a hurdle
Larger marketing expenditure is required
P2P
Individual entities can interact and conduct commerce using peer-to-peer (P2P) marketplaces. P2P marketplaces, also known as Consumer-to-Consumer (C2C) models, are third-party platform providers that allow individual buyers and sellers to strike agreements. Price bidding and negotiating are two important aspects of a P2P marketplace.
Pros:
There are no hidden fees while purchasing or selling
Direct transactions occur when no middlemen are present
Diverse user segments
Cons:
Problems with product/service inconsistency
Payment fraud is a possibility
8 Important Characteristics of a Facebook-like Marketplace App
Before we go into the pricing, let's take a look at how the Facebook marketplace came to be. Mark Zuckerberg established it in 2016 to allow Facebook users to purchase straight from the social media networking app.
Businesses in the automotive, retail/e-commerce and real estate industries may sell their products directly on Facebook! The Facebook marketplace app has been a go-to site for online buyers throughout the years, thanks to its user-friendly and seller-friendly platform. Let's go right to the point and talk about what features a marketplace app should have. While the features you should incorporate are entirely dependent on the business model you choose, we will present an overview of fundamental elements that are common and can be included in any sort of marketplace app in this post.
So, here's a list of characteristics that your brand-new marketplace app must have to compete with other comparable applications on the market
Integration of Social Media
Buyers and sellers are always looking for quick online login options wherever they go! This is where social media integration comes into play. Users should be able to log in to your marketplace app using Gmail, Facebook, Twitter, and other major social networking networks.
Integrating social media with your marketplace software can give you several advantages. It will allow users to register and log in to the app without having to fill out a lengthy registration form. Furthermore, this function will assist you in increasing brand recognition by allowing customers to immediately share their experiences on social channels.
Remember that if you want to stand out in the app development industry, you can avoid approaches like these. That is why social integration is at the top of our list of essential marketplace app features.
All vendors need marketplace software that allows them to provide flexible payment alternatives to their clients. As a result, your app should have a variety of common payment options such as wallet payments, card payments, net banking, and so on.
Customers are picky about the payment options they use, so make sure you provide them with the ones that are popular in their region. Otherwise, you may lose several leads, resulting in minimal income.
Of course, prospective purchasers will utilize your marketplace app to find the things they require. It is also your job to give them correct results whenever they perform a query search. Your app's search engine should be powerful enough to produce exact results, making it simple for consumers to discover the product they're looking for.
Furthermore, your app should provide filters that allow users to locate goods based on numerous factors such as size, color, brand, or any other feature.
Simple and Strategic User Interface
What is visually appealing sells better! A clean design and simple navigation in your app might entice more customers to utilize your marketplace app. It can also improve your user retention rates.
You may also go above and beyond your app's capabilities by planning its user interface. A better user experience may be accomplished by integrating sections with specific product suggestions or by providing alternative and complementary product options.
Inform your customers if their order is en route or immediately outside their door! Order tracking is a critical marketplace app feature that may give you a competitive advantage.
Furthermore, you should step up your game by allowing direct contact between buyers and sellers. Remember that your marketplace app will seem just like Facebook, but you can improve!
Notifications through Push
This is one of the most effective features for keeping your consumers engaged with your marketplace app. The ability to remind customers of what they are missing may help determine the success of your organization. As a result, developing a push notification strategy to entice customers and keep them from abandoning carts is critical.
A Wishlist Button is becoming another essential element for eCommerce platforms. Your marketplace application will most likely contain a large number of items, and it will be tough to find a similar product once you have closed the application.
However, with the wishlist option, your clients may bookmark the items they like so that they can buy them later with only one click. You may also enhance your sales by giving clients offers for the things on their wishlist.
You cannot scale a marketplace app unless you provide simple and quick checkout choices. Giving too much data or filling out lengthy payment forms is inconvenient for customers. As a result, make sure your app offers a simple checkout option to customers.
How Much Does It Cost to Create a Marketplace App Similar to Facebook?
Now that you have a notion of what your app should consist of, let's look at the budget needs. The process of developing a marketplace app might incur expenditures in three stages:
Costs for App Wireframing
Prototyping is similar to the meal menu on a food delivery service in that it may assist you in selecting the finest end-product you desire!
One of the design aspects that contribute to the ultimate cost is the GUI (Graphical User Interface).
The cost of developing marketplace software like Facebook is determined by the number of features, technical needs, and other resources.
Conclusion
With a net worth of billions, developing such a costly marketplace app is a piece of cake for Facebook! However, as a client-focused mobile app development firm, we can assist you in creating a marketplace app similar to Facebook at unbeatable pricing and with all of the features included! We are all about consumers, customization, and technology.
---
---