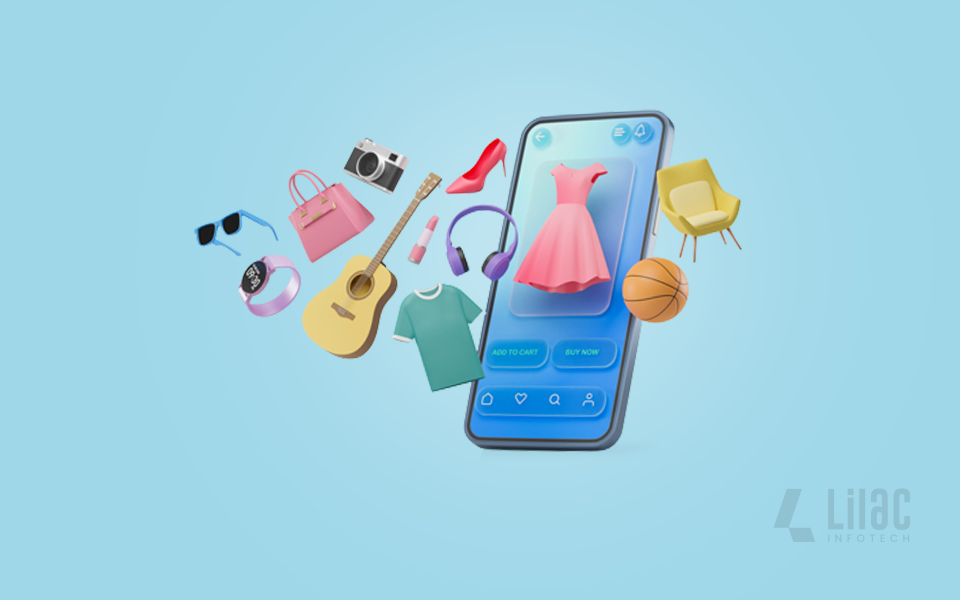 ---
Thanks to developing technology, e-commerce has risen significantly in the last several years. With internet purchasing, you can essentially have anything delivered to your house within a couple of days. Another type of eCommerce is video shopping, which has been resurrected and reinvented. People may use these live streaming shopping apps to place real-time orders.
But what does that future look like? As ground-breaking as eCommerce and its mobile offspring, commerce (mobile commerce), have been, they still fall short of recreating the conventional buying experience.
The engagement, the connectedness, and the sense of discovery are all missing. This is something that live stream shopping intends to change.
What is Live Shopping?
Live commerce boosts online business by streaming video or events in real-time. Consequently, any barrier is gone, and the customized help of in-store purchasing interactions is merged with the ease of online shopping. The main difference between live commerce and offline marketplaces is that it takes place online.
Live commerce improves intelligent choices. Clients can engage with and remark on live video streaming. Some memberships allow fans to learn more and buy straight during a celebrity concert or visit. Direct shopping channels, one-on-one video visits, and other easy choices are available to users on these shows. The purpose of the live commerce experience is to imitate the sense of shopping in a store.
Live Shopping as a New Commercial Model
When individuals are advised to stay at home as much as possible, they appear to have nothing else to do except spend more time on their electronic devices and social media. When e-commerce enterprises and social networking applications uncover the potential for new methods to communicate with customers, it is time to act.
Facebook sought to use the chance to enter the e-commerce business. People may study things on influencers and purchase them straight through Instagram Shop section and more integrated checkout mechanism in its menu.
TikTok, a famous Chinese social networking app among Generation Z, partnered with Walmart to conduct the first live shopping event in a long time, during which celebrities promoted items by giving them a shot and users could place orders directly through TikTok.
After watching social media applications like TikTok and Facebook join the e-commerce sector, Amazon, the e-commerce titan, couldn't afford to be left behind; therefore, Amazon Live was founded.
How to Make Money with Your Live Shopping App
Making a good living is the ultimate objective of any firm, regardless of industry. To ensure efficient cash flow, your live commerce platform should support several monetization models. Here are some examples of monetization methods to explore.
Subscriptions
Being a member of a certain group, whether it is a club, shopping app, or any other form of membership, makes users feel cherished and incredibly fortunate. You may create a subscription model and charge for it, which allows consumers to have early access to live shopping events, among other perks.
Advertisements
Businesses seldom pass up the chance to market their products on a well-known platform. You may utilize your live shopping app to promote other businesses' items as adverts on your app and charge them for it. Advertising is the most widely used monetization model in the world.
Sponsored Listings
When your live shopping app obtains a lot of users and sales, manufacturers look to these platforms to put their items at the top. You may simply list the items of other companies in their respective categories on your app and charge them for them.
Advantages of a Live Shopping App
In terms of company growth, live shopping app development provides several advantages to both customers and businesses. The incorporation of next-generation technologies only amplifies these advantages. Here are some of the most important advantages of live video shopping applications.
Better Sales
When you show your items on live shopping applications, users sense an urgent desire to purchase a product at a significant discount. This sense of urgency causes a domino effect, resulting in a large boost in your sales.
Greater Involvement
Interacting with a live audience allows your company to tackle shopping and item selection issues in real-time. Users may easily post their queries, and your live event moderator can respond to them immediately.
Analytical Insights
To gain insights into online shopping applications, you must wait for a set length of time before receiving a complete report. In the case of live video shopping applications, you can receive rapid reports following an event and estimates for your subsequent campaigns.
Cost Savings
With all of these picture and video editing tools available nowadays, creating films is a breeze. Most of the time, you don't even need to make a product video; you can simply go live and sell your services.
Increased Brand Awareness
Live video shopping applications require collaborations with influencers, celebrities, and others to market their items and bring in more customers. Campaigning with influencers gets your app on the radar of its user base, which increases the value of your brand.
What is a Live Commerce Platform or Live Streaming Commerce?
Sellers may list their items and create an online marketplace by using a live streaming e-commerce platform or a live shopping platform. They may sell their wares while live broadcasting them in response to client demands. A solid e-commerce platform makes selling easy and buying enticing. It optimizes appropriately to deliver the best outcomes for both players.
Increased customer conversion rates are one of the most significant benefits of employing live streaming in eCommerce. Customers enjoy watching video games. Furthermore, they foresee a corporation filming movies that clarify their product or service, teach how to use it, or even sell it in the same way that live broadcasts do. People buy a wide range of items at live shopping events. After all, live streaming shopping allows nearly anybody to create and offer their shopping channel.
Several enterprises are entirely committed to living streaming, live commerce, computerized commerce, and virtual selling using video as the focus. As a result, the importance of live trade for retailers and any market where live commerce might be applied is stressed.
Types of Live Shopping Platforms
Live video shopping systems exist in a variety of formats and sizes. These platforms are suitable for all sorts of businesses, whether they are start-ups or established businesses. Let's have a peek.
Platforms for non-live video shopping
Businesses may film videos of their items and publish them on their platforms so that people can see them and place orders based on the product nomenclature stated in the video. On this sort of site, users cannot contact businesses in real time, but they may post comments and receive responses.
Platforms for Live Video Shopping
In this sort of live purchasing platform, users may obtain fast answers to their problems and inquiries regarding a product. It has a live streaming service that shows consumers about each product of the day. It aids in the creation of a highly engaging session.
Influencer-based Video Shopping Platform
Users sometimes find themselves in circumstances where they like a lot of items but can't select which one to purchase. Influencer-based video shopping platforms come in handy in these scenarios. Users trust them and rely on their product reviews and comparisons. Influencers or data collectors collect data from numerous websites and assemble it into a movie to provide consumers with better insights.
What is a Video Shopping App on Demand?
On-demand purchasing applications are an excellent way to purchase your favorite things. The site provides you with a wide range of items in real-time, including prices. Let's have a look at the mechanics behind it. While exploring social media networks like Instagram and Facebook, you've most likely come across an item page with small white dots on the merchandise. When you click on those dots, you'll see a price in your local currency. You may also tap on the item to purchase it in real-time. That is how an on-demand video buying app works.
Instagram permits these items not just in its promotions area but also has a dedicated purchasing section. Several live video shopping applications have AR/VR functionality. These features enable customers to try on garments and other items to enhance their shopping experience. Live video shopping is a more refined version of live television shopping. It enables shopping networks to broadcast a live demonstration of an item as well as contact information. It was as simple as phoning the number and placing an order in real time. The main things that have changed in this sector of commerce are the extended features and usability, and most crucially, it is now mobile, so you can live to shop anything from anywhere.
Best Live Shopping App Features
The major draw of any software or platform is its features. Your users will only stay on your app if it addresses their problems quickly, which may be accomplished with efficient features. Here are some of the most important elements to consider incorporating into your live video shopping apps.
Chatbot using Artificial Intelligence
This enables businesses to respond quickly to particular client demands, such as pricing, product kind, and other product attributes. It undoubtedly contains the app's FAQs.
Interaction Designer
This encourages users to spend more time on the app, which includes features such as emoticons, voting choices, bidding possibilities, and more.
Live Chat
Allow users to communicate with the vendor via the platform and ask questions about a product or service. It also enables businesses to respond to their clients and increase customer satisfaction.
Recommendations
Allow consumers to receive product suggestions in real-time based on their prior shopping and browsing behaviour.
CRM
This allows businesses to get to know their consumers and supply the proper product based on their preferences. It also aids in analytics and forecasting.
Payments are made instantly.
It enables consumers to pay for their items smoothly and provides a variety of payment options for simple transactions.
Analytical Details
It enables firms to receive a real-time perspective of their operations and project data to create a strategy for future campaigns.
Is Live Shopping the Future of eCommerce?
As more people get acquainted with the live stream design, its potential grows. In addition to straight transactions, it is used for brand marketing, exhibiting new experiences, and establishing gratified interactions with clients. Selling live and direct to online clients has the potential to produce high-volume sales, especially for discounted products. Brands can also experiment with product bundles and value additions that they might not be able to provide on e-marketplaces.
Consumers may use mobile phones to find new products and updates whether they are at home or on the road. It enables non-local businesses to assess consumer reactions in a new market before committing to a neighbourhood presence, retail locations, and marketing campaigns. It will allow customers to interact with vendors, brands, and other customers before, during, and after making a purchase.
Millennials and Generation Z do not begin their purchasing journeys on Amazon, Google, or their local merchant. They're increasingly looking to applications to locate their favorite products. Due to online buying, the world is changing. Bringing online businesses to market has never been done with care.
Conclusion
All of these challenges, however, are resolvable with adequate research and understanding of customer behavior. So, if you want to invest in live commerce, the simplest approach to get started is to optimize your storefront and develop an app that prioritizes the consumer experience.
---
---