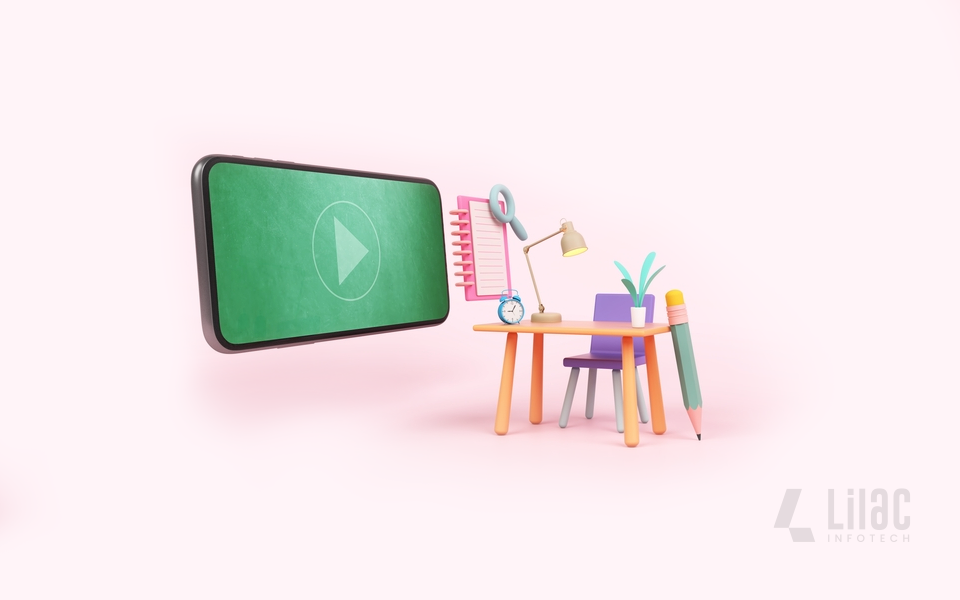 ---
The pandemic has hastened the expansion of e-Learning. And the rapid expansion is predicted to boost digital learning options in the future year, 2022! Online education now has a position in the educational environment. And it will continue to serve students and stakeholders, pandemic or not!
India, like many other countries, has already accepted the shift to online education.
When the epidemic initially broke out, everyone assumed that it would be over quickly and that life would resume as usual within a few months, if not weeks. However, our greatest worries were realized as COVID-19 decimated the whole planet, perhaps becoming the deadliest pandemic.
In times of crisis, smart firms always find opportunities. After the first few weeks, enterprises began to adopt digital to a large extent. At first, it was about how business was done. The majority of companies required their workers to work from home or remotely. As a result, corporations began to consider how to train and equip their staff to ensure sustainable company continuity.
We must look forward to the new period with optimism and renewed hope as the globe enters the post-pandemic phase. Can we, however, return to pre-pandemic normalcy? Some experts argue that the previous normal was not normal because it placed too much focus on one style of training or learning. As a result, we must now consider a hybrid paradigm for work and learning.
So, let's take a deeper look at the top E-Learning trends to look out for in 2022:
Mobility has increasingly become an integral part of our daily lives. Smartphones have made our lives easier and more convenient, from online video and phone chats to the most modern healthcare and education possibilities.
In such an atmosphere, it is expected that mobile learning will grow even more popular in the next few years. With the expanded usage of artificial intelligence in education, the number of mobile learners is growing at a rapid pace. The greatest advantage of mobile learning is the freedom it provides users to work whenever and wherever they choose.
E-learning will remain popular in 2022 due to gamification, which entails inserting activities into lectures. Gamification and game-based learning are not new notions in the realm of online education. Game-based learning has had a huge influence on the e-learning business since its beginning in 2018.
Gamification integrates fun aspects with the assistance of a leading app development firm to make e-learning more enjoyable for the learner. Despite the dearth of empirical data on its effectiveness, gamification is predicted to grow in popularity and will not fall from its perch shortly. Many firms have profited from game-based learning, resulting in improved training results and increased progress.
Furthermore, the introduction of incentive systems integrated into game-based learning has had a significant impact on the e-learning development business. Many employees are increasingly willing to adopt e-learning platforms as a method of improving their incentives and positions within the organization. Overall, gamification has aided the e-learning industry by simplifying and expediting the learning process. It is reasonable to expect that the popularity of this sort of e-learning will continue in the next few years.
Social learning is very important in the e-learning industry. In recent years, a new trend in online learning has emerged: social media learning. Users convey their learning experiences and essential values using a social learning technique so that others can benefit from their insights.
The emergence of COVID-19 in recent years has given birth to eLearning app development trends. Because employees were forced to stay indoors owing to the closure of companies and schools, social learning was used to keep them up to speed on their knowledge.
People who are experts in a certain field utilize social media to share their knowledge and assist others. Due to social learning, the concept of "anywhere learning" will soon become a rising trend in the e-learning sector. Social learning allows employees to learn from one another, allowing learning to take place outside of a single room. Two of the advantages of the eLearning technique include lifelong learning and instructor-less learning.
AI and VR are instances of next-generation technology.
With the introduction of new technologies, our lives have become far more convenient than they were only a few years ago. Most of the world's biggest corporations have reaped significant benefits from cutting-edge technologies such as artificial intelligence (AI), machine learning (ML), big data, augmented reality (AR), and virtual reality (VR) (VR). The importance of AI in online learning has also benefited the eLearning business.
Machine learning in education simplifies the tracking and learning process for pupils. Furthermore, advances in technology such as augmented reality and artificial intelligence are projected to benefit the eLearning business significantly.
User-Generated Content Expansion
As eLearning trends have evolved, it has become more common for users to produce their eLearning content. You will be able to reuse and adapt your previous work in new and unique ways in this category. With a lengthy PowerPoint presentation or webinar, you may construct a course that appears more interesting to the audience. However, keep in mind that the information you get must be properly reviewed.
People's dependence on personalized, user-generated content is growing, while the necessity for expert content duration is decreasing. This is because user-generated material is considerably more concerned with collaborative learning than it is with presenting knowledge for students to learn. People nowadays prefer material created by people like them over content provided by an institution's subject matter expert. As a result, this style is expected to gain popularity over the next few years.
In 2022, virtual conferencing is also predicted to be a popular eLearning innovation. It means a group of people connect and share their expertise. In other words, a group of people who are interested in learning may be created and then converse via video conferencing.
There is no requirement for participants to meet in person while using video conferencing. Given the current situation of the world, this is an intriguing thought. Virtual conferencing has grown in popularity over the previous several years. This is owing to the multiple benefits it provides students and the e-learning industry.
Face-to-face learning generated the attendance concept and made it simpler to transfer knowledge repeatedly. In contrast, virtual conferencing eliminates the issue of attendance, allowing the organization to run at full efficiency. The eLearning technique also addressed the issue of physically publishing material over time by delivering online content that a large number of students could access for a longer length of time.
There are several more advantages to organizing virtual conferences, such as enhanced corporate exposure, improved relationships with influencers, and so on. Thanks to this innovative new trend, e-learning as a business model have never looked better.
Read More : Finest Learning App for Education Industry!
Systems for Learning Management
CMSs, or Content Management Systems, are widely used by employers and managers to create and store digital material in a wide range of collaborative settings and workplaces. This idea has lately been considered by eLearning.
Learning management systems (LMS) have simplified the process of creating, organizing, and managing courses or curriculums for teachers and other eLearning practitioners.
Since their behind-the-scenes nature, LMSs have made it easier than ever to plan and modify courses at the same time. Because of LMS users' ability to interchange and incorporate resources at the last minute, this form of material duration is feasible in any situation.
As eLearning and other new forms of learning become more digitized and embraced, a Learning Management System (LMS) will make course planning and management easier and more efficient.
Data-driven learning, often known as Big Data, has fundamentally altered the e-learning industry. A data-driven learning approach that delivers a multitude of relevant engagement metrics may be used to track learners' progress on their tasks. In contrast, learning analytics delivers a plethora of information on how each student performs.
One of the greatest instances of artificial intelligence in education is the data-driven learning strategy. Tutors can quickly track their students' progress and get a feel for what type of learning method the student prefers. All of this helps the course creation process in the end.
In the year 2022, there has been a tremendous shift in user experience. Everything changes swiftly in the digital age, from corporate operations to client expectations. As a result, in the eLearning industry, learners' choices have shifted from traditional instructor-led instruction to a more technologically sophisticated self-study alternative.
By 2022, the advent of cutting-edge new technologies such as AR, VR, and ML might result in substantial changes to the customer experience. (MR). Voice-based searches are now used by virtually all mobile learners. As technology advances, the need to manually type in search phrases will become redundant, leaving just voice search.
Even more so, as current e-learning systems become more expensive to implement, AR/VR learning platforms are certain to grow in popularity. Why? This is due to decreased installation costs and greater user freedom. It is fair to assume that an e-learning app development firm will continue to assist with immersive learning in the next few years.
If you've been following what's going on in the e-learning sector, you've probably seen that video content is becoming increasingly popular. Users post e-learning videos at a rate that exceeds the number of episodes produced by the US broadcast industry nearly every 30 days.
Given the enormous popularity of video content, it is reasonable to expect video-based learning to remain popular for the foreseeable future. The movement shifted the whole e-learning industry away from textual information and toward a more visual learning experience. This has been one of the most popular e-learning trends of all time.
For example, it bridged the significant gap between the theory's premise and its real application. In other words, you can view a film on any theoretical problem you've read about and see how it works in practice. It is also feasible to use video for live streaming, online video projects, and expert sessions. With so many benefits, video-based learning is likely to be a significant eLearning trend in the future.
If you haven't heard of it yet, we'd like to introduce you to "microlearning," which has grown in popularity in recent years. Microlearning was an emerging trend in 2022, but it is predicted to become more advanced and effective in the coming years. We now understand that the word "microlearning" refers to little amounts of information designed to teach us something new.
Microlearning suggests that you may acquire a new skill by viewing a brief video or reading a short chapter. Individuals who find learning sessions tiresome may benefit from the microlearning strategy to develop their abilities. Playing games, taking quizzes, or watching a movie may all be useful learning strategies.
Aside from being less costly and more convenient, micro learning is the best method for workplace training and assessment. The personalized and bite-sized programs are not difficult to complete, which ultimately enhances your overall abilities.
The purpose of this eLearning craze is to improve learning efficiency by mixing several instructional approaches. To ensure that students comprehend the material effectively, instructors may combine video learning with micro learning. Another important aspect of blended learning is face-to-face tutoring.
If you incorporate a blended learning strategy into the creation process, the quality of your eLearning material may improve. This type of instruction can meet all of your educational needs, whether you're educating pupils or training employees.
Conclusion
To summarize, we can say that as a result of the introduction of digitization, things have improved with time. Whether we're talking about manufacturing, retail, or education, modern innovation has altered all industries.
In recent years, online learning has grown in popularity. Many users are lured to the e-learning platform because it allows them to acquire new skills from seasoned experts from the comfort of their own homes.
Furthermore, technological advancements are expected to make customers' lives easier. Simply said, the future of education looks bright with these eLearning options.
---
---