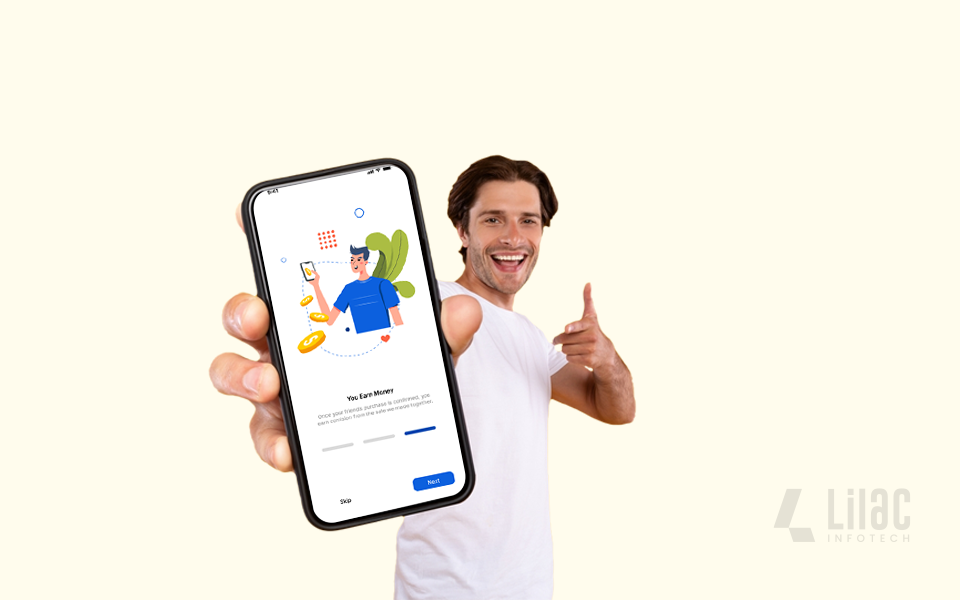 ---
Mobile application development is a field with limitless possibilities—a place to nurture ideas and allow innovation to drive creativity. At the same time, it has become an area of disruptive technology, changing requirements, and trends for market participants. This time should be remembered as one of uncertainty and ingenuity.
The shutdown caused a period of preference shifting. People are becoming increasingly focused on and drawn to mobile-first, contactless, and linked services. This necessitates an update on the most recent trends, what is working and what isn't, the practicality of shifting trends, and why you should be aware of them. This post will go over all of this and more.
Here are some mobile app development trends to be aware of in 2022:
Voice Technology Will Provide a Touchless Interface
Nobody could have guessed that speech technology would progress so far and become the most sought-after trend in 2021–2022. It has risen to the top of the list of the most anticipated developments in mobile app development, particularly in the IoT business.
Why do consumers adore it so much?
Many people now rely on voice search. Voice search is a pipe dream for anyone who has never liked typing and has smart speakers. It has made their lives easier since they can now search for anything without having to enter anything. It has improved customers' browsing experiences and merchants' marketing.
VUI, or voice user interface, is a challenging established approach to UI. It blends speech recognition with predictive learning to make the app more engaging for users. They may use their voice to engage with the program. Customers' retention grows when the whole experience becomes more tailored for them.
Shopping consultants are consultants that assist you while you shop. They assist you with finding items in the marketplace, discounts and coupons, answering questions, and providing advice to users.
If you want to grab the market and achieve client satisfaction, you must adapt to this expanding trend.
New Normal: 5G
5G is the latest internet buzzword. Mobile phone firms are bringing out 5G phones, which are being used as a marketing tool to drive sales. Since the surge in sales indicates that customers are interested in 5G technology, mobile app developers should include 5G technology in their apps. 5G is promising because of its extremely fast download speed and other characteristics.
Everyone will be focusing on 5G since it will enable the inclusion of new functions into mobile applications. Industries such as gaming and others that demand high-speed internet can use 5G to market and develop better mobile apps. It will have a 13 Trends That Will Shape the Future of Mobile Apps influence on AR/VR technology, live streaming, the IoT business, and many other areas.
The Expanding Market for Instant Apps and Progressive Web Apps
The world of mobile applications is complicated and ever-changing. High conversion rates might be difficult to acquire and sustain in such an uncertain world. You just have seconds to persuade people to install and maintain your mobile application.
Instant apps are an emerging trend in 2021 that allows users to sample an app without initially downloading it. They save data capacity and do not require users to install anything to function. It is easily opened by clicking on the URL provided by the creators, and there you have it.
Biometric Authentication and Identification
Biometric authentication is the use of fingerprint or faces recognition technology to identify users while protecting their privacy and security. Companies have recently begun to employ technology to give more security to consumers when they use wallets, etc.
Apps such as Apple Pay and PayPal, for example, employ face recognition to add an extra layer of protection to consumers' accounts and information. If you work in the Fintech, healthcare, or app industries, an additional layer of security for data and money protection can earn your clients' confidence and loyalty.
Adapting for Foldable Devices
The resurgence of foldable smartphones has altered the focus of mobile app development to create apps that are consistent across all displays. Mobile phone firms are manufacturing foldable phones, which are expensive, but they have effectively sparked people's attention. If you didn't already know, foldable gadgets can act as both a phone and a tablet, and you can alter them accordingly.
Industry titans like Samsung, as well as Huawei and Motorola, have embraced the foldable mobile device trend. People are showing a lot of interest in Samsung's Galaxy Z fold series, which highlights a developing trend.
This development presents a problem for mobile app developers since they must create apps that take into account folding devices and how the program will perform on their selected devices. This creates an opportunity because, as the gadgets become more affordable, the general public will consider utilizing them. Businesses can accommodate this trend by making their apps identical across all screens to retain customers.
Beacon Technology
Beacon technology has come a long way since its introduction in 2013. It has risen rapidly in recent years, with 400 million deployments expected by 2020. It is an increasing trend that people are getting on to because of the novelty of mixing online and offline experiences.
These are miniature Bluetooth transmitters that connect to cellphones. They can provide a more customized experience and are suitable for use in airports, retail malls, hospitals, and other public venues. It attempts to customize and simplify the consumer experience by providing precise information on their phones as they enter these locations. They may use smartphone applications to get real-time navigation, discounts, promotions, and ideas.
Beacon technology is already being deployed at Apple and Macy's shops, and the apps function in tandem with the brands' offerings. Mobile app developers should take on this issue and create apps that combine offline and online interactions to improve the entire user experience. Covid-19 distribution may also be tracked using beacon technology. Google and Apple have developed a system for tracking the number of positive cases.
Wearables
This is a fantastic opportunity for the field of mobile app development. Websites and apps that perform equally across PCs and mobile phones should respond to this expanding trend and work flawlessly with wearable devices as well. This is a generational shift, since PCs have become obsolete in comparison to smartphones, and smartphones will eventually become synonymous with wearables.
Wearables became extremely popular during the pandemic because they can detect symptoms and provide an early warning systems for COVID cases. Smart watches have capabilities that continually monitor physiological data in real-time, emphasizing early identification of deviations from an individual's normal health.
Dispelling false information
In recent years, there has been an increase in the distribution of false or false material masquerading as the truth on social media, and it does not appear that enough is being done to combat the spread of misleading information through these platforms. People cannot reasonably filter out the information supplied to them, hence it is up to the applications to implement systems to separate the correct information from incorrect information.
The introduction of fact-checking algorithms into social media mobile applications is thus the most essential and hot topic in mobile app development. The responsible group has requested that media platforms use such a process, which is why companies must devise ways to handle this issue.
AI-based solutions are in high demand, but it is still a work in progress and a chance for developers and creative minds to come up with something that can address the majority's problems.
Recreational Cell Phone Use
Before the epidemic, people spent less time on their phones. They used to spend about 3 hours per day on their phones, which increased to 4 hours and 6 minutes in 2021, with the majority of the time spent on mobile apps rather than surfing. Leisure was the first industry to go digital, and people became addicted to it and are unwilling to give it up.
This is an area where businesses may capitalize since customers choose to spend more time on mobile applications than any other platform.
Rebirth of On-Demand Apps
The epidemic has resulted in the revival of on-demand applications. The applications that sit idle on people's phones until they need to utilize them for the reason they were designed for.
The following are some of the most well-known and extensively utilized on-demand apps:
Uber is a popular ride-hailing app.
Rinse is a laundry service application.
Grubhub is a meal delivery app similar to Uber Eats.
Instacart is a grocery delivery service.
Airbnb is a hotel booking app.
And others fulfill the same function.
Gaming Industry is changing
Over the years, video games have remained popular. Games have progressed from being relatively simple to being extremely interactive. The dependency on games grew exponentially during the epidemic when several renowned YouTubers began live-streaming games and people began playing in groups.
The dynamic UX and UI of games like PUBG contribute to their success. Others have been able to kill their ennui by associating with people from all over the world and playing games in teams. This trend will grow in popularity, and those that capitalize on it will be rewarded handsomely.
Neomorphism in User Interface Design
The simple UI with minimalistic design is regarded as common in app design, however, it will not keep customers engaged for long. Designers are continuously looking for innovative methods to incorporate interface aesthetics into their work. "Neomorphism" is one of them.
Neomorphism allows for the imitation of three-dimensional objects to improve the aesthetic impressions of software applications. Though it improves aesthetics, it makes scaling the UI more challenging. The reason why neomorphic features are rarely used in mobile app development, while pseudo-3D elements are frequently used to enhance basic minimalistic interfaces.
Making the connection between the app and the user more healthy and rewarding is an emerging trend in mobile app development.
Newfound Addiction to Online Shopping
M-commerce, or internet purchasing, is not a new phenomenon, but it has grown tremendously during the epidemic. People have been compelled to shop online as a result of the lockdowns and epidemic, and many of these new users will continue to do so long after life returns to normal. It is not incorrect to argue that internet shopping has become the new normal and will continue to reign long after the epidemic has passed.
This trend in mobile development is not going away anytime soon, as seen by the popularity of online food and grocery delivery applications as well as retail apps. It has emerged as one of the most promising and consistent trends in mobile app development.
Concluding
These are some of the emerging trends in the field of mobile app development. The epidemic has boosted dependency on the internet far more than anybody could have predicted in a normal society. People's social habits and attitudes have shifted, and they will continue to rely on these applications to provide important services, just as they did during the epidemic.
This has created an opportunity for businesses to develop new and inventive concepts that will improve people's convenience. Anyone who bases their ideas on the needs of their clients is one shot away from success.
---
---