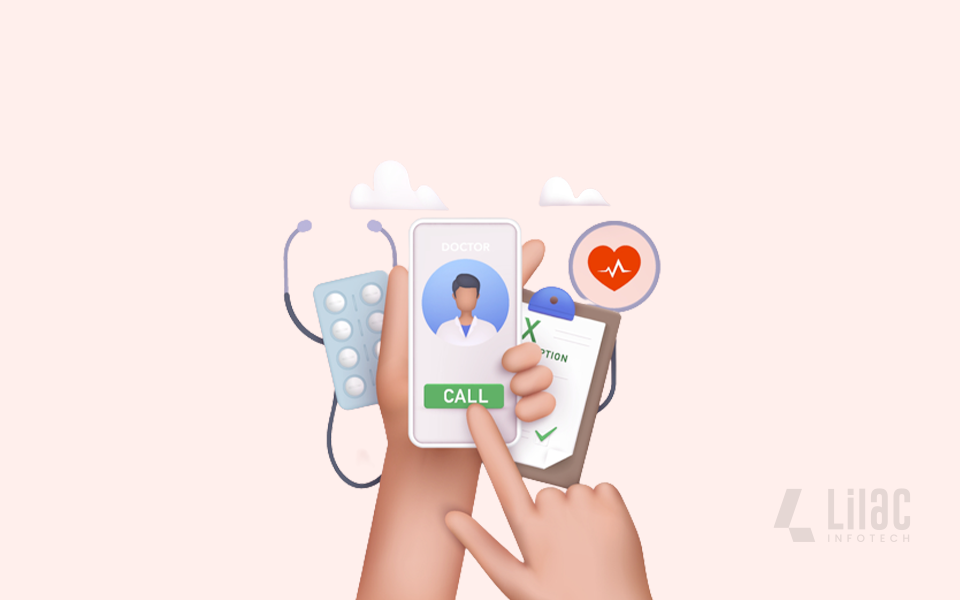 ---
With the digital revolution and adaptability taking place, the need for developing a health app has become a must. The necessity for a healthcare app is growing by the day. A healthcare app will not only cut down on hospital lineups, but it will also save a significant amount of time when visiting the hospital. Minor exams and consultations with a doctor may take place from anywhere and at any time using a healthcare app.
If you've decided to create a healthcare app, let us walk you through the process in this post.
Why Develop A Healthcare App and What Is It?
So, why should you design your healthcare app, and what is it? Let us start with the latter. A mHealth app is a broad term. We shall examine several sorts of healthcare applications later. They range from simple to complex healthcare apps. In simple terms, a healthcare app provides traditional healthcare-related services to patients via an app.
The bulk of individuals reading this site have lived through the COVID epidemic, which, despite being feeble, is still very much alive.
And in this case, every one of us has utilized some form of health app. So, this is the answer to what?

The following are the reasons for developing a healthcare app:
One of the primary reasons you should consider healthcare app development is that it is the future of the healthcare sector. Technology will cover and integrate with every sector.
So, in a sense, every industry will use some type of technology in its operations. And it's not like we haven't seen the benefits of a mHealth app during a COVID epidemic.
So, establishing a healthcare app now and allowing it to evolve with the industry will make you an early adopter. This opens opportunities for you and the chance to become a future market leader.
The simplest way to generate millions, or perhaps billions, of dollars in the market is to give what the client wants. Customers now want better, more creative, and trustworthy healthcare mobile apps. You may respond to this need by developing and implementing your healthcare mobile app. By doing so, you are not only meeting market needs but also generating millions of dollars in income. This is another compelling reason to consider establishing your healthcare app.
Expanding Multi billion-Dollar Market
Finally, if you don't want a piece of this multibillion-dollar cake, you should develop your healthcare app software. Nothing screams possibility and skyrocketing revenue like the health sector.
If done correctly, Healthcare IT Solutions may help your company develop and grab market share, producing millions of dollars in the process. These are just a few of the reasons why you should create your healthcare mobile app. Now, let's take a look at the many forms of healthcare app development options.
Market for Healthcare Apps in 2022
In the year 2020, we were all victims of a pandemic. With it came social isolation and the need for every individual to be indoors for their health and safety. Confirming the market's demand for greater Medicine App Development. The telemedicine industry is expected to grow by 300% by 2020. These forecasts of an increase in remote healthcare are substantially higher in 2021. Due to several contributing variables such as telemedicine, artificial intelligence, psychological health, digital treatment sessions, and so on, healthcare applications have achieved a new financial dimension. Nonetheless, healthcare applications in telemedicine, patient portals, and other areas are improving.
There are over 100,000 health applications to pick from that fall into various areas of healthcare such as fitness, calorie tracker, on-time medicine, periods tracker, and so on. According to an analysis of the numerous categories of health care app solutions, coming into the field of fitness and medication will help you reach more audiences and eventually create more income. Just make sure your app is meeting the demands of patients and keeping up with market developments.
Features to Include in the Development of a Healthcare Mobile App top 5 Medical Apps with Massive Success
The feature may either make or break your app's popularity and attractiveness. As a result, when it comes to adding features to online medical app development, you need to pay extra attention.
So, here are some features you should think about including in your health solution:
1. Medical Document Management in-App
We are all aware that hospital appointments, check-ups, tests, and so on generate a large number of records for you to maintain. The trouble is that all of these are crucial.
What if all of these papers could be preserved in your mobile app? This is what we're talking about. This is a feature that you should think about including in your mobile health app.
2. Payment Gateway Security
What characteristics distinguish an excellent health app? The features should respond to client demand. One of them is this feature. A secure payment channel allows customers to pay for their appointments, medications, tests, and other services directly through the app.
3. Profile Creation and Management
While numerous applications can be used without having a profile, this one is a must-have. The rationale for this is that having a profile with all of your information makes it easier for doctors to conduct their job. They don't need to ask you ten questions to get the basics. This is why you should think about incorporating this function into your digital health app.
4. Online Appointment Scheduling
Another feature that came in helpful during the covid epidemic was online appointment booking. We couldn't leave the house for even the most basic duties, therefore this function allowed us to contact physicians.
There's no reason why this wouldn't be effective in modern scenarios. Since many medically or physically challenged individuals still find it difficult to consult a doctor.
5. Medical and Health Tracking
The majority of sicknesses and medical issues may be prevented if we maintain track of our health, which is something that most of us overlook. This is why it is critical to incorporate medical and health tracking in your health mobile app.
Development Process of a Healthcare App
Creating a healthcare app isn't exactly difficult. However, there is still a procedure to be followed. This ensures that you obtain the greatest possible outcome without wasting time or money.
So, let's go over the stages involved in creating a healthcare app:
Conducting market research is the first stage in building a mHealth app. You may gather useful facts here to double-check your notion. The information and data gathered in this stage will serve as the foundation for the rest of the procedure.
Business Model for a Health App
Following the completion of market research, it is crucial to select a health app business plan. The correct business strategy is critical to the success of your healthcare mobile app. And once you've completed this, we may proceed to one of the most crucial tasks.
Since we're talking about a health app that deals with a variety of vital medical and mental health concerns, there are specific rules to follow. Medical compliance might differ depending on the nation. We may begin constructing the app after obtaining all of the necessary permits and ensuring that you comply with all of the regulations.
The first thing you must do is select an app platform. iOS and Android app development services are two of the most popular solutions. Both of these platforms are fantastic in their own right. And they have incredible advantages. However, if you can't decide between the two, you could look into hybrid app development services.
Each platform has a few tech stack possibilities. For those who are unfamiliar with the term, a tech stack is a collection of technologies such as frameworks, programming languages, toolkits, and so on.
MEAN Stack Development, for example, is a common tech stack. It is critical to select the correct tech stack since it has a significant impact on the whole development process, performance, and look and feel of the application.
The design and functionality of a healthcare app may have a significant impact on user engagement and, ultimately, market performance. As you can see, good performance is insufficient. Rather, good design and suitable characteristics are required.
When all of the various components are ready, you can finally begin the development process. In this case, the healthcare app developer will integrate many elements.
This is one of the most time-consuming operations, and with good reason. Maintain open lines of communication throughout the development process.
When the software has been developed, it is time to test it. Testing is a critical step since it is where all mistakes are detected and eradicated. The app gets deployed once all essential modifications have been completed.
The platform you select determines the deployment procedure. For example, if you pick iOS app development services, the process will differ from that of Android.
While the primary procedure has concluded with the deployment, there is something more that you must not overlook.
This is mobile app upkeep and support. These services contribute to the app's performance and market position.
All You Need to Know About Healthcare App Development Costs
The cost of developing a healthcare app, like the development time, is determined by a variety of factors.
Some of these elements are as follows:
Platform for mobile applications
Stack of technology
Size of the team
App Classification
Complexity
Features
Without understanding the specifications of the healthcare app project, it is impossible to correctly anticipate the healthcare app development cost.
Concluding
You want to make millions of dollars, but first, you must create excellent healthcare software. There are several on-demand application development businesses on the market now that can accomplish this for you.
However, you just want the finest. And no one does it better than us. As a top healthcare mobile app development firm, we have years of expertise and the necessary know-how to construct a healthcare app. So, if you need assistance turning your million-dollar concept into a reality, we are here to assist you.
---
---