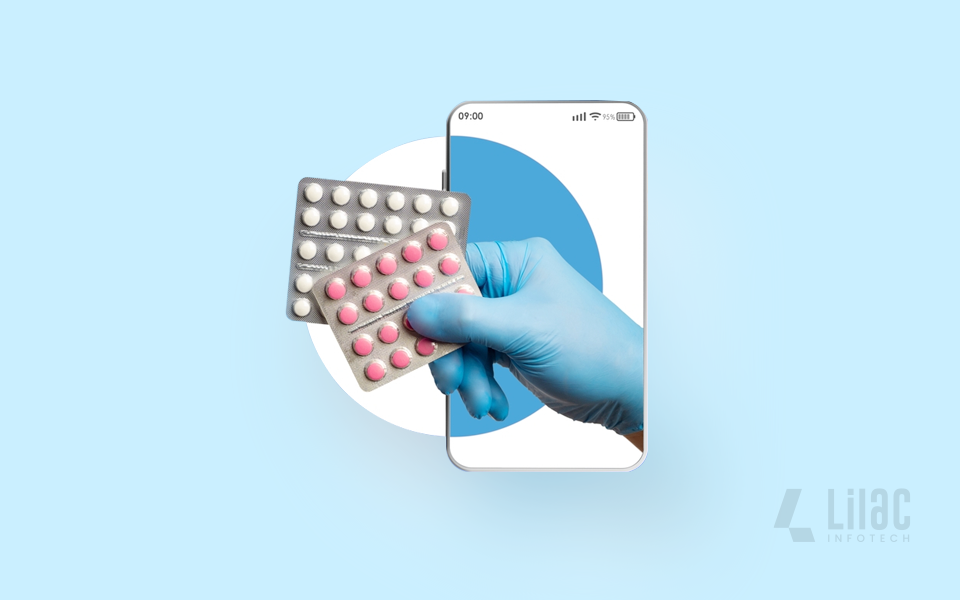 ---
Pharmacy Delivery Software functions similarly to any other online delivery app. The Medicine and Healthcare businesses will never suffer inflation unless humans begin to become immortal. As a result, a rising number of pharmaceutical stakeholders are concentrating their efforts on investing in the medication distribution business.
It is also true that as the internet and online services have become more popular, many people have become hooked on them. They are always on the search for internet services that will deliver everything to their door. Even medicines! As a result, we'll guide you through the many procedures and duties involved in developing a pharmaceutical delivery app in this post. If you want to start a medical delivery service, you must prepare ahead of time.
To begin the method of building a firm strategy, you must first have a basic concept of the features you will want in your online drug-selling technique. You must have a user-friendly interface, which requires knowledge of the peculiarities of such platforms.
This article will walk you through the process of launching your medicine delivery app. It will be linked to online purchases and actual delivery, but you must first go through a particular process.
But first, let's define the term "Pharmacy app."
The Definition Of Pharmacy Delivery App
We've already explained why these apps are so popular. In a word, they are easy to use, available at any time and from any location, and provide access to a plethora of new options.
Discounts, quick medicine delivery, secure payment, and, in certain circumstances, the opportunity of a virtual consultation with a pharmacist are all provided to users of such on-demand pharmaceutical delivery systems. It's no wonder that they're so popular!
In reality, we gain a 24-hour online Pharmacy delivery software that talks with the client seven days a week. Even after the drugstore's working hours have ended, its virtual equivalent is still available, and the user is welcome to inquire about the pricing of a certain medicine as well as its availability.
Statistics on the Pharmacy Delivery Industry
The increasing demand for medicines and healthcare goods makes it challenging for offline companies to meet the needs of the growing population. Another important factor in the continuous growth of online drug delivery apps is the convenience of ordering from the comfort of one's own home, which, when paired with cheaper prices, reduces the need for customers to physically visit stores. On the contrary, internet stores may cater to a wide range of global needs. As a result, numerous medical enterprises and organizations are attempting to move online, focusing on building an online pharmaceutical delivery company. Customers now choose to purchase drugs online because they benefit from appealing discount offers, prompt home delivery, and significantly faster home deliveries.
Apps for pharmacy delivery are getting increasingly popular. They have witnessed huge growth as a result of the global spread of the coronavirus and increased demand for pharmaceutical home delivery. A pharmacy delivery app benefits both customers and pharmaceutical companies. Using a mobile app to order medicine saves time, offers access to a varied choice of pharmaceutical options, preserves privacy, and so on.
How Do Pharmaceutical Apps Work?
On-demand technology has altered the purchasing experience in a variety of industries, including pharmaceuticals. Until recently, consumers had no choice except to visit traditional pharmacies, but now they may receive prescription drugs at any time using a variety of tools and applications.
Customers may use apps for prescription delivery and over-the-counter medicine purchases to access a big database of pharmaceuticals in their area. These applications are extremely simple to use because they function similarly to well-known shopping apps.
Customers may browse through categories, add items to their shopping carts, and then check out. Modern on-demand pharmaceutical delivery apps are quite safe and include several payment security measures.
Business Models for Pharmacy Delivery Apps
Most pharmaceutical delivery companies, such as 1mg, use one of two business models to run their operations and generate revenue. Before you begin designing pharmaceutical delivery applications, you must choose the appropriate business plan for your organization.
Consider the following two significant business models to see how they differ:
The inventory Model is the first business model.
This business model is suitable for large pharmacies that stock a large number of medications. Such companies can create their pharmaceutical delivery app, allowing them to transition from the offline to the online world. The main advantage of such a business plan is increased brand recognition. Nonetheless, having a huge stockpile of pharmaceuticals to supply is required under this business approach.
The Aggregator Business Model is the second business model.
The second business approach involves acting as a middleman between clients and medication providers. These prescription delivery apps serve as order aggregation systems, transporting drugs from third-party pharmacies.
The producers of such applications are not required to store drugs under this commercial model. They merely collect orders, process them, and dispatch them to pharmaceutical delivery drivers.
Before you begin designing medication delivery applications, you must choose one of the available business models based on the sort of business. This allows you to better manage the development process, build the best feature list, and find a vendor with relevant experience.
How Do You Create Your Own Pharmacy Delivery Apps?
In this talk, we will provide you with technical and non-technical advice for building up an online Medicine business. If you are already familiar with the process of developing a Medicine Delivery App, this article will refresh your recollection. If not, you will likely get a good idea of it.
Step 1: Create a Business Plan
With adequate planning, tasks of any magnitude may be begun. A well-crafted strategy is a key tool for sketching out the whole business process. Your business plan should include, but is not limited to, the sections listed below:
Initiatives for market research
Cost estimates for developing your online Medicine
Branding and labeling
Revenue generation model
Prepare a Risk-Reduction Strategy
Step 2 — Register and Set Up An Account For Your Online Medicine Delivery App
You must first register your firm before you begin. There are several sorts of business structures that might help you launch your online Medicine business. You can form a corporation, establish a direct business association, or become a franchisee of a large pharmaceutical company.
During this procedure, consult with a respected tax specialist and complete all essential paperwork. Many types of taxation restrictions governed by pharmaceutical and drug policy are important in this area.
Step 3: Configure a Business Accounting Procedure
You must be well-versed in your company's accounting models. You must have a system in place to track all financial activities, including income and expenditures, beginning with your initial investment and continuing until sales commence.
Set up separate ledgers and accounting books for your fixed and variable expenses. You should also have the proper documentation to monitor your profits and where they come from.
Step 4: Obtain All Licenses And Permits
You must have the proper licenses, certifications, or authorization to start an internet pharmaceutical selling firm. Even though it is not a physical business, some legal criteria must be met.
As a result, it is normally recommended that you obtain all of the essential licenses and approvals before starting your firm to avoid complications and undesirable risks.
It might be your Retail Drug License or Zone Permits, which are both essential to your online business. Remember that you should not enable any customer to acquire medications from you unless they have a valid prescription from a certified medical practitioner.
Step 5: Get Insurance
Like many other existing online medication delivery programs, you may conduct your business in two ways. You can either have a stock of medications on hand and deliver them as needed to your clients. You might also build cooperation with other Medicine stores and hire a representative to deliver the needed medications from the vendor to the customer.
You can also choose to have your prescriptions sent to you. Choose the best based on the place in which you will be operating so that your customers are not concerned about home delivery. Whatever model you select, there are risks. Medication storage exposes them to the risk of loss due to fire or other unintended incidents.
When distributing, your salespeople are continuously in danger of being involved in a traffic accident. As a consequence, insurance is essential to protect your online pharmaceutical business from experiencing a significant financial loss as a result of an unfortunate event.
After you have finished all of the non-technical components of starting an online pharmacy, you should move on to the technological aspects. This post will refresh your memory if you are already familiar with the process of establishing an on-demand delivery app. If not, you will likely get a good idea of it.
Features for Your Pharmacy Delivery App
Customer App Features to Include
The following are the essential features that should be included in the development of a pharmaceutical delivery app:
User registration and login - Your apps should allow users to create an account. This feature may be implemented in several ways, the most efficient of which is to add social login to speed up sign-ups and sign-ins.
Clients should be able to input personal information such as their name, credit card information, shipping address, and so on after successfully creating a new user account. Profile management should have a 'lost password' function.
Upload Prescription - Users should be able to upload prescriptions for pharmacist verification. This feature should enable the uploading of various sorts of prescriptions.
Customers utilize prescription delivery apps to find prescriptions, which is why they search for them. As a consequence, providing a robust pharmaceutical search is a must-have, as it will aid clients in discovering the items they are looking for without wasting too much time on your application. Filters may be used to search by categories, manufacturers, similar drugs, and so on.
Pay for orders - Mobile payment is on the rise, and the pharmaceutical industry is no exception. As a result, you must allow patients to pay for their orders without having to leave your application. Make sure to provide a variety.
Drug details - Before purchasing a product, customers frequently conduct research to ensure they have all of the relevant information, particularly if the product is connected to their health. As a result, you must provide a detailed description of each drug, including information about its components, potential side effects, and so on.
Ratings and feedback - Customers should be able to report any issues and provide feedback on the products and services you provide. As a result, you must incorporate a feature that allows customers to provide comments. If you deliver a nice purchasing experience, you will be able to transform social proof into a powerful weapon for consumer acquisition and retention.
Notification - this feature may be used in several ways. You may use this capability to remind customers about a new drug, upcoming discounts, and special offers, or you can go a step further and remind them of the need to refill the supply of medicine that they use daily to cure specific chronic conditions.
Refund request - this is another tool that may show your customers that they are safe when using your app. If an order is not delivered, is delivered wrongly, or is delivered inappropriately, users should be able to seek a refund.
What Features Should The Vendor's App Have?
In medication delivery apps, a panel for Medicine personnel is also offered. These features are useful if you sell your products or allow third-party merchants to sell in your app.
Login/Register — This capability is required if you want to build an online Medicine app where third-party merchants may sell their products. Vendors should be able to create accounts and provide basic information.
Account Management - Suppliers should be able to supply their company data and add information to their accounts once they have been created.
Order management - This feature should help pharmacies handle and manage orders, make returns, regulate refunds, and check prescriptions, among other things.
Order notifications - It is vital to notify Medicine personnel when a new order comes to process it quickly.
Digital prescriptions - pharmacists should be able to view and verify prescription files.
Payments are a must-have feature since a Medicine should be able to accept payments directly in your app, see information about any current payments, and control their flow.
Order history - provides Medicine personnel with historical data on all orders.
Admin Panel Features to Include
Any prescription delivery system must include an admin panel. The key features that you may design are as follows:
Dashboard - a complete dashboard for managing all of your orders, deliveries, customers, and third-party suppliers, among other things.'
Payment gateways - pharmaceutical delivery app development should include integration with a variety of payment choices so that customers can make payments straight from your app. By providing a few options, you quickly increase your chances of attracting additional clients.
Real-time analytics include information on orders and their statuses, as well as cancelled transactions, charge backs, and payment, among other things.
Order tracking enables administrators to view all orders placed by clients at all registered pharmacies.
Customer service ensures that consumers are not left alone in the face of difficulties or issues. Customers should be able to contact administrators if they need clarification.
Inventory management is a critical function that enables frequent product replenishment, tracking expiration dates, and planning for seasonal changes in demand.
Management of users and suppliers - Administrators must be able to manage all users, pharmacies, and suppliers.
Delivery Guy's App Will Have These Features
Couriers are an important part of every delivery application. The development of a pharmaceutical delivery app should include the creation of a separate app for drivers. Let's look at the major features of a medical delivery driver app:
Registration/Login - The first function for a pharmaceutical delivery driver is, of course, registration/login. Couriers should be able to register for your service via your app. Once again, adding social login is the best solution.
Driver profile - drivers must add their personal information to the app after enrolling.
Push notifications – This feature makes couriers' tasks easier since they receive push notifications when a new order is received and when any changes to the order are made.
Navigation – couriers should have access to a variety of mapping tools to let them determine the best routes to a destination without leaving their application.
Delivery status — This feature allows a driver to change the status of an order from received to deliver.
Final Thoughts
Pharmacy Delivery apps provide a critical requirement for customers, resulting in a significant demand for healthcare apps. Along with pharmacy delivery apps, other health-related apps are on the increase, such as health and fitness apps, which are gradually becoming the first option for fitness aficionados.
With so many participants in the health and fitness sector, it's critical to have a distinct USP in your app that addresses a specific need. It is critical to have an experienced app development company to fully comprehend and implement your unique idea.
---
---