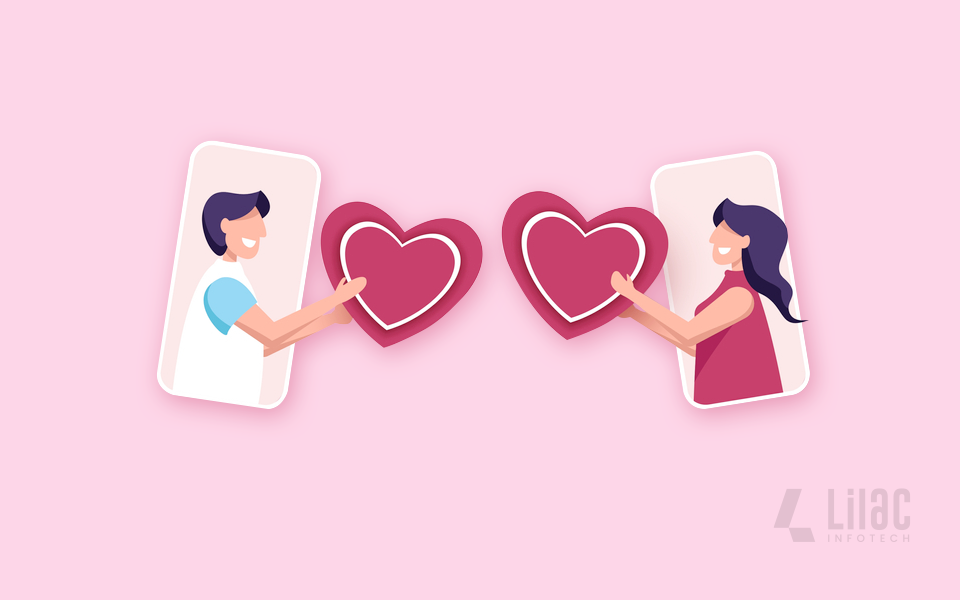 ---
People in 2021 are busy, and they want quick and easy answers. Everything is done online, from purchasing daily necessities to ordering dinner. The key factor is advanced technology and the expansion of the internet.
Marriage is a joyous event that demands a lot of physical and mental effort. Thus, from the selection of the bride and groom through the wedding day, a great deal of planning is required. The days of resorting to brokers to find a marriage mate for your family, relatives, and acquaintances are long gone. Additionally, marriage apps have made everyone's lives easier and faster. It saves people time, money, and effort while looking for a bride and husband.
Stats of a Matrimony App
In 2022, the matrimonial business is poised for prosperity. The globe was stuck with COVID-19, and all industries froze, with no income or profits. However, the marital business was the first to recover and re-establish itself in the market.
Grand weddings were outlawed by the restrictions established by the national governments and the social distancing principles. With the release of the COVID-19 vaccinations, regulations are being eased and weddings are taking place all over the world.
Business owners, both old and new to the matrimonial market, are attempting to harness technology and relaxation to grow their businesses. Matrimony App Development will skyrocket in 2022.
According to reports, revenue is expected to expand at an annual pace of 8.48%, culminating in a market volume of US$3,961m by 2024.
Important and Scope of Matrimonial App Development
People are pressed for time and want solutions at their fingertips. It is a terrific concept in a hectic life to have an App that presents prospective matches to users. Thus, the scope of the Matrimony app is vast in 2022, and there is no better moment to begin developing your app. By creating an app, your consumers will be able to locate the right match by simply enrolling in your app. Furthermore, the app's filters will assist users in bridging the gap observed in disparities. The breadth of the matrimonial app is vast since users may explore many profiles at once. Furthermore, if you provide excellent privacy and security, you may compete with the finest in the industry. To begin, hire a mobile app developer to create a solid mobile app and expand your business.
Benefits that the Matrimonial Apps Bring Along
Another significant advantage of matrimony websites. The Internet gives convenience and convenient time availability. You only need a computer/laptop or an internet connection. And search through hundreds of profiles using your email address and password. Users that register can also get mobile applications to make their lives easier.
Relatives cannot provide you with thousands of different opinions on the bride and groom. In the best-case scenario, matrimony websites will provide you with a plethora of possibilities. All you have to do is register with a matrimonial site to access hundreds of matrimonial profiles.
Shortlisting and forwarding capabilities
You can filter the profiles based on your preferences and send them to your family. And relatives will examine the profiles you send via email. This is one of the primary benefits of matrimonial websites.
Leave your fantasy world and meet your soul mate in the real world. Don't expect your lover to instantly knock on your door. Never put your faith in such a coincidence; instead, work hard to identify the exceptional one. You will find a plethora of stunning registered brides and grooms here. After you've decided on one, you may contact that individual.
Best Tech Stack For Matrimonial App Development:
If you are a perplexed entrepreneur wondering what technologies to utilise for your matrimony app, here is a list to help you.
Android or iOS smartphone
Twilio and Push.io provide push notifications.
Nexmo and Twilio provide SMS and voice services.
Backend: PHP, JavaScript, and MySQL
Payment methods include Braintree and PayPal, Stripe, EWallets, NetBanking, and Cards.
Databases supported include MongoDB, Hbase, Cassandra, Postgress, and Mail Chimp integration.
AWS, Google, and Azure are examples of cloud environments.
Hadoop, Spark, BigData, Apache Flink, Cisco, and IBM Realtime Analytics
The Development Process of Matrimonial App
There are several aspects that influence the cost of developing a matching app, and we have examined them all in depth below so that you have a comprehensive grasp of the budget for how much an app like shaadi.com costs.
A platform for the app (iOS, Android, or both):
First, decide whether you want your software to be available to Android or iOS users. You may also have the app produced for both platforms, but this would undoubtedly raise the cost.
Design of a Matchmaking App:
With matching software, you must want to appeal to a big audience. You would need to make your app particularly appealing for this, so give careful attention to the app design and, in addition to making it appealing, ensure that it is easy to use. Integrating an appealing design will undoubtedly increase the cost, but it will undoubtedly be worthwhile.
Dimensions of the Mobile Application:
This refers to the overall amount of features and functionality introduced to the software.
As a result, the cost of developing a marriage mobile app will also be determined by the geographic location of the developers, their level of experience and skill, and so on.
Integration of payment methods:
So, while including a mobile wallet in your matrimonial app would increase the cost, it will also eliminate any payment-related problems. It provides consumers with a variety of real benefits.
Looking to Hire a Matrimony Mobile App Development Company?
The year of growth in the matrimonial business is 2022. It is up to you to capitalize on the prospects and create a scalable solution for your company. Lilac Infotech, the top mobile app development firm, can provide you with a cost-effective and outstanding solution.
Marriages will increase dramatically when governments throughout the world reduce social distancing regulations. Create a top-tier matrimonial app to be a leader in 2022.
---
---