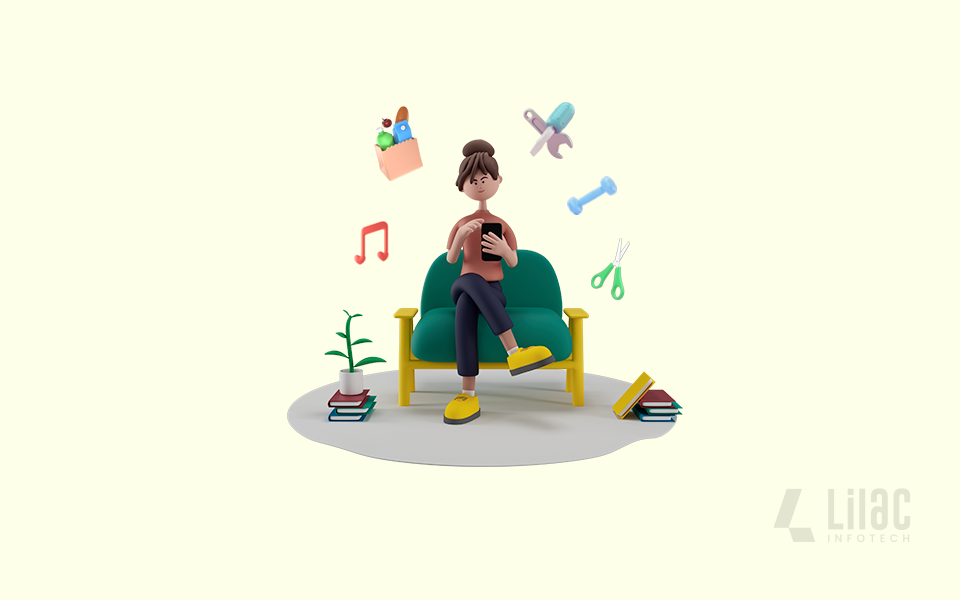 ---
These days, on-demand home services are in high demand. We live in a technology age, and everything revolves around it, as we all know. People may now satisfy their needs with the aid of the internet and mobile applications, thanks to the advent of the digital revolution.
Theon-demand home services software has recently gained popularity. From servicing your forms of equipment to providing beauty services at your house, we are only a click away. India's mobile app development firm focuses on these services to make people's lives easier. People needed more time to relax before Covid-19, and their lives were moving. Peer pressure is also present in the workplace.
Home services applications have become a requirement for everyone in this circumstance. As a result, businesses are forging ahead in this field by delivering on-demand home services via user-friendly apps that set them apart.
This blog will undoubtedly assist you if you are considering investing in on-demand home services app development but have any reservations. This article will cover why you should invest in a home services app and what vital characteristics a home service app should have to thrive. What are the tried-and-true growth techniques for better business startups? Let us go through them in detail.
Detailed market analysis
The online on-demand home services market is expected to grow by USD 4.75 billion between 2021 and 2026, at a CAGR of 60.77 percent. Today's youthful generation is becoming the most excellent customer of these services, as they are the most significant internet users. Their hectic lifestyle necessitates the adoption of the appropriate on-demand services. Consequently, this marketing is growing daily and will continue to increase in the coming years.
This industry's rise is also fueled by the proliferation and ease of use of smartphones, which allow individuals to obtain information and book services. To provide the most excellent and efficient outcomes, the top mobile app development firm has bridged the gap between real-world and immediate on-demand services. Cleaning service apps, beauty apps, chore apps, home maintenance services, and so on are examples of on-demand home services. Consumer loyalty is determined by the services they have gotten.
Some of the best businesses in on-demand home services applications make significant profits because they give their consumers distinctive and clean services. Their apps are simple to use, which allows them to remain ahead of the competition. From carpentry to plumbing, fitness to beauty, they provide a wide range of services at the customer's door. The startups UrbanClap and Zimbber have drastically altered the domestic services market.
Some popular on-demand home services applications are as follows:
There is no doubt that the on-demand home services market is thriving right now as an increasing number of consumers choose to outsource some of their domestic responsibilities. A professional cleaner or handyperson may conduct services ranging from cleaning to laundry. These applications may be what you're looking for if you're seeking an easy method to obtain help with your usual duties.

There are several On Demand Home Services apps on the App Store and Google Play. Here are five common alternatives:
1. Thumbtack
Thumbtack makes it easy to identify specialists that can handle any assignment. They have approximately 1,000 registered service providers who are ready for rent. Before you know it, you've found the ideal specialist for your job. Thumbtack offers a wide range of services, not simply home repair jobs.
2. TaskRabbit
TaskRabbit is often regarded as the most cost-effective home service app available. This organization provides not just flexibility and dependability but also cost. We're a winner in the gig economy with over 148,000 independent contractors who have cleaned over 400,000 houses, assisted in 300,000 moves, repaired 218,000 household goods, and so much more.
3. Urban Company
Urban Clap is an app that connects clients with the best home services in India, the United Arab Emirates, Sydney, and Singapore. Urban Clap links clients with specialists who can assist them in meeting their day-to-day requirements. Urban Clap provides professional services quickly and easily through one booking, from cleaning your air conditioner to giving a massage.
Why should people put money into it?
Competition in both areas, such as on-demand home services and consumer requirements, is growing daily. Investing in this area is thus a wise decision. The three primary motivations for investing in this sector are as follows:
On-demand home services are primarily defined by their ease of access and availability. Many people who use the internet to meet their everyday needs prefer to have a home services app on their phones.
The internet and mobile phones are becoming increasingly popular. Both elements are connected. This pattern increases the need for online on-demand home services apps.
The urbanization trend has brought about significant changes in our everyday lives. People are busier now than they used to be. As a result of their hectic schedule, they have yet to devote time to home tasks. As a result, they want someone who can work for them just outside their door.
The Benefits of On-Demand Home Services Apps
Increased lead generation: On-demand home service apps increase lead generation opportunities for service providers by connecting them to a larger audience.
Service quality: Customers may make an informed selection with an assortment of recognized service providers who are masters of their domains and client feedback regarding their service quality.
Availability: Mobile apps were not widely available at the time. At the time, if I required a domestic service, I couldn't expect an immediate response. I can now download applications on my phone and book any service I choose.
Various payment models: Mobile apps bring with them the versatility of payment channels. Any on-demand home services app you choose today will accept payment through credit/debit card, net banking, and a digital wallet, in addition to cash.
Simplified appointment scheduling: App users may rapidly pick the time window in which they want a service performed and are then connected to an available service provider.
Some home service companies
Laundry services at home
People may choose from a variety of company concepts these days. One of them is home laundry services. These enterprises require little money and no additional expertise.
Furthermore, if you choose to manage this business, you will have all of the necessary equipment at your disposal. You must create a mobile app or partner with a provider who offers these services.
Starting a home delivery service is beneficial for stay-at-home moms with little spare time for these details.
Home beauty services
It will be an excellent choice if someone comes to your home for beauty salon services. You may book these services via a single phone call using the salon booking app. Salon services are a blessing at home. Customers may acquire these services immediately, thanks to on-demand home services. You may develop salon services for your home and the treatment you need in minutes. You can schedule your appointment using an on-demand home.
Services in the homecare catalog
Homeowners always have a long list of tasks to accomplish around the house. It's lovely to check these lists off now and again, but making time for them regularly is challenging. You'll need a mobile phone to deal with this. A director can do numerous jobs in a single day for significantly less than the cost of employing a contractor or specialist for each work area. You build a list and recruit someone who can accomplish it all. You do not need to call a plumber to repair a leaking drain or other issues.
Gas is supplied to your door.
Gas will be supplied to your home without problems in the United States. On the contrary, Londoners are forced to use the home fuel delivery service, which is inefficient and causes complications.
Furthermore, it offers the most excellent services to its customers when providing gasoline. Developing a home service app enables your customers to purchase gasoline from any location using an app.
Last thoughts
The breadth of on-demand home services is vast. Many studies show that people are becoming busier and more competitive in their job. As a result, we require on-demand services that assist us in making time for ourselves. This customer-centric approach will become more widespread if your ideas are unique and innovative. These apps will assist us in locating the right person for home services who can provide instant and quick services via mobile apps.
To start a home service provider firm, you must have a mobile app. Hire India's best mobile app development company to create an appealing and unique mobile app based on your budget and specifications.
---
---