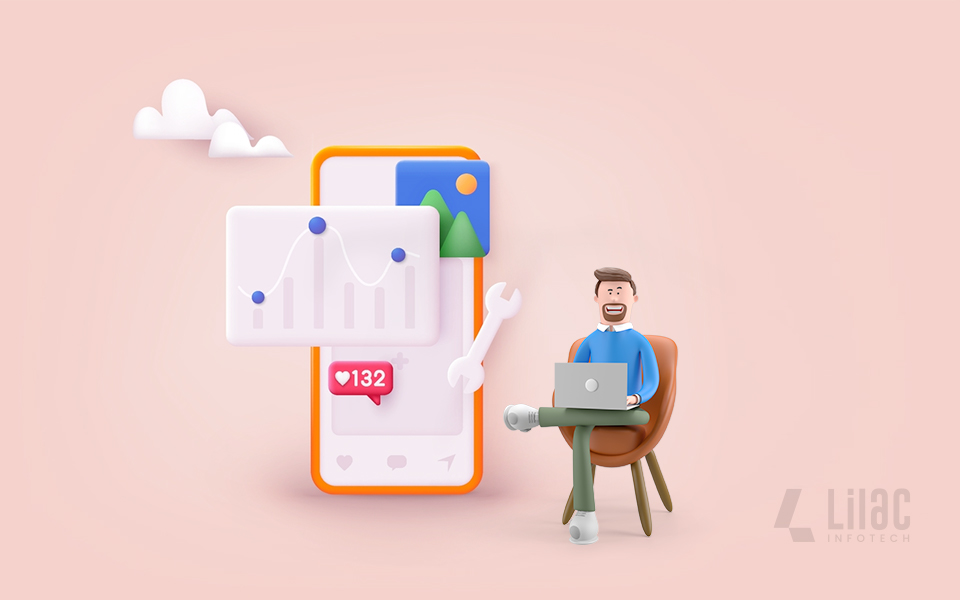 ---
Nowadays, every firm is a software business. It isn't easy to discover a business that does not have an app or a web app. Companies that want quick solutions choose to create their apps on ready-to-go platforms. Unfortunately, many of these enterprises are frustrated since off-the-shelf solutions still need to meet their demands fully. Custom app development is an efficient answer to such challenges.

Customizing mobile apps may be valuable for helping your employees, procedures, and overall organization. However, many businesses need help to create a bespoke app tailored to their requirements.
Custom Mobile App Development
Custom app development, the name speaks for itself. It is creating apps that suit your company's needs. Such an app, whether wholly or partially personalized, is designed to meet the demands of a specific audience rather than a large group of individuals. Custom-developed apps, often bespoke or tailor-made software, offer capabilities and features that standard off-the-shelf alternatives do not.
Almost all applications on the market are built from scratch. Many of them, however, have off-the-shelf functionality that third parties have incorporated. Such interfaces are typically created for chats, administrative boards, CRMs, and other activities.
While the ready-to-go solution is perfectly acceptable, there are instances when you want something distinctive. The same is true for your company. Critical off-the-shelf solutions can only address your company's fundamental demands, leaving out some goals that, although not essential, are nonetheless critical to its success.
Custom App Development Has Many Advantages For Businesses
General business apps may lack specific security measures, which might jeopardize the security of your data. Building a bespoke app allows you to install particular security measures tailored to your company and minimize any threats and dangers through data encryption. A customized technique also fulfills the needs of various operating systems and APIs.
Choosing a generic app puts you at the mercy of an unknown mobile app development firm. If they decide to halt development, you would be deprived of continual growth. When you create a customized app, you have complete control over the development and maintenance processes and do not have to rely on anyone else.
Regular applications are typically designed to handle a limited amount of resources. It is not inherently harmful, but as your company expands, generic apps may struggle to manage more significant amounts of data.
In contrast to conventional applications, this issue is readily solved in bespoke app creation. This is because customized programs are typically developed with such restrictions in mind. As a result, they may be quickly scaled up if the need arises.
Showcasing the competitor's advantage
Competitive advantages are critical for every firm, especially startups. In this instance, off-the-shelf solutions are unlikely to be able to expand their capabilities to accommodate more functions. Custom apps can help you emphasize your company's competitive advantages and differentiate your goods on the market.
Guidelines for Outstanding Custom Mobile App Development
So now we understand the practical side of bespoke app creation. It is not just about what it is but also how it is carried out. I recommend following these three steps to get the most out of bespoke app development.
1. Specify the requirements
Software development requirements are critical in the creation of any product. Particularly when it comes to bespoke application development. To get the desired result, you must clarify the criteria down to the most minor details. The primary goals of software documentation are as follows:
Describe the product's functioning.
Gather and arrange project-related data;
Clarifying all of the project's needs;
We are discussing any issues and obstacles that arise between stakeholders and developers.
2. Keep Up With Technological Trends
New technologies are about something other than 3D illustrations or VR goggles. Instead, these might be helpful tools for simplifying or automating your workflow. Here are several technologies that I think you should look into:
3. Computing in the cloud
This is a popular technique, particularly for software with large databases. Cloud environments can enable coding, design, testing, and other development functions to construct cloud-native or service-based applications.
4. Metrics
Analytical technologies, such as visualizations, predictive capabilities, and dashboards, assist applications in organizing and processing personal data influx.
5. Find a Professional Team
The final (but not least) step is assembling a team of specialists who will be on the same page as you. By that, I mean the specialists who will take the time to learn about your company and its requirements.
One of the core principles of Lilac culture is product mentality. It declares that everything we do on the project is done with the product in mind: no unnecessary code or technology. Instead, we only implement functionalities that the company requires.
How Lilac Can Assist in the Development of Custom Apps
We have experience developing custom-based apps at Lilac. Our development efforts are based on user demands and input from user interviews and testing. One of our core beliefs is product mentality. As a result, product discovery is a critical component of our development operations.

We usually do the following before diving into bespoke app development:
Interview our client to learn more about the initial request;
Validate the idea/request/product assumptions during the Discovery stage.
Conduct extensive user research to identify actual user demands.
Conduct a technological study and identify the finest technical solution available.
Conclusion
Custom app development may significantly boost your organization if it is designed with your specific needs in mind. Custom-developed apps help organizations prosper by improving security, making maintenance more accessible, and allowing for greater scalability.
Please meet with our team to determine whether bespoke app development is the best option for your project.
---
---