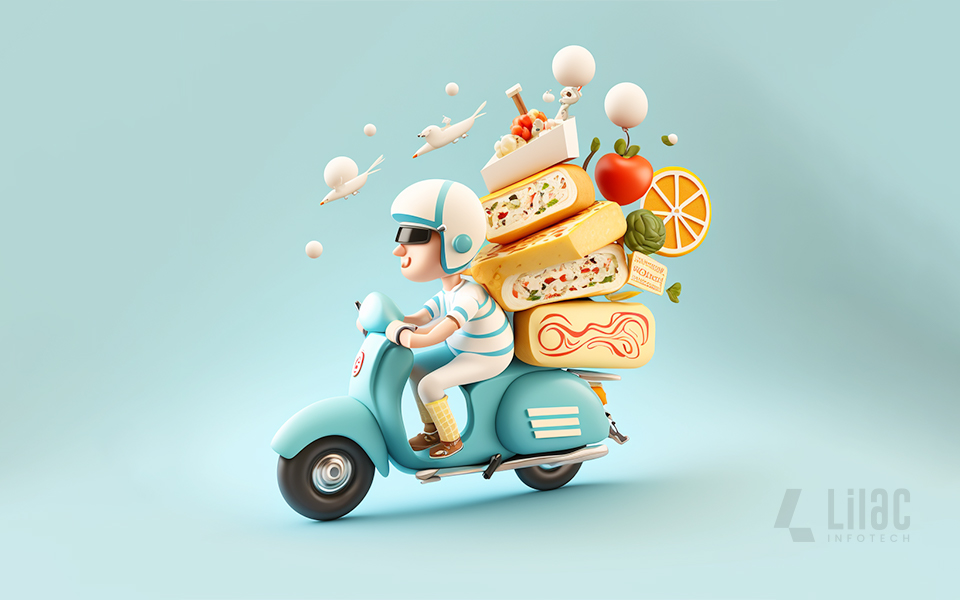 ---
A delivery option is a terrific way to boost your restaurant's income, sales, and profit margins. Online meal ordering is thriving and has drastically transformed how traditional eateries operate. Online ordering is the latest thing that can push restaurant sales to the next level, thanks to platforms like Swiggy, Zomato, and Food Panda. In addition, the advent of the 'cashless economy' and the expansion of food-delivery-only enterprises, often known as cloud kitchens, has resulted in a major increase in digital meal ordering, and the restaurant delivery service industry has seen continuous growth.
How to Increase Food Ordering and Delivery Sales using Food Delivery Software
Nowadays, everyone in the restaurant industry accepts restaurant delivery orders. With exorbitant rents and low sales, many restaurants are moving to meal delivery as their primary business model and becoming cloud kitchens. With such fierce competition, you must stay one step ahead of the game.
This post will concentrate on one of the most crucial aspects of online meal ordering: delivery.
1. Accept Orders With Technology
Implement the following suggestions to improve your restaurant delivery service:
Online Ordering: As technology advances, online ordering has become the most popular meal method. Swiggy, FoodPanda, Zomato, and other famous meal delivery service providers are available to clients. You may select which service to utilize based on your requirements and preferences. You may also have your own Online Ordering mobile app or website directly linked to your POS.
If you use more than one Online Ordering service, you must select a POS that automatically gathers orders submitted via the various online ordering providers. This will save you the time and effort of manually calculating charges at the end of the day. Technology's effective use may improve your meal delivery service and the customer's online ordering experience.
Make sure your website is SEO-friendly and has a clear call to action. If you are perplexed, learn how to improve your restaurant website to increase online sales.
Cloud Telephony: There is a considerable risk of missing orders in restaurants where most delivery orders are placed over the phone. Even if you have many numbers for accepting orders, they may need to be addressed at times, or your numbers may be busy. You may prevent this problem by using cloud telephony. When a client phones to make an order and the line is active or the call is not answered, the call is moved to the following number until the request is processed. All call logs are kept so that you can keep track of them.
2. Create an Outstanding Online Menu
It is critical to have an online menu that is clean, short, easy to understand, delivers all required information, and has a clear CTA. This online menu may be found anywhere, whether on your restaurant's website or through a different Food Delivery Software. What prevents you from enhancing your online menu now that you know the majority of your restaurant delivery orders originate from these online channels? Learn how to improve your online restaurant menu to supplement your online rankings and restaurant delivery. Creating a fantastic landing page for your online orders is critical to enticing your clients to hit the 'Order now' button.
3. With technology, you may assign orders and track deliveries.
You may utilize technology to assign orders to your restaurant delivery personnel and then track them once they are dispatched. You may allocate orders to free riders using Post's Delivery App. You may monitor the delivery process to evaluate drivers' performance and adjust routes. It assists you in registering the dispatch time, tracking your delivery team, and analyzing the time it takes to fulfill orders. This module also aids in client categorization based on order data and optimizes home delivery orders based on that data.
4. Delivery Drivers Can Be Outsourced
You no longer need to invest in a fleet of delivery guys and cars if you use third-party restaurant delivery partners such as Zomato, Swiggy, FoodPanda, and others or hire freelance delivery drivers as needed. Outsourcing delivery drivers is a novel technique to shorten the delivery time during peak periods. Food delivery expenses, such as insurance and hourly pay, are also reduced.
According to estimates, online ordering generates over 70% of all restaurant orders. Almost all restaurants are integrating with various online delivery companies, saving them the headaches of having in-house delivery guys.
5. Correct Addressing and Client Communication
Many restaurant delivery orders are delayed not just because preparation takes time but also because delivery takes time. Your delivery personnel may need help reaching a provided address. This minor stumbling block can be easily overcome with effective consumer communication. Call the customer before bringing their order out for delivery to confirm the address and to request necessary landmarks if the address needs to be completed.
Also, utilize CRM software that remembers the customer's name, contact information, and address, so you don't have to ask for it every time. Give your riders a GPS that will assist them in locating the consumers' addresses.
6. Have a standardized delivery procedure in place.
Outsourcing restaurant delivery partners do not imply sacrificing service efficiency. Kitchen employees and delivery drivers should be allocated specific delivery tasks. Outsourced delivery drivers should be well-versed in their coverage area, and your in-house kitchen staff should know who is in charge of bagging orders so they can have the orders ready to go. This gives drivers more time to match information appropriately and avoid blunders.
7. Make Promotions and Coupons Available
Plan your promotions around the demands of your target consumer and your business. If a certain item isn't selling well, consider offering a reduced-price set menu that includes a popular dish. Try running promotions during downtimes and holidays, such as offering drink specials and early-bird offer discounts.
At a minimum order price, discount coupons and complimentary meal delivery alternatives can also be given. Introduce combinations to the menu and provide complimentary beverages with them. You will need to test various promotions to push high-margin menu items while reducing promotional costs.
Conclusion
The future of restaurant delivery is brighter than ever, thanks to technological advances and shifting demographics. As a result, you must guarantee excellent customer service even when your meal is delivered to your consumers. I hope you have gathered all the required knowledge on enhancing restaurant delivery sales, which will allow you to benefit handsomely. The internet market is anticipated to expand more with the development of technology. The finest customer experience is essential if you want to stay competitive, and an online purchasing system may help. You will be able to keep track of the origins of the online orders you receive daily.
We, Lilac Infotech, are a pioneering food delivery app development firm that offers the potential for a variety of services to our consumers. Rigorous insights and suggestions will be sent to clients before the start of the project.
---
---