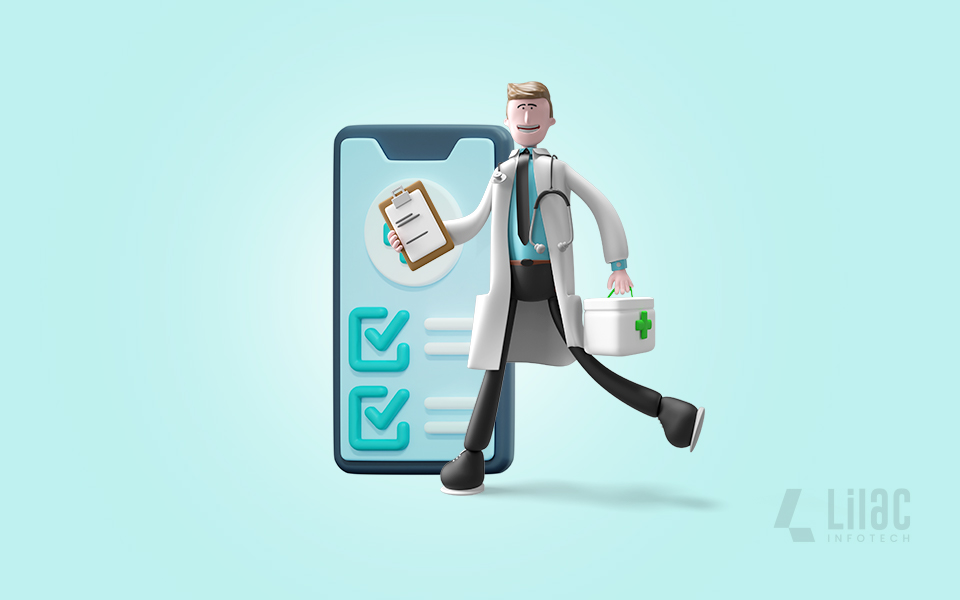 ---
Most clinics and other healthcare facilities ought to have some sort of technical management system. It might contribute to the proper operational management of the clinic. But it never provides a solution to the problems the clinic's patients face. The scheduling of appointments, the proper delivery of treatment, ongoing care, etc., can sometimes aggravate patients. A doctor booking app is a one-stop shop for patients and medical professionals. A top-notch doctor booking app raises demand for high-tech medical services.
According to the most recent marketing strategies, the creation of a mobile application can raise an organization's operational standards. Although doctors and other medical professionals must conduct certain analyses before investing in a doctor booking app. The app needs to be a cutting-edge program that greatly pleases the patients. A doctor booking app's primary responsibility is to ensure the security of patient medical records. Only HIPPA-compliant mobile apps can guarantee the level of security needed for a doctor booking app.
Discover why the healthcare industry requires HIPAA compliance by learning more about it right now.
What is hippa compliance?
The Health Insurance Portability and Accountability Act is known as HIPPA. It is a law that sets standards for the sharing of personal health data and protects against unauthorized use of it. The two primary ideologies guiding the HIPPA-compliant act are privacy and confidentiality. The act was essentially drafted many years ago. But it had expanded in line with the digital spread. The primary advantages offered by the law are:
Portability of insurance
Efficiency and uniformity in healthcare data
Prevents fraud and discrimination
Additional security and privacy for PHI (protected health information)
How HIPAA Influences doctor booking apps
The HIPPA Compliance Act mainly affects the software and other technologies that store and share medical health information. One of the most important of them is mobile app HIPAA compliance. Therefore, analyzing it is essential when creating a doctor booking app. There are many complexities in a mobile app that is hippa compliant. The major one is the uncertainty surrounding the types of data that should be classified as PHI.
A doctor booking app must be HIPAA compliant due to the type of data it collects. Numerous healthcare applications on the market gather data such as calorie counts, weight loss statistics, etc. These apps are not intended to comply with HIPAA standards. Applications used in the medical field, such as doctor booking apps, that store medical records, share patient health information and contain patient prescriptions must adhere to HIPAA security standards. Applications that include medical personnel fall into the category of needing to be compliant, so there is a good chance that this is the case with those apps.
What factors influence HIPPA compliance?
Customers must verify whether the doctor-booking app transmits any information about their health. It is not even the goal of a dedicated app for scheduling doctor's appointments to collect any data. Before granting the doctor access to their personal medical information, patients can choose their preferred doctor booking app. To comply with HIPPA, the app will then need updates.
Various pieces of personal health information are included in PHI (protected health information). It includes items like insurance, payments, medical diagnoses, treatment, examination outcomes, and images. Regardless of whether they are sent via verbal communication, written communication, software, or mobile applications for storage or sharing, these types of data require greater security. In every situation, additional security and confidentiality must be put in place.
Covered entities and business partners are also subject to HIPAA regulations. Among them, privacy and security regulations are important. Which information is considered PHI is defined by privacy regulations? It also determines who is to blame for the information's improper disclosure. Any organization that has anything to do with the storage or transmission of this data is responsible, not just healthcare providers. The Security Rule establishes requirements for safeguarding PHI. It applies especially to electronic data.
Define covered entities and business associates
Entities covered: Information centers and healthcare suppliers are primarily covered in this. This list also includes hospitals, pharmacies, clinics, medical specialists, and other service providers. A single person or an entire organization can provide healthcare. The exchange of medical information via any electronic device is the only thing they have in common.
These HIPPA-covered entities also include clearinghouses. They are converting the non-standard health information (HI) that they receive from another entity into a standard. The insurance industry, corporate health plans, etc. are also regarded as covered entities when it comes to healthcare plans.
Business Associates: This category includes non-members who assist covered entities with PHI admission. They might perform these services as subcontractors or suppliers. In this instance, PHI privacy and security policies are covered by HIPAA for business associates. HIPAA business associates are responsible for adhering to the HIPAA Rules' specific provisions. Some businesses even provide business associates with HIPAA training.
6 ideas to improve your doctor booking app Hippa - Compliant
1. Suitable Access Management
A doctor booking app that stores or manages PHI as confidential information should adhere to an access management restriction. According to the Hippa rule, no one should have access to patient information unless it is necessary. Therefore, it is necessary to prevent unauthorized medical staff from using the doctor's booking app.
2. Store and transmit data securely
In the case of Hippa-compliant mobile apps, encryption is a major factor. The App Transport Security (ATS) feature mandates that all mobile apps connect to back-end servers over HTTPS. Considering that it offers more data encryption than HTTP.
A variety of protocols are used by mobile devices to exchange information. However, neither MMS nor SMS are encrypted. As a result, it is critical to ensure that no PHI is transmitted in this manner in the doctor booking app. Utilize well-established protocols when encrypting data. And it is better to avoid your encryption algorithm.
3. Data backup and storage
Even though your doctor booking app is very trustworthy, nothing beats absolute security. Timely backups prevent data loss. This can also be used to address problems brought on by data loss. All data should be kept on a different medium, according to data backup. For this, choosing a server from a different data center is always preferable. This can substantially aid in keeping the data secure on the doctor booking app.
4. Limit your risk exposure.
It is better to refrain from accessing, displaying, and storing more confidential data than you require. Ask for information only if it is necessary for your request. Setting up a transparent privacy policy can help with this. Every app that gathers user data, including those for scheduling appointments with doctors, must consider this.
It is important to make sure that data is transmitted and stored securely when storing it in the cloud. A business associate agreement should be established with the third-party providers. More information on this is provided in the whitepaper on cloud architecture and HIPAA compliance published by Amazon Web Services.
Geolocation information should be taken seriously as well. It is important to exercise greater caution when determining someone's location. Because a patient's geolocation information may transform relatively benign data into PHI.
5. Secured authentication
It's important to understand who has access to the doctor booking app's privileges. For the development of an app or piece of software that complies with Hippa, the act provides numerous authentication methods.
- Biometrics can be used as login information. (For instance, a voice or face ID, a distinctive mark, etc.)
- Create a Manual Password
- Offer tangible accessories for data proof separation, such as tokens, cards, etc.
- Patients are required to enter a PIN to log in. (Personal Identifier Number)
6. Examine auditing measures
The creation of a Hippa-compliant doctor booking app must start with a thorough IT audit. Higher liabilities may result from improper audits. The doctor appointment app's earlier review will help to learn more about the PHI stored in it. A doctor booking app that shares sensitive information needs to be managed with more awareness. Programming or other procedural techniques can be used to conduct proper checking. Use a simple option, such as a table or the login option, to access all patient interactions in the app.
Want to build a healthcare mobile app?
We are ready to build an innovative doctor booking app for your business!
Conclusion
The healthcare mobile app market is continuing to grow. It is your responsibility to make sure that healthcare mobile applications are compliant if you are the one who creates them. I anticipate that you are already familiar with some fundamental ideas to effectively use Hippa when developing healthcare mobile apps. Aim for new growth opportunities while keeping in mind the users' legal obligations when developing mobile healthcare apps.
---
---