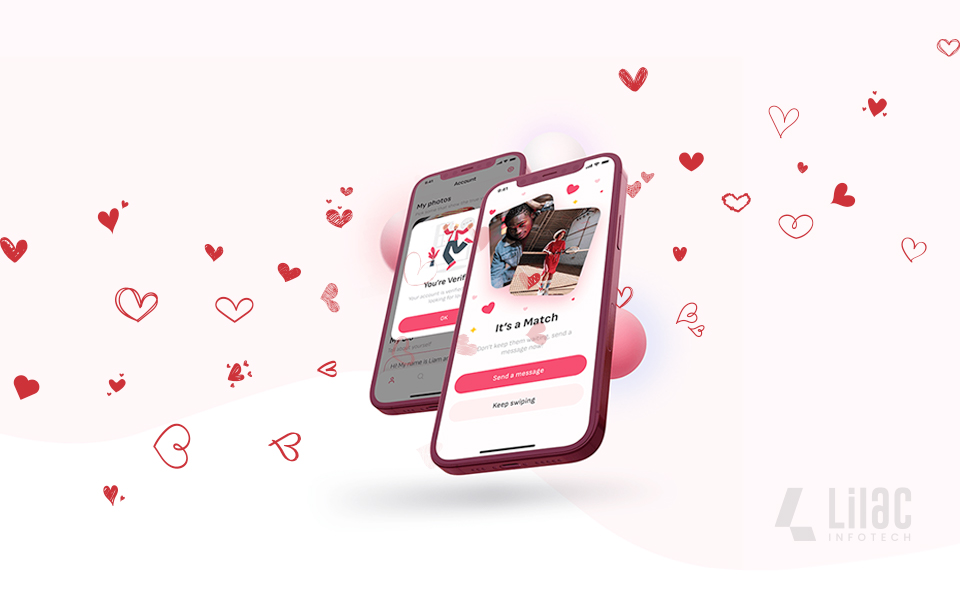 ---
Technology has altered how we communicate and interact with others in our society in general, and Dating is no exception. Dating apps have revolutionized the Dating scene by providing a practical and approachable way for individuals to find romantic companions. With the advent of smartphones and social media, the dating world has been revolutionized, making it easier to find potential partners from anywhere in the world.
The way we approach dating and relationships has evolved due to dating app development, from swiping right to contact matches. But what are their societal repercussions, and how have they affected contemporary relationships?
In this article, we will examine how dating apps alter the nature of contemporary relationships, covering everything from the benefits of greater connectivity to the possible risks of objectification and superficiality. We will also look at how dating apps affect gender roles and traditional dating standards and how they shape contemporary dating culture.
Why are dating apps so popular?
The boom in demand for Dating apps over the past few years can be attributed to several reasons. The increasing usage of smartphones and the accessibility of the internet are the main causes of growth in Dating app development.
The following factors account for the high usage of dating apps:
Affordable:
The biggest advantage of dating apps is that they offer the chance to meet many people without spending much money. The majority of dating app development companies charge reasonable prices for their services.
Ease Of Use:
Most dating apps only require profile creation before looking for matches, making them simple to use. Overly tech-savvy users can quickly understand how to use the app thanks to features like browsing and messaging.
Convenience:
One of the key components of any element is convenience. It should be convenient for the user to access the app from anywhere in the world. The convenience of usage is the primary quality that dating apps offer over offline Dating.
Results:
We need outcomes more than anything at the end. Most dating apps offer their users the finest outcomes, making finding a partner who shares their interests and preferences easier.
Prioritizing personal safety and well-being when using dating apps is crucial, as is approaching them with reasonable expectations. The effectiveness of dating apps will ultimately depend on their use, the user's intentions, and the app's quality.
How Technology is Influencing Modern Dating
Modern Dating is one area where Technology has had an immense effect. The emergence of dating apps and social media platforms has revolutionized how people meet and form relationships.
On a social level, the development of dating apps is regarded as a component of a cultural logic wherein love is no longer largely organized by social and economic institutions but is instead left up to the free will of individuals.
On the one hand, Technology has made it easy to connect with potential partners and has given rise to niche dating markets. People are no longer limited to meeting someone in their social surroundings; with the help of Technology, they can easily figure out their better half based on their specific criteria, such as their values, interests, etc.
Here are some ways in which dating apps have influenced modern dating culture:
Swiping Culture:
The swipe-based user interface of dating apps has helped to popularize a "swiping culture," in which users rapidly and effectively assess possible partners based on a few profile photographs and a brief bio. This may result in a culture of disposability where people are eager to move on to the next potential mate without taking the time or trying to establish a connection.
Altered gender roles:
Gender roles in Dating have altered as a result of modern Dating. While there was male chauvinism in the past and women had no say in picking their partners, this has changed with the rise of dating apps, with women now playing a more active role in breaking up conversations and making the first move.
The rise in acceptance of Internet dating:
Online Dating is becoming more accepted and mainstream because of the widespread usage of dating apps, which has helped lessen the negative connotation attached.
Wider availability of dating services:
Dating apps have made it simpler for people to interact with others from various backgrounds and interests, expanding the dating pool and increasing the possibility of developing lasting relationships.
The Next Wave of Innovation: Exploring the Future of Dating Apps
The widespread use of Technology has led to a shift in society's attitude on the legitimacy of contribution to helping individuals find love. Dating apps are now firmly established in the hands of single people as a necessary step in the search for true love. They are no longer just relegated to the app users' app screens' back pages. It prompts the question, "What kind of dating applications will there be in the future? The market for Dating app development is well-established and has many different flavors.
Artificial Intelligence:
The future of dating apps remains nebulous, but they constantly evolve and might take several different directions. One of the areas with the most opportunity for improvement is greater personalization. Dating apps can provide users with more accurate and personalized matches based on their behaviors, preferences, and interests as machine learning and artificial intelligence (AI) technology develop. AI could assist you in finding your ideal match by assessing the amount of time users spend using the app, how they communicate, and how they browse profiles.
Security:
Safety will also be a key concern for Dating apps in the future. Everyone prioritizes safety while using apps, but this is especially true when using dating or chat apps. Dating apps may feature extra security measures like identity verification, background checks, and even emergency buttons to make users feel at ease while using the app.
Women-driven dating apps: By prioritizing women's safety, some applications empower women to initiate contact with men they think could make a good match, sparing them from receiving messages from hundreds of men.
Videos:
Videos will be the most advanced part of the Dating app's development. Static profiles are less dependable for all parties than dynamic communication. The addition of video dating features to promote in-person interactions and the integration of Dating apps with other social media platforms to help users find compatible partners based on shared connections and interests. Videos give people a great way to understand one another and make successful communication simple.
Virtual Reality:
Other potential directions for dating apps in the future include the incorporation of augmented reality technology to create virtual dating experiences, the inclusion of video dating features to promote in-person interactions, and the integration of dating apps with other social media platforms to assist users in discovering potential partners based on shared connections and interests. In the future, virtual reality might be used in retail settings such that customers might enter a booth and virtually converse with people on the other side of the globe.
Want to Create An Unique Dating App with Advanced Features?
We are ready to build an innovative Dating App for your business!
Wrapping Up
Undoubtedly, the features and unique offerings an app offers its customers are essential to its success. Most definitely here to stay are dating apps. Undoubtedly, the future of the Dating app market is promising. Lilac Infotech, a leading dating app development company in India, elevates your app. With customizable features and limitless potential, Lilac Infotech offers the best services for developing dating applications.
---
---