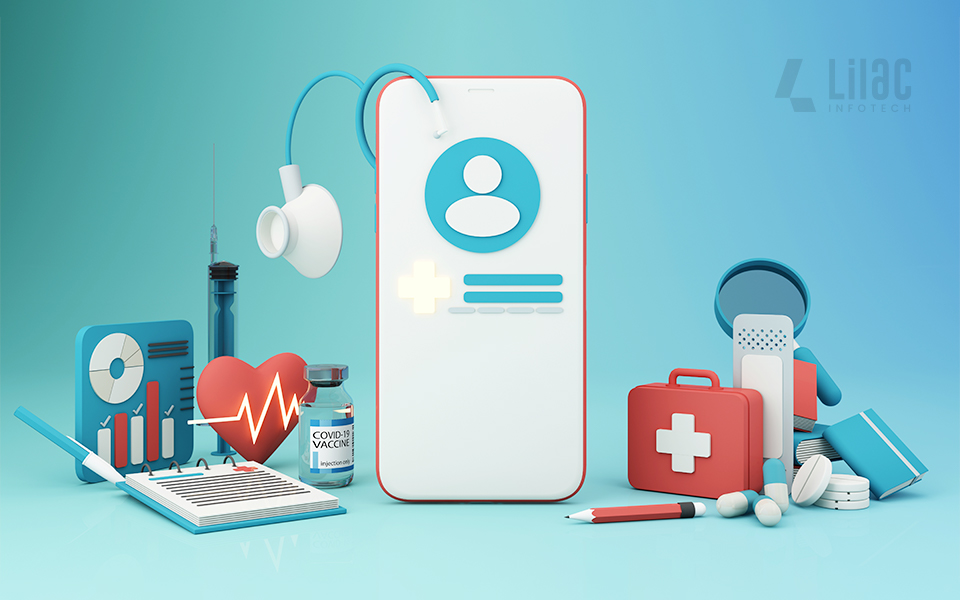 ---
The progress of technology has enabled us to unearth a great deal of potential, particularly in the healthcare field. Looking at the numbers and economics of this business, you will be amazed at how it has assisted physicians and patients in overcoming the availability issue.
Do you need a healthcare app in 2023?
Are you seeking a dependable healthcare mobile app development partner who can properly implement your ideas? Let's get this party started! Lilac Infotech is a reputable mobile app development firm. You may work with us to create an on-demand application for various businesses.
1. Application for EMR/EHR
Electronic medical records (EMR) or electronic health records (EHR) software improves the correct handling of medical information.
It safeguards and secures critical patient information. Using EMR/EHR software, the industry may eliminate hand-transcription mistakes and lost patient records.
Highlights:
Medical history data storage should be improved.
The outcomes will be supplied shortly.
A centralized database is being established.
To improve efficiency, digitize prescriptions.
2. Application for VR Meditation
Virtual reality can help healthcare software developers make patients' experiences easier. New users are also given the finest possible experience.
The VR meditation software is aimed at those suffering from mental health difficulties and provides an exceptional experience.
Highlights:
The most convenient technique to meditate
Choosing a mood is adaptable.
Listening to calming sounds and visiting numerous 360-degree locales are alternatives.
3. Application for Calculating Nutritional Values
When building healthcare applications, it is critical to give patients adequate nutritional value. However, developing and managing the nutritional content of food on a daily basis is a difficult process.
You can determine the nutritional value of any food item with a nutritional value calculator app. You may use this calculator to determine the right amount of food with the appropriate dietary values for good health care.
Highlights:
It is simple to compute daily nutritional values.
Calorie counting is simple.
It is simple to improve your entire health.
4. Application for Mental Health
Due to your hectic lifestyle, you may not pay much attention to your mental health. Consequently, if you are connected to technology, taking care of your mental health becomes easier.
With the aid of a mental health app, it is possible to treat the fundamental cause of mental health disorders.
Highlights:
Daily development is simple to monitor.
It is possible to connect with therapists to cure various illnesses.
Sound effects that are relaxing and help to relieve tension
Improves self-esteem
5. Application for On-Demand Doctors
An appointment with a doctor can be difficult, especially in an emergency. Use technology to make doctor's appointments less stressful.
Using the on-demand doctor's app, you may digitally contact healthcare providers. You can consult with a doctor in less time and at a reduced cost.
Highlights:
Connect with physicians without difficulty.
Read comments and reviews to choose the best one.
There are doctors accessible. 24×7
6. Application for Diet Planning
Eating a good diet is critical for overall health and fitness. Defining and working towards your fitness objectives will help you attain them.
The Diet Planner app will make your fitness journey easier. The diet planner software will give you the optimal plan, whether you are vegetarian or not.
Highlights:
A diet plan devised by a dietician
Improve living conditions
How to Lose Weight Practically
7. Application for Mental Fitness
You may feel overwhelmed when you don't have the right knowledge to live a healthy, calm life. Why aren't we making use of the most technologically sophisticated era?
A mental fitness app aims to promote active living via a mental fitness app. Take care of your mental health if you want to improve the quality of your life.
Highlights:
It can be used to treat a variety of mental diseases, including stress, PTSD, anxiety, and others. Mental health providers are easily accessible.
Make contact with others who share your interests.
Sleep rhythm and time tracking
8. Women's Health and Wellness Application
Due to several common issues, women require greater attention and more effective healthcare planning than boys. It is a concerted attempt to improve women's health by making various healthcare applications available.
When juggling job and family responsibilities, women may struggle to manage their health difficulties. Installing an app makes it easier for them to remember significant dates.
Highlights:
Period tracking and fertility reports suffice.
Pregnancy and birth control are simple to handle.
Women should be urged to seek medical attention.
9. Personal Trainer Application with Artificial Intelligence
Another key advancement in healthcare application development is artificial intelligence. You may realize your goal with an AI personal trainer committed to your health.
It saves you money on membership costs. The AI-Based Personal Trainer App enables you to receive comprehensive healthcare instruction at your leisure.
Highlights:
Training programs tailored to your specific requirements
Real-time feedback
Exercise habits may be tracked using wearable sensors.
10. Application for Tracking Your Health
You may need clarification if you wish to verify your well-being levels. In this situation, you may measure your progress by creating technical scenarios. The Wellness Tracker App comes in helpful here.
Highlights:
Maintain a wellness tracking system.
Keep an eye on your heart rate.
This product will help you lose weight.
Blood pressure measurement
11. Application for Home Workouts
Healthcare app developers strive to improve the patient experience through aggressive updates. Developers have proposed giving customized training routines via home workout software.
A home workout app is one of the finest healthcare app ideas for companies. Give your business a kickstart in the early stages.
Highlights:
Keep a daily progress log.
Exercise DVDs that are tailored to your specific requirements
Coaching for personal health Free health and fitness tips
12. Virtual Training (VT) Fitness Application
The virtual training trend is here to stay. VT can address a broad range of issues by simplifying difficult ones. The fitness app with virtual training allows you to handle everything from the comfort of your home (including workouts and interactive parts).
You may taste technology in healthcare application development by using VT applications. You may engage in wonderful sports like jogging, biking, and training with people without leaving your house by utilizing VT applications.
Highlights:
It is simple to keep track of progress and everyday activities.
Become fit with the assistance of a personal trainer.
Maintain a nutritious diet for a healthy physique.
Free advice on being healthy and fit
13. AR/VR-Powered Healthcare Application
Virtual reality in healthcare exposes a diverse spectrum of drugs that can aid in treating individuals suffering from visual impairments, cancer, autism, and depression.
In healthcare settings, augmented and virtual reality can improve the patient experience. AR can also make CT scans and MRIs more efficient.
Highlights:
Provide crucial information to professionals throughout medical treatments.
Telemedicine provides further advantages.
Obtain AR/AR training for difficult surgical procedures. Handling patients with more comfort
14. Application for Emotional Wellness
According to this theory, it is important to consider both your mental and physical condition. You may create a mental health plan based on your behaviors with the emotional wellness app.
Users can use this app with caution to treat emotional well-being concerns. This psychological medical app may provide you with expert counseling and psychological treatments.
Highlights:
Effective treatment for mental illness
Don't be scared to express your concerns.
Improve your mental health with the help of experts.
Take on life's problems with confidence.
15. Application for Keeping Medical Records
Mismanagement is one of the most important components of everyday living. A good medical record is crucial, but it must be taken seriously. As a result, healthcare mobile app developers create medical record-keeping apps to streamline the process of managing medical information.
Patients may use the app to keep track of prior treatments, on-going therapies, prescriptions, and other health-related information. It assists individuals in entirely resolving their health issues.
Highlights:
Effective medical records management
Secure exchange of vital information between patients and physicians
16. Appointment Scheduling Application
Adopting cutting-edge technology is essential if you want to improve your healthcare experience. Patients may benefit from online scheduling by using an appointment booking app.
When you are short on time, it is preferable to go online, especially if you are concerned about your health. Online patient scheduling decreases appointment gaps and certain administrative chores for staff.
Highlights:
Manage the flow of patients at busy hours.
Improves patient satisfaction
Help with time management
Assistance is accessible 24 hours a day, seven days a week.
17. Application for Locating Medical Facilities/Hospitals
Another essential part of healthcare app development is the creation of medical facility/hospital locator applications. Finding local or neighboring hospitals may be a tough endeavor. You can make things easier by using such mobile applications.
When looking for the proper hospital, reading ratings and comments on an app might help you make an informed decision. You may acquire the greatest medical care while saving time by utilizing various techniques.
Highlights:
Find the best hospital based on your area.
To make an informed decision, read reviews and get comments from others.
Telemedicine is available 24 hours a day, seven days a week.
Several illnesses are addressed.
18. Application for Personal Medical Records
You sometimes feel uncomfortable disclosing your extensive medical history to others. Some people may find it difficult to disclose their medical information for personal reasons. A personal medical records app would allow for seamless document management.
Furthermore, it enables patients to manage their data smoothly and maintain their finest treatment. If you have problems managing your papers, use technology and download the app.
Highlights:
Effective medical document management
Intuitive, user-friendly, and up-to-date interfaces
A healthy personal information system
19. AI-Powered Healthcare Application
Artificial intelligence generates a stir in the technological world daily. AI in healthcare reveals various new features for managing patients' health and medical information.
Apps that employ artificial intelligence in healthcare assist in the analysis of medical pictures, the creation of drugs, and the facilitation of medical imaging.
Highlights:
Cognitive-behavioural treatment delivered through mobile phones for eating disorders, substance misuse, and depression.
Brain-computer interfaces have the potential to improve patient's quality of life.
Support for next-generation radiological instruments is provided.
20. Application for Tracking Biological Data
Monitoring a patient's health development with biological data tracking applications allows them to keep track of their health. Keeping track of the menstrual cycle can take time and effort for women. You may use the app to keep track of dates and take care of your health.
The creation of mobile healthcare applications improves the patient care experience. People may accept beneficial health improvements by utilizing mobile app concepts for medical treatment.
Highlights:
Advanced features in a healthcare database
Infectious infections are simple to monitor.
Advanced biological sciences are available.
There are several benefits to quantitative self-tracking.
Conclusion
Finally, here are a few healthcare company ideas for entrepreneurs. You may combine the features, functionality, and services of two or more applications to create a single on-demand app. Please get in touch with us if you have any app ideas for your healthcare company. You can depend on us to get back to you with a potential business solution. Our healthcare software development services include designing and developing healthcare software for enhanced patient care and efficiency.
Our solutions simplify managing sensitive medical data while keeping it secure throughout the process. Whether you're working on a small or large project, you can count on us to complete the job.
---
---