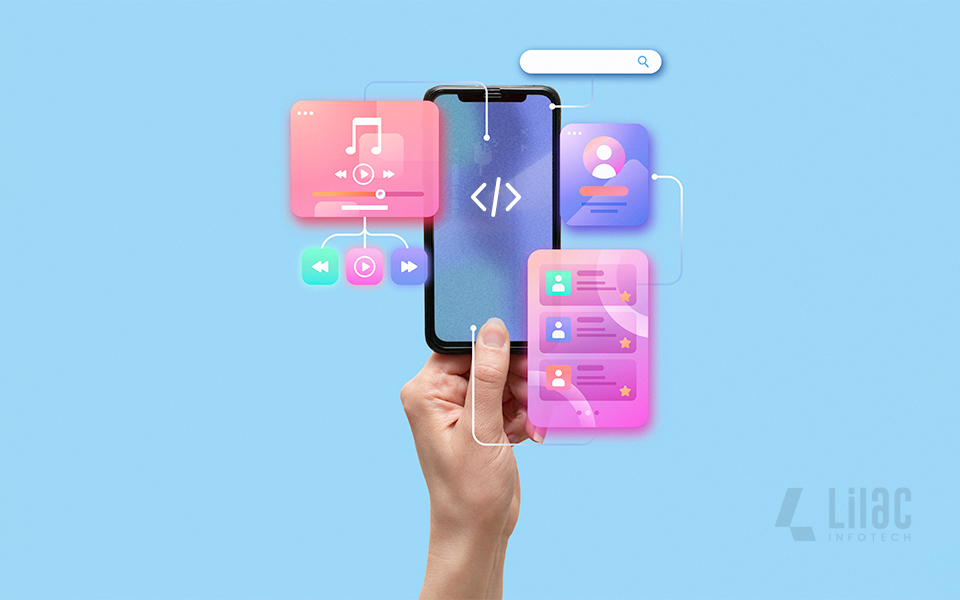 ---
Are you looking for a mobile app developer in India? There are numerous mobile app developers available nowadays to assist you in developing your mobile app. Mobile app developers are willing to give you high-quality business applications for popular platforms such as iOS, Android, and Windows Phone, among others. They may be easily linked into your business system to solve any problem that your organization may have. As a result, there are many compelling reasons to hire app developers to create a powerful and dynamic mobile app for your business. The finest mobile app development company consistently employs the best mobile app developers.
As IT companies and technologies gain popularity, India has evolved into one of the top shops for web and mobile app-related needs, especially business needs. Regardless of industry, most businesses today require a mobile app to stay in front of prospects and customers and conduct business with them. With this in mind, it should come as no surprise that Statista stated that mobile apps would earn over $400 billion in global revenue by 2022, with this income predicted to exceed $638 billion by 2027. India has lately become the world's fastest-growing app market. These Indian app development companies have knowledge that satisfies global standards, which pushes them to expand globally.
How is India's app development industry growing?
India's app development industry has experienced remarkable growth over the past few years, transforming the country into a global powerhouse in the digital realm. With a burgeoning smartphone market, a skilled workforce, favorable government initiatives, and a thriving startup ecosystem, India has emerged as a preferred destination for app development.
Here are some key factors contributing to its expansion:
Rising smartphone penetration:
With millions of people now having access to inexpensive smartphones and mobile internet, India has seen phenomenal growth in smartphone adoption. This has resulted in a vast user base and a booming mobile app business.
The Indian government's initiatives, such as "Digital India" and "Make in India," have played a crucial role in promoting the growth of the app development industry. These programs focus on enhancing digital infrastructure and encouraging domestic app development, attracting both local and international investments.
Compared to other countries, the cost of developing mobile apps is less expensive. Because of the cheaper development costs, India has become an appealing destination for outsourcing app development projects, resulting in an influx of international clients.
India has a thriving startup environment that fosters creativity and entrepreneurship. Many Indian entrepreneurs are focusing on app development, notably in industries such as e-commerce, fintech, healthcare, home service, education, and transportation. Various incubators, accelerators, and funding organizations assist these firms.
Indian people have embraced app shops such as Google Play and Apple App Store, making India one of the world's top markets for app downloads. This trend has enticed both domestic and international developers to produce apps for the Indian market.
In addition, the Indian app development sector is investigating future technologies such as artificial intelligence (AI), machine learning (ML), augmented reality (AR), virtual reality (VR), blockchain, and the Internet of Things (IoT). These technologies are being integrated into a variety of apps to deliver unique and engaging user experiences.
Top Reasons Why Should You Hire Mobile App Developers in India?
When it comes to designing mobile apps, businesses all around the world are increasingly turning to India. India offers several compelling reasons why you should consider employing mobile app developers from the country, including a growing app development sector and a qualified workforce. We will look at the main reasons why India has become a popular place for app development and how working with Indian developers may help your business. Discover why India should be on your radar when looking for top-tier mobile app development services, from cost-effectiveness to technological expertise and cultural compatibility.
A large pool of highly qualified and talented mobile app developers fuels India's thriving app development sector. Indian app developers have earned a reputation for their proficiency in a wide range of mobile app technologies, frameworks, and programming languages. They are well-versed in popular platforms such as iOS and Android, as well as languages such as Java, Swift, Kotlin, and React Native. Their skills and experience enable them to develop mobile applications that are sturdy, feature-rich, and user-friendly. Furthermore, Indian developers are frequently kept up to date on the latest trends and breakthroughs in the mobile app development environment. To improve their talents, they actively enroll in training programs, attend industry conferences, and engage in continuous learning. This commitment to staying current with evolving technology places Indian app developers at the forefront of the business, allowing them to supply clients with unique and cutting-edge solutions.
Outsourcing mobile app development to Indian app developers allows you to receive end-to-end services while saving time and money. Indian firms thrive at all stages of app development, from concept to design, development, testing, launch, and maintenance. Their knowledge provides a streamlined and systematic approach, which results in visually stunning, user-friendly programs. To eliminate flaws and ensure smooth performance, extensive testing is performed. Indian developers can also help with successful app launch methods and post-launch maintenance and support. Entrusting your project to Indian app developers ensures a well-crafted, powerful, and feature-rich app that matches your business objectives, all under one roof, cutting expenses and simplifying the development process.
Indian Standard Time (IST), India's time zone, gives enterprises in other areas of the world a distinct edge. Because of the time difference, India, the United States, and Europe can have overlapping working hours, allowing for real-time contact and collaboration throughout the app development process. This allows for successful project management, rapid replies, and problem-solving. Real-time communication speeds up development, encourages cooperation, and provides a smooth post-launch support experience. Taking advantage of the time zone difference with Indian app developers boosts productivity, efficiency, and the overall success of your mobile app project.
App developers in India are well-known for adhering to international quality standards and best practices in app development. They place a premium on providing high-quality solutions that exceed client expectations. Certifications and accreditations provide confidence that Indian app development companies adhere to standardized methods and methodologies, ensuring top-notch software delivery. They frequently use industry best practices such as Agile or DevOps to improve project management, collaboration, and output quality. To address defects, usability concerns, and performance bottlenecks, rigorous testing procedures are used, resulting in flawless user experiences and the intended functionality. The emphasis on quality and compliance with international standards among Indian app developers enables them to produce dependable, secure, and scalable applications that survive the test of time.
Scalability and flexibility:
The app development sector in India is highly scalable and versatile, making it a perfect alternative for enterprises with varied project requirements. Indian app development companies can swiftly scale up their teams to fulfill the rising demand for large-scale projects because they have a large talent pool. In contrast, they can easily reduce the staff after the project is completed, providing for more efficient resource allocation. Because of this scalability and flexibility, organizations have more control over their initiatives, ensuring maximum productivity and cost-effectiveness. Furthermore, the availability of a wide range of skill sets within the Indian app development community increases flexibility, allowing businesses to discover developers with the precise knowledge needed for their projects. The app development sector in India provides a scalable and adaptable workforce, allowing firms to successfully manage their projects and respond to changing market conditions.
Indian developers have earned a reputation in the global app development landscape for their agility and cultural compatibility. Indian developers have a unique capacity to manage cross-cultural nuances and establish a productive and harmonious working relationship due to their expertise in dealing with clients from various countries and cultures. They comprehend customer requirements quickly, communicate effectively, and offer significant suggestions based on their expertise. Their excellent work ethic, dedication to client satisfaction, and ability to collaborate in varied teams all contribute to an efficient and fruitful app development process. Indian developers are well-equipped to complete successful app development projects that satisfy the needs of clients.
Less Legal system and issues:
Hiring developers online in India is simple because it involves a less legal approach and eliminates legal issues by outsourcing your project to a reputable IT firm. As a result, you will feel more resilient and at ease. The company will handle all of the legal paperwork and manage all of the documentation needed to complete your project. However, before signing an agreement, you must read all of the documents. The majority of software businesses in India are ISO certified. Quality certificates are only awarded to organizations based on the quality of the appointment. Clients choose to outsource mobile app development to India directly due to ISO certification.
Looking for a reliable Mobile app development company in India?
Hire skilled mobile app developers now!
Wrapping Up
Without a doubt, recruiting developers from India is your first step toward project success. Millions of dependable developers and programmers in India are constantly available to meet your needs. They create flawless websites, interactive mobile apps, and much more because they recognize that each project has a unique audience and set of requirements. If you are looking for mobile or web development services, Lilac Infotech is one of the finest mobile app development companies in India.
---
---