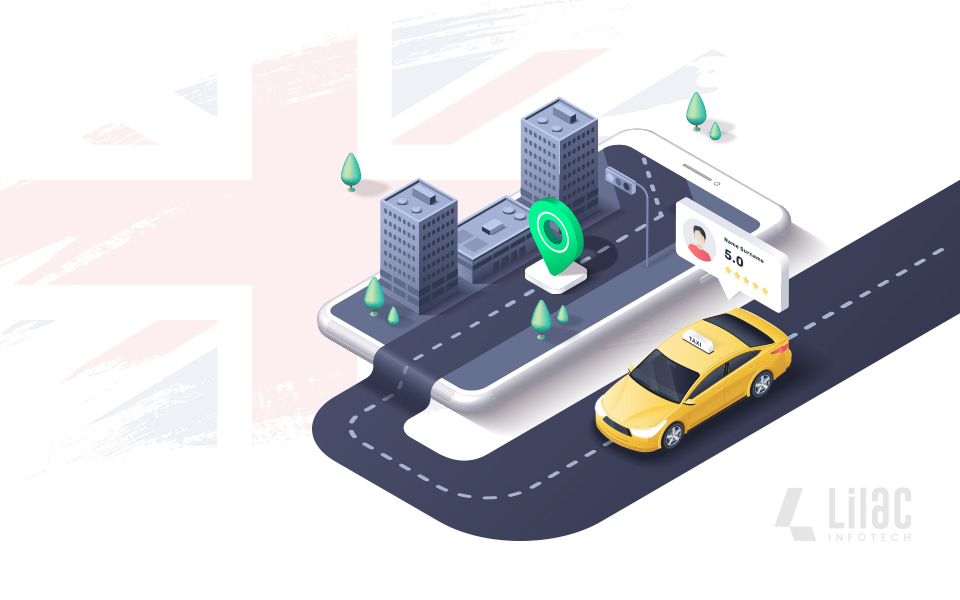 ---
Are you interested in launching your own Uber-style taxi business in the UK? The taxi services business has changed the way people move, and establishing a presence in this fast-paced market can provide profitable prospects.
If you want to create an Uber-like app, there are a few things you should know and rules you should be aware of. In this article, we will walk you through the steps to realizing your taxi company's full potential and establishing a strong footing in the sector. With careful planning and execution, you may pave the road to success and leave an everlasting mark on the UK's ever-changing transport landscape.
Why Start an Uber-Like Taxi Business in the UK?
Starting an Uber-like taxi business in London has an abundance of compelling factors that make it a desirable business. Here are the main advantages to consider:
Vast Market Potential:
The transport sector in London is growing, with a high need for dependable and efficient taxi services. The city's bustling population, thriving tourism industry, and commercial activities create an ongoing need for transportation, providing enormous market potential for your taxi company.
Established Infrastructure:
London already has a well-developed transportation infrastructure, including an extensive road network, public transportation systems, and dedicated taxi lanes. Leveraging this infrastructure can provide a strong foundation for your taxi business, enabling seamless operations and connectivity.
Tech-Savvy Customer Base:
Smartphones are widely used by London people, who appreciate technology. The city's residents are accustomed to using mobile apps for a variety of services, including ride-hailing. You can immediately build traction and attract a big pool of potential customers for your taxi app by tapping into this tech-savvy customer base.
Increased Convenience:
Passengers benefit from unmatched convenience when using ride-hailing services, you can provide them with on-demand transportation options by providing a user-friendly taxi app that allows users to book rides easily, track their drivers in real-time, and make cashless payments. This ease aspect might distinguish your company and generate a devoted consumer base.
Flexible Work Opportunities:
Starting a taxi app in London benefits both passengers and drivers by providing flexible job options. Many people want to work as taxi drivers part-time or full-time, and your platform can provide them with a flexible income opportunity while also contributing to the local economy.
Competitive Advantage:
While taxi services already exist in London, offering a unique value proposition or distinctive features can provide you with a competitive advantage. You can modify your service to offer something unique, such as better safety measures, personalized experiences, or focused marketing campaigns, by carefully researching the market and understanding customer core concerns.
Growth and Expansion:
The dynamic character of London ensures that taxi businesses can grow and expand indefinitely. As you build a solid presence in the city, you might consider expanding your business to other regions of the UK, entering new markets, and diversifying your sources of income.
Launching Your Own Uber-Like Taxi Business in the UK: A Step-by-Step Guide
With the rising transportation business and the advent of on-demand services, there has never been a better moment to enter this profitable market. By following our step-by-step instructions, you will get useful insights and concrete advice for navigating the complexities of establishing your firm. From legal and operational needs to technology implementation and marketing strategies, we'll provide you with the expertise and tools you need to build a successful and competitive presence in the UK. Prepare to embark on an exciting entrepreneurial journey and realize the full potential of your taxi business.
Research and Planning:
For the success of any business market research is an essential part of the game. Assessing the demand for ride-hailing services in your target areas, understanding the market landscape, identifying potential customers, and evaluating the competition are crucial steps. By analyzing market trends, and customer preferences, and studying existing competitors, you can gain valuable insights to tailor your services and stand out from the crowd. With this knowledge, you can develop a comprehensive business plan that outlines your goals, strategies, financial projections, and marketing approach.
Develop a Business Plan:
When starting a taxi app business in the UK, you must create a complete business plan that includes your goals, strategies, financial predictions, and marketing strategy. To establish a successful venture, consider elements such as price strategies, service differentiation, marketing channels, and customer acquisition approaches. Furthermore, with the increasing relevance of technology in the transportation industry, incorporating a strong taxi app development solution into your business strategy is critical. A feature-rich and user-friendly mobile application will allow for seamless ride bookings, real-time tracking, secure payments, and effective communication with drivers. This, combined with a well-defined marketing strategy that includes both online and offline media, will assist you in attracting clients and establishing a strong brand presence.
Technology Platform:
It is critical to collaborate with trustworthy technology sellers or to explore constructing your own mobile app and backend system. This taxi app development platform will serve as the foundation of your business, allowing consumers to book rides, track drivers in real time, make secure payments, and submit feedback. Along with the client app, a driver app with capabilities such as GPS navigation, trip history, and earnings tracking is required. This technology platform should be easy to use, dependable, and capable of meeting the anticipated demand. Working with a reliable taxi app development company in the UK helps ensure that the app is adapted to the specific needs of the local market and regulatory landscape.
Marketing and Branding:
To attract consumers, it is vital to develop a strong brand identity and follow an efficient marketing plan when launching your taxi business in the UK. Begin by developing a distinct brand that distinguishes you from the competition. Define your brand's values, mission, and visual identity to create a memorable market presence. Use digital marketing methods to efficiently reach your target demographic. Use social media networks to interact with prospective customers, communicate updates, and run focused advertising campaigns. Invest in online advertising to raise your profile and attract a larger audience. Use search engine optimization (SEO) tactics to increase the exposure of your website in search engine results, ensuring potential clients can quickly find you. Consider offering competitive pricing, promotions, and other incentives to encourage customer acquisition.
Safety and Customer Support:
When developing your taxi business in the UK, safety should be a primary focus. It is critical to develop strong safety procedures to instill trust in your customers. Conduct extensive background checks on your drivers to ensure they are qualified and have a clean driving record. Implement a thorough verification process to confirm their credentials and dependability. Furthermore, perform frequent vehicle inspections to ensure that your fleet satisfies the necessary safety standards. Conducting safety audits regularly can help to strengthen your safety processes and identify areas for improvement. Create a dedicated customer support team to give superior customer care. This staff should be prepared to respond to inquiries, criticism, and complaints in a timely and professional manner.
Why Do Taxi Businesses Demand a Mobile App?
A taxi app development is vital for increasing accessibility, improving efficiency, improving the client experience, ensuring safety, enabling personalization, gaining a competitive edge, and leveraging data-driven insights. It has evolved into a necessary tool for modern taxi businesses to thrive in a digital-centric transportation sector.
Increased Accessibility:
Customers can book a taxi at any time and from any location using a smartphone app. They may request a trip, track the driver's location, and obtain anticipated arrival times with only a few taps on their cell phones. This ease of access improves the entire customer experience and draws more customers to your taxi service.
Improved Efficiency and Operations:
A mobile app makes the entire booking and dispatch procedure more efficient. It automates operations including driver assignment, route optimization, and payment processing, saving manual labor and errors. This promotes operational efficiency, driver productivity, and allows for better resource management.
Enhanced Customer Experience:
Customers benefit from a seamless and user-friendly interface provided by an app. They may quickly select the type of car, set their pick-up and drop-off locations, and examine the anticipated fare. Real-time tracking and updates keep them informed of the driver's whereabouts and expected arrival time, increasing transparency and trust. The app's ease and openness help to improve the consumer experience.
Data and Analytics:
A mobile application collects and analyses vital data and analytics about customer behavior, popular routes, peak hours, and other factors. This information can be used to make sound company decisions, improve operations, and devise efficient marketing tactics. It allows you to keep ahead of the competition by helping you understand customer preferences and market trends.
Competitive Advantage:
In today's competitive taxi business, having a smartphone app gives you an advantage over traditional taxi services. It reflects your dedication to innovation, consumer happiness, and ease. You may attract more consumers and differentiate yourself from the competition by providing a modern and tech-savvy solution.
Planning on an app better than Uber?
Get expert consultation on taxi booking app development.
Wrapping Up
Entering the Uber-like taxi business in the UK offers enormous prospects for growth and success. Thorough study, planning, and coordination with reputable taxi app development companies in the UK, such as Lilac Infotech, are critical in laying the groundwork. You can improve accessibility, efficiency, and safety, and create a personalized client experience by adopting a well-defined taxi app development strategy. Implementing strong security measures, efficient marketing and branding, and timely customer service will all help you succeed. Investing in a mobile app will provide you with a competitive advantage and allow you to use data-driven insights to stay ahead of the competition. With Lilac Infotech on your side, embrace innovation and technology to make your name in the booming taxi business.
---
---