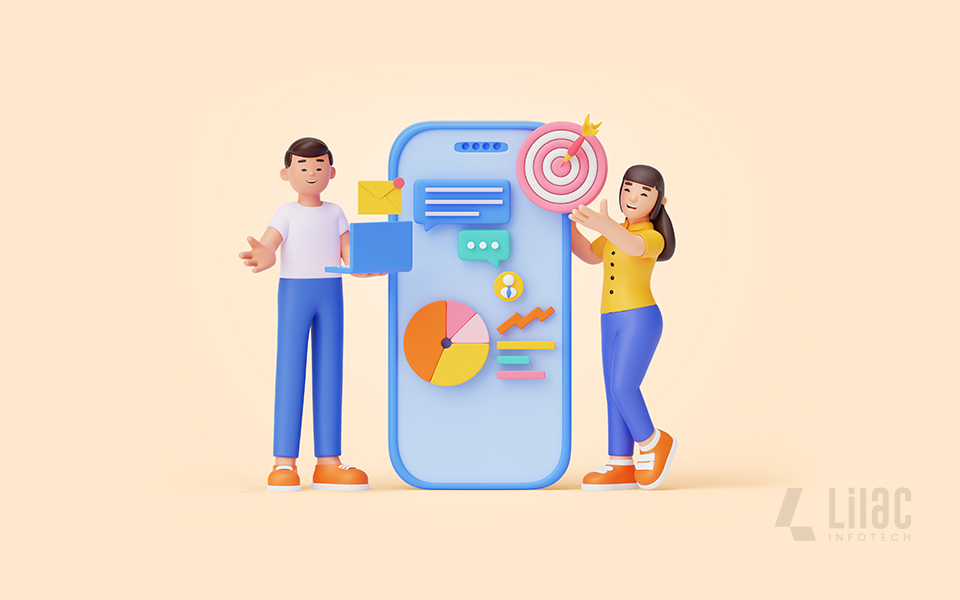 ---
Mobile applications have become critical for businesses to engage with customers and increase revenue. Whether it's your favorite burger company, McDonald's, or your worldwide vacation accommodation partner, Airbnb, they've found success through mobile app development.
Of course, their mobile app development partners have significantly influenced the success of their business and mobile apps. And to discover them, they undertook extensive research and evaluation processes.
McDonald's and Airbnb aren't the only companies that have employed mobile app developers or outsourced their mobile app development initiatives. In fact, almost 60% of organizations from various industries, including 72% of the financial services industry, opt to outsource their app development to IT businesses. So there must be some legitimate grounds for doing so!
You may be reading this blog because you will launch a mobile app and are seeking a reliable mobile app development partner to help you transform your idea into a lucrative app.
Considering everything, we created this guide to assist you in hiring the finest mobile app developers to fit your needs!
So, first, realize the significance of having a checklist or clear criteria for hiring them:
Why Should You Establish App Development Partner Selection Criteria?
Setting criteria for picking your perfect mobile app development business is critical for various reasons:
It enables you to evaluate different mobile app developers based on characteristics such as experience, quality deliverables, dependability, engagement offers, and so on.
It allows you to set up a standard framework for assessing IT suppliers based on your project needs and business objectives;
It eliminates the possibility of picking one that does not suit your needs and timeframe.
7 Tips for Finding the Best Dedicated Mobile App Development Partner
Choosing the best mobile app development partner for your project requirements might be difficult. To make things easier, we've listed some aspects to consider if you decide to go through with this recruiting process:
1. Establish project and business goals.
This stage ensures that you clearly understand what you want from your IT vendor, such as the level of knowledge your tech partner should have, the sorts of projects they have successfully completed, and so on.
Let's begin by establishing your needs and end objectives as follows:
Define the criteria for mobile app development.
To specify exactly what you want in your product, you must first answer the following question:
What is your approach to mobile app development?
Is it a simple MVP (Minimal Viable Product) development, a simple, narrowly focused user-specific software, or a complicated mobile app with a broad scope?
You can create a checklist for picking the best mobile app development team for your app development project by answering these questions.
Set end goals for your app development idea.
To do this, you must answer the following questions:
What should the ultimate purpose of your mobile app be?
What questions do you want to ask your chosen mobile app development team?
Aside from them, you must identify the team size and the tools and technologies required to achieve your objectives.
Make a Budget
The money set aside for mobile app development is important in determining the success of your team selection and the quality of the end product.
It may be difficult since you must carefully assess your cash flow, both within and outside, and make the required modifications. To ensure project success, you may take calculated risks and sometimes make financial compromises.
It is critical at this moment to establish your priorities. Are you looking for a cost-effective mobile app development solution that provides an excellent user experience and propels your business to new heights, or are you satisfied with a mediocre product that only creates your digital presence without maximizing your effectiveness?
Establish a specific and attainable project deadline.
You understandably want your stuff delivered quickly. However, with such hopes, it is also vital to be realistic.You must investigate obstacles in your idea, tools, technological stack, features, and functions with certain thresholds to accelerate development, even if highly experienced personnel are working on it.
So, taking these aspects into account, you must plan your project deadline and ensure that the team you hire has the capabilities to fulfill your deadlines without sacrificing the quality of your mission-critical software.
Choose a Model for Software Development
With the advancement of the IT industry, particularly in the product development arena, several software development models, such as waterfall, incremental, agile, and so on, have evolved. However, among them, IT professionals widely utilize Waterfall and Scrum (both Agile techniques).
If there is a need for faster deliverables with greater communication and cooperation, IT professionals recommend employing Agile approaches using the Scrum framework to achieve faster and more successful software product development.
Choose the Best Engagement Model
As there are numerous engagement models available in the market that cater to certain objectives, you would want to pick the correct one that meets your needs.
Set Price: If your app development needs are clear, this set price engagement approach can help you acquire your desired product on time.
Dedicated Team: This model allows you to handpick your app developers and form a team to work on your project exclusively for a specified time, such as a week, month, or year. This provides several productivity and economic advantages by cutting through the hierarchy and providing direct access to the focused staff.
You want to know when engaging a specialist mobile app developer is appropriate.
Time & Material: In this case, your hired team works on your project and costs you based on the time (hours) and materials used. When the scope of your project is susceptible to alteration, IT service providers frequently recommend this. In addition, experts frequently prefer time and material when comparing fixed-cost projects vs. Hourly Hiring.

2. Carry out market research.
This procedure is related to defining a project and company objectives. This will assist you in learning about industry trends such as UI/UX design trends, trending app development tools and technologies, the mobile app development process, top app features and functions, quality assurance, and deployment.
And to accomplish so properly, you need to speak with mobile app development specialists who can provide you with a professional viewpoint on your app development concept and simplify your market research. It is also acceptable to seek second and third perspectives for more clarity.
This approach will greatly assist you in learning about the skills of the selected organizations, the efficiency of the apps produced by them, and other factors that will help you pick the best team.
3. Investigate and shortlist the best mobile app development businesses.
It's time to hunt for your perfect mobile app development partner when you've completed the planning stage.
There are several ways to find an IT partner, including:
Using keywords such as top/best/leading mobile development firm
Opening and exploring worldwide IT company listing websites such as Clutch and Goodfirms;
Searching for blogs such as "How to Develop a Mobile App Like..." to identify organizations actively investing in research to deliver better insights to interested consumers such as yours seeking IT partners operating in a similar sector.
You may also narrow your search by defining technology, region, team size, and pricing to receive relevant results regarding mobile app developers who fit your needs.
So, after you get your relevant findings, it is necessary to evaluate their skills in light of your project requirements:
Location
When looking for a software development services provider, consider your intended region since each nation has a unique economy that may benefit you in terms of skill and cost. Also, while selecting a location/country, consider whether their skills can grasp your language.
Considering all these aspects, firms from various worldwide locations frequently prefer to discover IT service providers from nations such as India, Ukraine, Thailand, Belarus, etc.
And, of all the nations listed, most firms choose India for their software development projects since it has highly skilled IT workers and IT business representatives. In conclusion, your ultimate objective should be to obtain the best mobile app development service in your preferred technology, complete with all conveniences.
Expertise and industry knowledge
When shopping for an IT provider, be sure they understand your business and the technicalities. Indeed, technological abilities are important since your technology partner can do industry research and understand industry trends.
On the other hand, prioritizing the industry and technological talents can help you save time spent on industry research and bring you the greatest mobile app solution that meets your needs.
So, how can you choose the perfect technical partner with industry knowledge?
Here, your market research on industry-leading technology for app development would be beneficial.
Complete the technological stack;
Specify the skill set criteria based on industry experience.
Look for IT firms with specialized technical skills.
Examine the backgrounds of firms and clients that have acquired comparable services as you.
Size of the Business
Knowing the firm size of the mobile app development service providers can assist you in locating a trustworthy team. This is because many organizations with fewer employees frequently utilize freelancers or developers from several partner companies to work on your project, which may call reliability into doubt.
As a result, while designing your mission-critical mobile app, employing a business with in-house staff is strongly recommended. In conclusion, an IT firm with a large in-house staff of mobile app developers is extremely trustworthy for your project.
Portfolio
The portfolio is an important asset for IT firms to market to new clients and persuade them of their competence. On the other hand, clients use the IT firm portfolio to determine whether or not a candidate can match their project needs.
As a result, while selecting a mobile app development partner, you must examine their portfolio. This will allow you to:
Find out what other projects they have worked on that are comparable to yours.
The complexity of the projects (features and functions) on which they have worked;
Competencies in delivering mobile apps with zero crashes;
They have provided valuable advice to their clients to improve their products.
Their perseverance in finding effective solutions to run-time problems, and so forth.
In summary, the portfolio of mobile app development businesses speaks louder than their pitch. It is recommended to consider this aspect while selecting the best-fit mate.
Market reputation of the company
Now comes the important step of analysing the mobile app development company's past by looking into their client testimonials on websites and other listing platforms with Stars they have gotten for their services. It will assist you in tracking the development of your possible IT partners, such as the number of projects they have worked on, the project completion rate, the client retention ratio, the employee retention rate, customer feedback, and much more. This information lets you make more educated choices about shortlisting mobile app developers.
4. Create a job description and submit an RFP
Now is the time to cut down your list of mobile app development partners even more and get close to selecting the best one. This approach is straightforward after the lengthy process of locating a few companies/teams for your mission-critical project.
RFP stands for "Request for Proposal," and it is here that you must clarify everything about your app development project. In summary, you'll use what you learned in the first step, "Define a project and business objectives."
To be more specific, you might include the following information in your RFP:
Project description, including app development requirements and scope, as well as app features and capabilities to be developed;
Your specifications for the team of designers, developers, QA engineers, and so on that you want to work on your project, including their industry experience and expertise.
Project completion dates;
Your budget, from projected lesser to the capacity to scale up with a condition if they guarantee a top-notch solution beyond conception;
Industry regulatory criteria that developers should bear in mind
Your need for a service level agreement (SLA) to improve partnership assurance and an NDA contract to secure your identity;
Finally, include extra guidelines for your prospective IT partner to agree to and follow, such as communication methods, reporting, transparency, etc.
When you've finished creating your JD for your app development project, email it to all of your selected teams and wait for their quotations with references.
5. Evaluation of Received Proposals and Quotations
At this point, it is realistic to expect answers from all the people you have contacted. While some may answer confidently and with a promise to match your expectations, others may be more desperate for business prospects.
Furthermore, some recipients may refrain from reacting if your requirements do not align with their client criteria or if they cannot comply with your rigorous requests, such as signing a non-disclosure agreement.
In the best-case scenario, your email will be inundated with competing offers, references, and further needs. As bids begin to arrive, retaining a high degree of discernment and properly examining how the offered references correspond with your requirements is critical.
Following this method will allow you to eliminate inappropriate applicants and go on to the interview stage to better understand their approach.
6. Hold a meeting, discuss your project, and bargain.
After properly evaluating all offers, you may discover that 3–4 proposals have actually impressed and captured your interest. A virtual meeting with the possible teams would be beneficial in determining how these ideas best fulfill your needs.
A virtual meeting will provide you a better understanding of their methodology, allow you to discuss your project needs, and assess their degree of competence. This will allow you to make an educated decision about which company is most equipped to create an efficient mobile app development solution that matches your specific requirements.
Following that, you'll wish to negotiate a variety of issues, including:
Budget: Since you've already provided your budget, it's normally a question of discussing it, yet, in business, it's crucial.
Non-Disclosure Agreement (NDA): An NDA assures that any sensitive information you submit to the service provider is kept private from third parties.
IP Transfer: IP stands for Intellectual Property, which must be considered before contracting with a service provider if you want to retain ownership of the product once the service contract is completed. In the case of mobile app development, your intellectual property includes the whole product, including its design, source code, thorough technical documentation, and more.
Non-employment Agreement (NEA): This agreement is necessary for you and your service provider since it forbids you and your service provider from recruiting a resource from each other's team to benefit your respective businesses.
Once sides' expectations have been met, you've finally chosen your team, and it's time to hand-pick the perfect dedicated mobile app developer or the entire team to work on your project.
7. Selecting and integrating talent for your project
Finally, you want to discuss whether you have the flexibility to pick your skill. Shortlisted organizations that have been in the field for many years and have a large staff have a pool of mobile app developers to suggest to you. Furthermore, depending on the knowledge necessary to match your project needs, they have shortlisted this pool.
You will be given the shortlisted CVs of talents to evaluate and pick from.
Then you'll interview them and assess their communication and technical abilities to decide whether or not to hire them.
If you wish to pursue this one talent, you may use the signing as mentioned above, or you can request more profiles to interview.
Finally, you've assembled your team, and it's time to get them started on your project and provide results.
Avoiding Mistakes When Selecting a Mobile App Development Partner
You now know the best practices for hiring the best mobile app development partner, but you also want to be aware of certain typical blunders. So, here you have it:
Cost-cutting versus quality
It is reasonable that project costs may be a major restriction for you. However, it is vital to note that while the cost of mobile app development is significant, it should not be the deciding factor when selecting a service provider.
Examining a provider's stringent service quality standards is vital, which may necessitate a larger initial expenditure but potentially save you considerable post-development costs.
Taking for granted your confidentiality
Never take your intellectual property and identity's secrecy for granted. It's fine not to give up on your expectations if a service provider regards it as a trust issue. As a result, it's best to avoid working with app development partners that refuse to sign an NDA.
Ignoring intelligent product documentation
Every piece of documentation, whether a requirement definition, technical documentation, or anything else, is critical to app development. As a result, you should never treat it as an afterthought to your project and only deal with a firm that prioritizes documentation in its work approach.
How Can Lilac Infotech Be the Best App Development Partner for You?
Lilac Infotech one of the best mobile app development companies in 2023, has expertise in the IT business, and has become a perfect solution to outsource software development projects and engage dedicated experts. The main reasons for selecting Lilac Infotech are the customer-centric strategy, excellent communication and cooperation, absolute transparency, agile development style, and dedicated post-launch support.
Looking for a reliable Mobile app development company in India?
Hire skilled mobile app developers now!
---
---