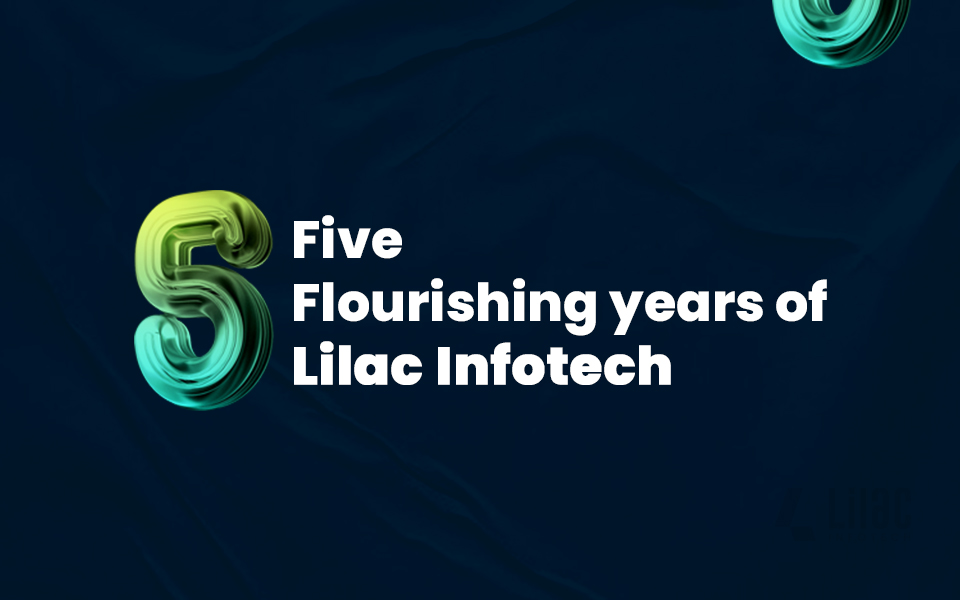 ---
Half a Decade of Brilliance: Remarkable Voyage in App Development
Behold the exquisite journey of two determined souls as their dreams blossomed and evolved gracefully over five remarkable years.
These successful 5 years of Lilac Infotech were only passed with the support of our hardworking employees. This time, we planned to recognize the employees for our half-decade accomplishment, so we planned an adventure trip to Wayanad on the 17th and 18th, often called the Ooty of Kerala. As every employee eagerly waits for the surprises that we planned for them. Employees arrived sharply at 8. AM. at the Cyberpark, Calicut. We began by taking photos to start the journey. Team Everyplanet coordinator Aslam added some more energy to the trip.

Employees were thrilled about the journey. We set up our mood with some melodious songs. We all added a lot of fun to the journey by dancing and singing. We started sharing our expectations for the trip. Ms. Umra Khanum [Chief Marketing Officer] added some more energy.
Inside the premises of Pookode Lake
An excursion to Pookode Lake in Wayanad provided a unique opportunity for our employees to recharge, reconnect, and refocus their energies. It's not just the scenic beauty that Pookode Lake offers its visitors but also opportunities for many recreational facilities.
A handicrafts and spices Emporium, freshwater aquarium, and the Children's Park are among the many popular attractions at Pookode Lake. Pookode Lake, nestled amidst lush greenery and surrounded by dense forests, served as the perfect backdrop for our employees to detach from the hustle and bustle of the corporate world. The serene environment allowed them to immerse themselves in the natural beauty of Wayanad, fostering creativity and a fresh perspective that can be harnessed for innovation in our organization.
The Lake is more than just a destination; it catalyzes corporate excellence. Our trip there exemplified the importance of holistic employee well-being, team bonding, and the rejuvenating power of nature. It was an experience that revitalized our team and enriched our corporate culture, making it a journey worth every moment spent. In the spectacle of eyes, Pookode Lake was an essential chapter in our journey, reminding us that taking a step back from the corporate world can propel us forward in ways we could never have imagined.
Feasting on Memories: When Our Team Took a Delicious Detour on Our Trip!
As the sun painted the sky with hues of gold and the cool morning breeze whispered through the trees, our team found itself in the heart of Adivaram, a picturesque locale that seemed like it had been plucked from the pages of a postcard. On this enchanting morning, we decided to deviate from our usual travel routine and dive headfirst into a culinary adventure that would leave an indelible mark on our trip.
We wandered into a charming eatery tucked away from the bustling streets, where freshly brewed coffee and the tantalizing scent of spices greeted us. The menu was tantalizing local delicacies, each promising dish to be a taste and culture revelation.
This breakfast at Adivaram wasn't just about food; it was a symphony of flavors that echoed the region's essence, a gastronomic adventure that awakened our senses and a memory etched in our hearts forever. It was a delightful detour that reminded us that sometimes, the most meaningful moments of a trip are found not in the grand landmarks but in the simple pleasures of sharing a meal with those who matter most.
Arriving at Coffee Greens Resort: Where Nature Meets Culinary Delights
Our journey in Wayanad reached a captivating crescendo as we arrived at Coffee Greens Resort, which made a delightful pinning to our journey. This peaceful sanctuary combines nature, luxury, and serenity, making it one of the best resorts in Wayanad for family getaways. Our team-arranged luxurious rooms combine comfort and sophistication, offering amenities and stylish furnishings for a peaceful stay.
Nestled amidst lush coffee plantations, this hidden gem seamlessly blends the beauty of nature with culinary excellence. As we savored locally sourced delights, surrounded by the serene greenery, our senses were treated to an unforgettable symphony of flavors and vistas. It was a moment when the essence of Wayanad came alive, leaving us with cherished memories of a truly extraordinary trip.
Our employees started with games like Cricket, Volleyball, Chess, and Cycling around the resort. It was a great experience.
Wisdom-filled words
With the welcome speech by our HR, Mrs. Mahima, we started our official program. Our Founder, Mr. Midhun, and CEO, Mr. Shafi bin Meeran, shared their story of success over the past years. They shared the challenges they went through for the half-decade. Appreciated all the employees they worked for the years. CMO, Ms. Umra Khanum, too, shared her experiences in the firm.
Employees got a Q and A section with the founder and co-founder, and they cleared all the doubts about technical and overall performance.
Promotions:
We were pleasantly surprised that the VP of Marketing, Ms. Umra Khanum, was promoted to Lilac's CMO [Chief Marketing Officer]. She shared her gratitude to the company with her delightful words.
Software Campus-Transforming Aspirations to Applications
Software Campus, an esteemed R&D division of Lilac Infotech, the official announcement of software campus was announced at the event. The General Manager of the Software campus, Mr. Jiljil Govind, shared his ideas about the software campus and how it benefits the passionate students struggling to succeed.
Cake cutting and Appreciation
Following the official activity and the entrance of the staff, everyone in the room gathered around the stage for the cake-cutting event that HR had planned. The exquisite chocolate cake was the ideal representation of the company's five-year journey.
The CEO then requested everyone's attention because he had planned an excellent segment of thanks for the workforce. In addition to a great surprise for each employee, he chose certain special tags, such as "High Five Award, Spotlight Award, Exiting in Excellence, Pinnacle Award, Calmer of Storms Award, and Bright Beginning Award.
Day Two: Unveiling the Wonders of Our Journey
Recreation and Amusement

When everyone had breakfast, HR called for some games, and HR Mr. Shibili and Ms. Mahima planned a treasure hunt for our employees. After that, there was tree climbing holds adventurous, which is exactly a mind spot of the trip.
900 Kandi: Our Next Enchanting Stop
Our expedition continued with eager anticipation as we set our sights on 900 Kandi, our next enchanting stop. Here, the journey took an exhilarating twist as we hopped aboard sturdy jeep trucks, ready to conquer the terrain ahead. The adrenaline surged as we ventured into the heart of this untamed landscape, navigating steep slopes and dense foliage. 900 Kandi unveiled its hidden treasures with every twist and turned: cascading waterfalls, pristine streams, and panoramic vistas that left us in awe.
How We Concluded
When the clock hit nine at night, it was time to end the day. We got to Cyberpark. All of us have lifetime-long memories to look back on.
---
---