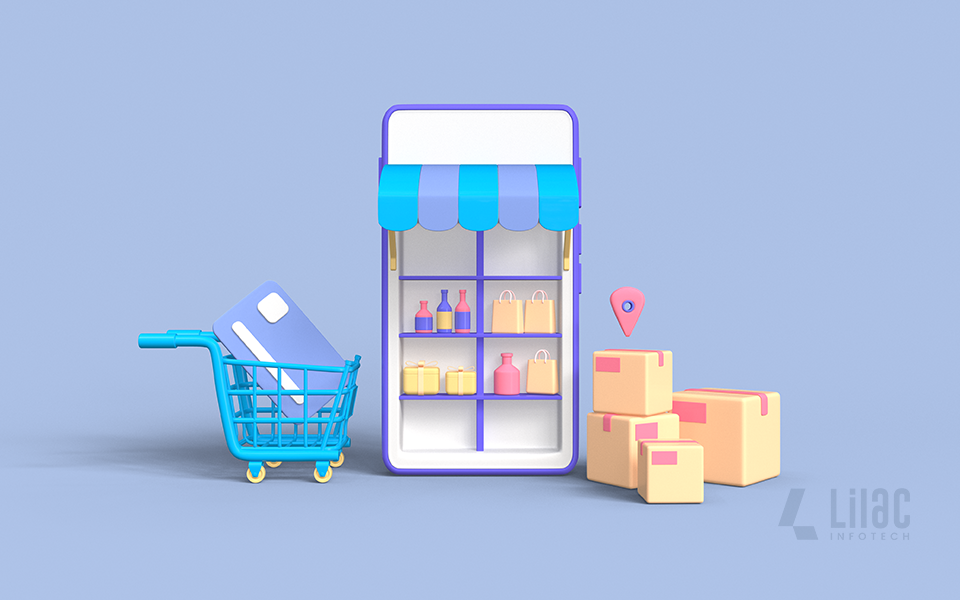 ---
Transform your Grocery Business with Lilac Infotech
Running a successful food business in the Internet age entails more than just stocking shelves and offering excellent customer service in a physical shop. This transformation in technology has resulted in a dramatic shift in consumer behavior. Today, a rising number of people choose to make their grocery shopping online. Having a strong online presence at your grocery shop is critical for staying ahead of the curve and meeting the needs of your consumers. This is where grocery app development can truly shine and revolutionize your business.
How might a mobile app help your grocery store?
Entrepreneurs are still looking for effective techniques to help them grow their businesses. Investing in the online grocery sector is a highly effective business expansion strategy. Grocery store owners may increase their reach and expand their business abroad by using a mobile grocery app. Trust is essential for the success of any business, and online grocery store apps play an important part in boosting Trust through dependable brands, exceptional quality, and convenience.
Increased Revenue Generation
Targeting the online grocery sector might be a lucrative chance to increase income. The convenience and accessibility of a mobile grocery app boost the client base, resulting in better sales. These platforms foster considerable business growth by instilling trust and dependability.
Order Management Simplified
A powerful mobile grocery app includes an effective control panel, allowing the firm to manage inventories successfully. To improve order processing efficiency, alerts deliver messages with each order placed. The app manager may handle present, past, and future inventories, optimizing the total process.
Options for Multiple Payments
Modern supermarket applications offer users various simple payment choices, guaranteeing a smooth checkout experience. Businesses may connect their preferred payment option, such as debit cards, credit cards, net banking, or cash on delivery, from PayPal to Stripe and several other online payment modes. These simplify food shopping and promote safe online payment alternatives.
Loyalty to Customers
Customer loyalty is critical to any business's growth, and a well-designed supermarket mobile app may help you achieve it. Grocery applications maintain existing consumers and attract new ones by providing personalized and intelligent user experiences. When clients are happy, they become loyal customers, which lead to increased business growth.
Broad Range of Products
When compared to traditional brick-and-mortar businesses, online grocery applications provide a wider range of items. Customers may use a mobile app to obtain a variety of items in one location. The online platform offers improved functionality and a wider choice of high-quality items, increasing consumer satisfaction and attracting new customers.
Expanded Customer Base
Brick-and-mortar supermarkets are often restricted to a single location and local clientele. On the other hand, a supermarket mobile app overcomes all geographical barriers, allowing you to attract clients from many cities and even states. Scalability enables firms to reach new markets, delivering a varied consumer base while driving exponential corporate development.
Why Should You Work With Lilac Infotech?
We are an app development firm in India dedicated to assisting food businesses to succeed in the digital arena. Our top mobile app development firm specializes in creating customized grocery applications that can propel your company to new heights. Our app developers have the abilities required to design effective methods that will significantly increase your growth and income.
1. At Your Fingertips: Convenience
One of the most significant advantages of having a grocery app is the unrivaled convenience it provides your consumers. They may browse through a large product variety, add products to their basket, and make purchases from the comfort of their own homes with only a few clicks on their mobile device. This simplified shopping experience saves time and improves consumer happiness, which is especially important for individuals with busy schedules.
2. Reach a Worldwide Audience
In an age when everyone possesses a smartphone, a supermarket app may help you access a large market of prospective clients. Customers from all over the world who are interested in your company's offers might be attracted. The digital sphere provides great prospects for reaching a larger audience and increasing revenues.
3. Comprehensive Strategy
App India Company understands that successful application development takes careful strategy and execution. Our approach to grocery app development is comprehensive, beginning with a thorough grasp of your company's needs and objectives. We work directly with you to create custom software that meets and exceeds your unique needs.
Our skilled developers employ cutting-edge frameworks and cutting-edge technology to create high-quality mobile apps that are user-friendly and simple to browse. We also guarantee that your app is optimized for different devices and platforms, giving your clients a consistent purchasing experience no matter where they are.
4. Full-Service Assistance
Aside from grocery app creation, we also provide full app maintenance and support to guarantee that your app runs properly. Our app development team delivers monthly upgrades and repairs to keep your app current with the newest trends and technology, ensuring your company stays ahead of the competition.
Grocery app development is the greatest approach to expand your grocery company and increase income. With App India Company, you have a staff dedicated to providing high-quality and efficient services to help your business grow. So, contact us immediately to begin your digital adventure and see the difference for yourself!
Conclusion
In conclusion, partnering with an app development company in India can be a game-changer for your grocery business. By leveraging technology and tailored solutions, you can streamline operations, enhance customer experiences, and stay ahead of the competition in an ever-evolving market. With the right app, you can offer convenience, personalization, and efficiency, ultimately revolutionizing your grocery business and ensuring its success in the digital age. So, embrace technology's opportunities and elevate your grocery business by collaborating with an app development company in India.
---
---