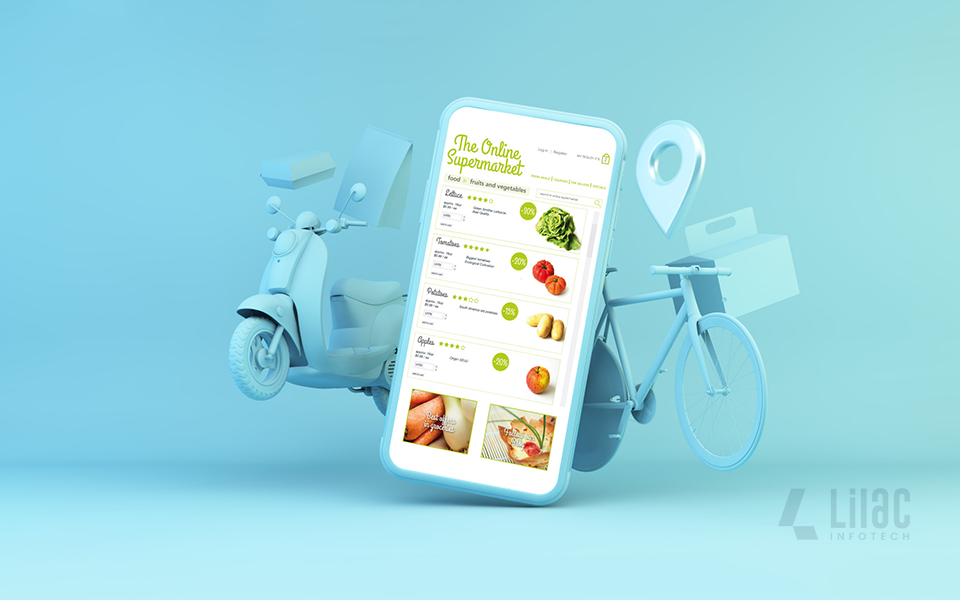 ---
The grocery app development industry in India is currently experiencing a remarkable boom, with a surge of grocery stores striving to enhance their customer experiences. Consequently, an array of grocery app development companies has bound up nationwide. But how do you decide which ones are worth your time and investment?
We, Lilac Infotech, have curated this list of premier Grocery App Developers in India by meticulously assessing their company size, revenue growth rate, and the size of their expert teams. These are the industry leaders who are not just keeping pace with the tremendous demand but also setting the standards for innovation and excellence in grocery app development.
Top 5 Grocery Delivery App Development Companies
TechAhead: TechAhead is a prominent app development company based in India. Founded in 2009, the company has been at the forefront of digital innovation, catering to various industries, including the grocery sector. With over a decade of experience, TechAhead has established itself as a trusted name in app development. TechAhead is headquartered in Noida, India, part of the National Capital Region (NCR), and is known for its thriving tech ecosystem. With more than 150 professionals, TechAhead has a bright and varied staff. These experts include project managers, quality assurance specialists, UI/UX designers, app developers, and more. This talented team works together to provide clients worldwide with state-of-the-art solutions. Because of its dedication to delivering high-quality, feature-rich, and user-friendly applications, TechAhead has successfully developed cutting-edge supermarket apps. Due to their extensive clientele and track record of completed projects, they are well-known as a trustworthy app development partner in India and other countries. They hold a leadership position in the business because of their excellent team and wealth of expertise.
Lilac Infotech:Lilac is a prominent IT company in India known for its expertise in mobile app development, including grocery apps. Founded in 2018, the company has rapidly made a mark in the industry with its innovative solutions and dedicated team of professionals. Lilac Infotech's commitment to excellence and client satisfaction has earned them a reputation as one of the Best grocery app development companies in India. Their growth over a relatively short period has been impressive, and they've attracted a substantial employee base of skilled developers and designers. With a focus on creating user-friendly, visually appealing, and functionally rich grocery apps, Lilac Infotech has garnered recognition for its contributions to the retail and grocery sector. They prioritize understanding the specific needs of their clients and work diligently to deliver projects that not only meet but often exceed expectations. While Lilac Infotech has gained recognition for its grocery app development capabilities, it's essential to verify its current status, portfolio, and client reviews to ensure they are the right fit for your project. The competitive landscape of the IT industry can change, and it's important to stay up-to-date on its latest achievements and offerings.
Sparx IT Solutions:

Founded in 2007, Sparx IT Solutions is a reputable and well-established company in the app development industry. They have over ten years of expertise in the field and have established themselves as leaders in grocery app development services.Sparx IT Solutions' exceptional development staff is one of its main advantages. They bring a plethora of knowledge to the table with their talented and committed developers. A key factor in the company's success has been its dedication to attracting and keeping the best talent in the app development industry. They have a crew knowledgeable about the newest trends and technology, so they are prepared to satisfy the constantly changing needs of the grocery app market. Sparx IT Solutions's ability is demonstrated by its track record of completing supermarket app projects. They have continuously attained high client satisfaction levels because of their creative and practical solutions. Sparx IT Solutions has had a big influence on the grocery app development scene by fusing innovation, technological know-how, and in-depth knowledge of the sector. Furthermore, Sparx IT Solutions has employed a sizable workforce at this time due to its significant expansion over the years.

Mobikasa:

An important participant in the Indian app development market, Mobikasa is renowned for its proficiency in producing aesthetically pleasing and incredibly functional shopping apps. The business was created in 2011, giving it more than ten years of experience in the field.Mobikasa's dedication to providing visually appealing and user-friendly applications is one of its unique advantages. The success of any grocery app depends on its ability to seamlessly and enjoyably blend design and functionality. A significant advantage of Mobikasa is its team size. With a sizable and knowledgeable staff, they can manage challenging projects and guarantee that customers obtain excellent solutions on time.

Octal IT Solution: A flexible IT firm, Octal IT Solution is well-known in grocery app development. They were established in 2004 and have almost 20 years of expertise offering their clients state-of-the-art IT solutions. Their vast experience has allowed them to refine their skills in developing mobile apps, and they are especially good at making supermarket apps that are both feature-rich and easy to use. The organization employs many talented individuals who are passionate about creating cutting-edge digital solutions. As their workforce has expanded over time, they are now able to manage challenging projects with effectiveness and efficiency.Octal IT Solution's steadfast dedication to customer satisfaction is one of their most notable qualities. They place a high priority on getting to know the particular requirements and objectives of each customer, making sure that the grocery apps they create completely complement the client's vision. Furthermore, they stand out in the business for their dedication to completing projects on time. They often strive to guarantee that projects are finished within the allotted timeframes because they recognize how important it is to satisfy deadlines.

Wrapping Up

Look no further if you're an entrepreneur looking for the Best mobile app development. Lilac Infotech is here to address any of your inquiries and offer thorough solutions. For various industries, including E-learning, E-commerce, Home services, Food delivery, food ordering, grocery, Taxi service, Car rentals, and more, we specialize in creating custom mobile apps. Keep checking back with us for interesting, fresh ventures in developing mobile apps. Your ideal app is only a click away!
---
---