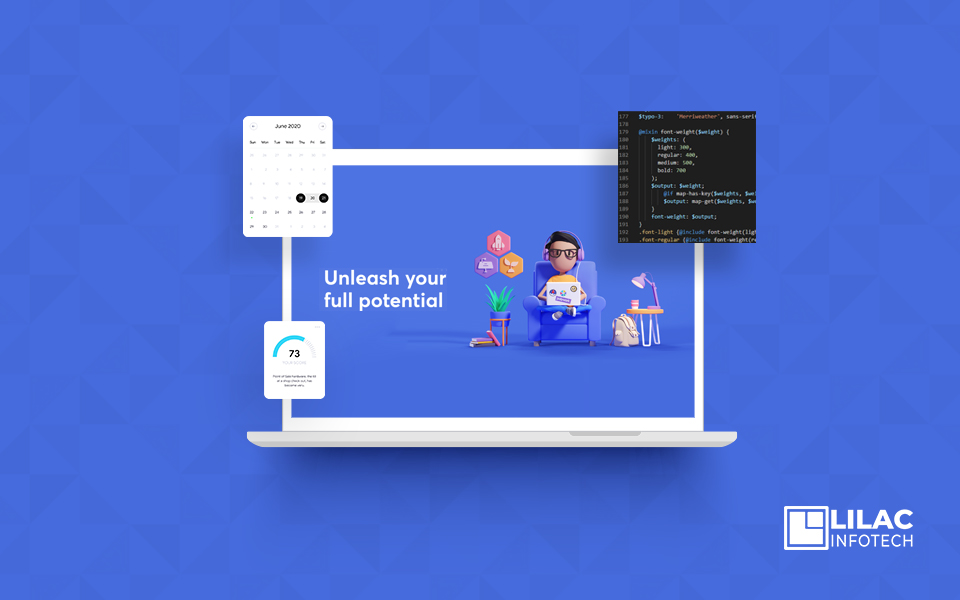 ---
The digital sector is one of those sectors where survival is possible only if your ideas are innovative. It is important to predict changes and be prepared to adapt them. We try to list out some of the web trends of 2020. Over the years, new trends and designs have surfaced in the market. To grip your position in the competition, your business has to focus on web development trends, methods, and strategies. Web developers necessarily have to keep up with the ongoing trends while developing a website. We try to list out some of the web trends of 2020.
1. Progressive Web Apps (PWA)
Progressive Web Apps (PWA) are not a new wonder, however, the technology is gaining popularity because of its potential. PWA's trend makes it possible. PWA makes it possible for users to view the websites on a mobile web browser the same way they view it on their computer screen. In 2020 PWA is written in HTML, CSS, JavaScript, React, or Angular. Apart from the best user experience, PWA can send push notifications and provide users with offline access to cached content. PWA is useful forE-Commerce and news platforms. PWA can change money algorithms in Google Play Store where paid apps share profits with aggregators.
2. Accelerated Mobile Pages (AMP)
The idea behind Accelerated Mobile Pages (AMP) is to speed up page performance. The technology of AMP is a bit similar to PWA. The difference is that by using AMP the performance of the pages is accelerated due to the open-source plugin. AMP's are optimized pages that work fast and have a simplified and user-friendly design with only basic features; these pages are a perfect fit for mobile platforms. These types of trends show how technology is being customized to make it user-oriented. Most of companies choose native apps for development to make the user experience better; AMP provides an option to reduce the costs of UX.
3. Voice Search Optimization
The future of web development seems to go on the mode of voice search with the wide usage of Voice Assistants like Siri, Amazon's Alexa, and Google Home. In 2020, more than half of the smart devices hear users and execute commands given by voice. Voice search is the simplest and vital use of technology. People hardly have the time for typing that's why most of the companies are trying out ways to optimize their physical and digital products with voice search and voice command. The latest in trend is voice-activated devices and voice optimization for regular websites and applications. Voice search optimization is beneficial for both users as well as users. It saves a lot of time for the users, which helps the user complete their tasks faster than expected and build a user-friendly experience. Voice search is also a powerful source of user behavior analytics.
4. Single Page Application (SPA)
SPA is an application that communicates with the browser by vigorously rewriting the current page with new data from the server. The motto is a faster transition. SPAs gained popularity due to the rise in JavaScript frameworks. Many Google pages like Gmail, Google Drive, and Google Maps as well as social networking platforms are of this kind. Why is the SPA approach so widely accepted? SPA has the potential to retain users since they are fast operating. SPA could work without API technology also.
5. Automation Testing
Development stages automation is the tool used to make the development process cheaper by providing the user with the best experience. AI approach Machine learning and AI approach allow us to build complex projects with a small team or with fewer development experts, while product test automation helps us to check whether our product is ready for the deployment or not. Test automation has numerous benefits. It leads to the best testing coverage, transparency, and tech problem detection. With test automation, you will get a better end product. The digital atmosphere has become very competitive; you have to make sure that you are faster and better than your competitors.
6. Responsive websites
Responsive websites are a major trend, though responsive websites were brought 5 years back it still is quite a trend. Nowadays more than 90% of the search is done by a mobile user, which means the developers and designers have to put in extra effort for their products to make their product polished in both formats - desktop and mobile. Different approaches can be taken: either develop a mobile-friendly website that looks best on mobile as well as desktop screen, or to develop a mobile website and then make it adapted to desktop, or to invest in a Responsive Web Design (RWD) and save a lot of effort and time. It is better to forget about the desktop and mobile versions and to work on a universal code for all types of devices.
7. Push Notifications
Would you consider push notifications as a new trend? This trend may be new; it has evolved over a while. Now you can see notifications not only in mobile apps but also in web apps, notifications can be used to attract users' attention. Huge market players like Facebook, news portals already implement this technology into their web apps.
8. Cybersecurity
The importance of cybersecurity has only increased with time. The reason is that we automate all the routine operations, like each time we perform tasks like online payment, or sharing personal data while buying tickets or paying taxes or even a mobile recharge, there is always a risk of our data being stolen. The need for algorithms to protect users from phishing attacks has increased in today's times. Cybercrimes can be committed even in trusted sites where users are required to fill the form. The cybersecurity market is likely to generate a good amount of business in the coming future.
9. Blockchain technology
The concept of cryptocurrencies appeared in 2004 and near about 3 years ago crypto trading market, which is based on blockchain technology, garnered tremendous success. Blockchain trading is not something that can be ignored since its usage has become significantly active within the past years and many payment systems started accepting cryptocurrencies. Blockchain technology requires software as well as hardware support, infrastructure, and also legal guidance. The main need for a blockchain operation is security which can prevent hacker attacks as well as tech errors. Many banks are using algorithms for protecting valuable user data. If the blockchain world gains trust more people might come forward to invest, and it might create a revolution.
10. Motion UI
Innovative web designs are another form of a new trend in the digital world. The focus has now shifted to user experience. Attractive websites and apps have more chances to be noticed by potential users in the first look. Visual pleasure has now become one of the major marketing strategies. Experts foresee the demand for new design approaches like Motion UI. Motion UI makes product usage more apparent and spontaneous. This approach helps the developers to spend less time on product building and save the costs of companies. The future of web design seems to be appealing to them being flexible, easy to use, and responsive. Motion UI is also a way to attract user's attention, so it is useful when comparing with the competitors.
---
---