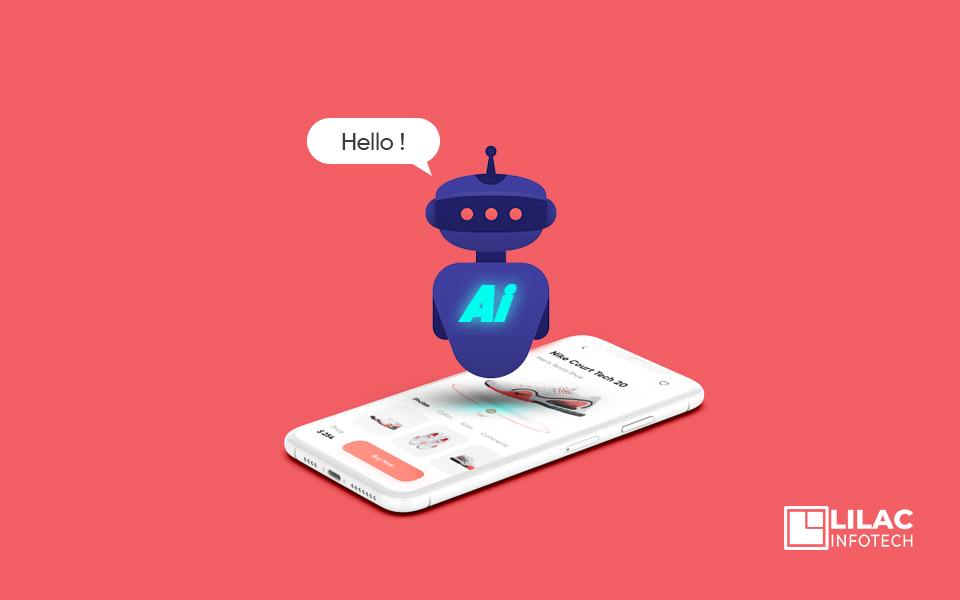 ---
Artificial Intelligence is redefining how we look at and use technology, particularly the mobile app industry. A lot of people have used this technology to boost the level of interaction inside the app and increase the sales rate for the company. We don't have an Iron Man-like smartphone app yet, but we're continually making strides in making apps innovative, functional, and predictive. We use the predictive analytics engine and other coding approaches to enhance smartphone applications and make them more experiential.
There are several aspects that Artificial Intelligence has improved the smartphone app market. Here, we'll walk you through some of the forms smartphones have been revolutionized and improved with smartphone applications.
AI is driving the App Innovation to Incredible Levels
AI has a wide-ranging multi-dimensional effect on the app industry, resulting in smartphone app developers incorporating more AI into their applications. Starting with AI, buzzwords have been developed to execute cognitive functions required from humans.
Artificial Intelligence has proved to be very useful for a variety of applications. In any way, it's more than smart technologies. AI is used to address nuanced, critical problems to help support consumers. Such features of AI allow the industry to reduce the distance between consumers and companies.
Likewise, AI is incredibly helpful in drawing the right insights about the customer in order to produce the optimal performance. These days, businesses are combining AI with their solutions to provide top-notch data-centric services.
How AI motivated Technologies Change Marketer Experience
Artificial intelligence has the ability to turn command into time-consuming and time-consuming activities. Human capacity should be measured and tracked in order to make better choices. As a consequence, this enhances the sustainability of the potential of companies.
Read More : How Big Data Helps future of Business
Reasons for opting for AI
AI-enabled solutions help to investigate the past of the industry and the consumer. The integration of such solutions helps to collect all data and remove the full errors of any dynamic operation. Over the coming years, many more businesses are projected to use AI technologies to raise their sales. In addition, AI technologies would allow companies to implement better marketing tactics to improve their sales volume.
Market Forecast
Marketers need to collect, retain and evaluate large quantities of data. It takes a careless amount of time to keep consumer details in place. As a consequence, AI is here to work with customer info, resulting in improved revenue. AI-powered applications help market study and analysis.
Better Search Process
AI enhanced user experience when looking for similar user items. This technology also introduced a new way to recommend the consumer when looking. The incorporation of ML and image recognition in AI smartphone apps has brought user interface to the next level. New patterns have been set after the amalgamation of speech recognition technologies into the system.
Personalized Mobile Apps
Inspiring minds and influencing people will help improve participation. However, to make sure that you are able to encourage the best minds, you should have experiences that lead to their feelings and help you understand them better. As a consequence, it is critical that you integrate Artificial Intelligence into your applications.
This technology has changed the way people use and interact with mobile applications. AI with deep-rooted learning strategies can quickly grasp what comes into the user's head, and mine observations that help you provide stronger advice and a more personalized screen.
Sales Forecast
Want to know what's going to be on demand this season? For a long time, the one thing most salespeople have been unable to describe or handle adequately is demand. However, with Artificial Intelligence connected to your smartphone app, you can easily grasp the need for a specific product. You will now be able to consider the market for a new product that you are preparing to introduce.
With purchases, you are automatically taken to the amount of the actual commodity that will be sold in a go. It is very difficult to estimate this particular figure. In the case of a proven commodity, Artificial Intelligence looks at previous sales statistics. It understands that the sale happened as it happened and how it turned into a sale.
Track swindling
Security and protection have an important role to play for many businesses. If the clients don't believe you're safe enough, they may not even consider you for their purchases. Protection also needs to ensure that, if theft is likely to occur, the device is identified and reported immediately. Without technology, this is not feasible. That's why you need to introduce Artificial Intelligence, so it can automatically diagnose fraud and help you communicate with your clients and report the same thing.
Satisfy your customer better
Artificial Intelligence can support small enterprises and boost their customer service. With Chatbots, you can quickly communicate with customers, with fewer resources, and in real-time too. Bots will serve the executives of the customer service department and allow customers to meet their needs. For e.g., if anyone has a problem, you can get the bot to engage the user. If the bot can answer these questions, you can not only save the time of the resource, but also save a lot of your money. In the case of small companies, it is time consuming and money intensive to employ resources who can recognize the needs and provide direct assistance to clients. However, you can make use of the bot app, which lets you communicate with your customers automatically and provide you with the much needed support.
Timely Decision Making
With the Artificial Intelligence Internet of Things, you will be able to get real-time data from all devices linked to your enterprise. For example, companies working in the manufacturing sector will be able to understand the data required from the shop floor and to access it directly from the linked smart sensors. Artificial Intelligence would be able to add algorithms to this data and to gather insights. All this occurs in real-time, which lets companies make real-time choices that are important for stronger business development.
Conclusion
Artificial intelligence is now known to be a significant contributor to the smartphone app industry. There are a variety of AI advantages in the creation of applications, and there are many more to come. Smartphone users get the luxury of unique AI-enabled applications. These days, Machine Learning's artificial intelligence is forecast to offer an impressive on-device interface to its consumers. Mobile app development companies are taking full advantage of AI to retain their clients. With time, AI will be cheaper and companies of any scale will find their way to link the globe.
Lilac Infotech, are a pioneering Mobile app development firm that offers potential for a variety of services to our consumers. Rigorous insights and suggestions will be sent to clients before the start of the project. Our background in designing applications is something that we proudly keep put across. You can also recruit our mobile app developers to help you grow your mobile app.

---
---