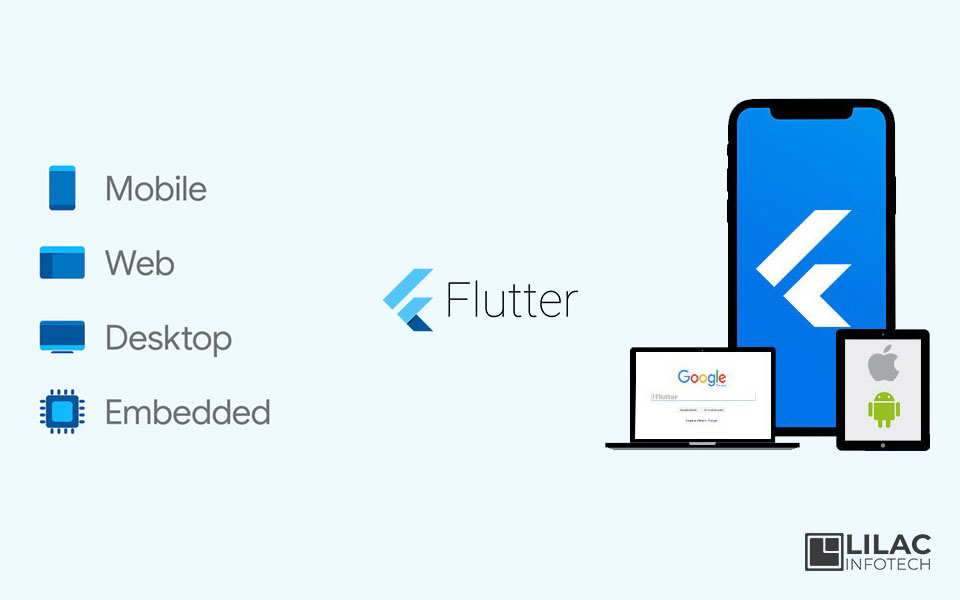 ---
Google Flutter is an open-source development created by Google. It is used to develop applications for iOS and android as well as being the primary method of creating applications for Google. It is power-packed with its own set of frameworks, widgets, and tools. For a mobile app development company, we can be sure that Flutter is going to help you develop easy and productive mobile apps for both Android and iOS platforms. Google Flutter is too used to reduce the cost of mobile app development along with reducing any form of complexity in the production process. Flutter has high features and high benefits; it can develop in tandem for both Android and the iPhone at the same time. Developers have to choose whether they want to work on iOS or Android apps first. Flutter allows developers to make changes to their apps during testing without restarting or losing the state of the app. This could be invaluable if we trying to work on a specific UI element or bug, it will save the frustration of having to go through several steps to get back to that state with each tweak. Google Flutter does not replace the traditional Apple and Android app models for building mobile apps. It is an app engine that can either embed into an existing app or used for an entirely new app. Flutter is used to build beautiful apps. These enable designers to deliver their full creative vision without being forced to water it down due to limitations of the underlying framework. Flutter control every pixel on the screen and its powerful compositing capabilities overlay and animate graphics, video, text, and controls without limitation. This includes a full set of widgets that deliver pixel-perfect experiences on both iOS and Android. And it enables the ultimate realization of Material Design, Google's open design system for digital experiences.
The first version of Google Flutter is developed in 2015 and it is used in the android operating system. Google announced Flutter Release Preview 2. This is the last big release before Flutter 1.0. On Dec 4th of 2018, Flutter 1.0 was released at the Flutter Live event which denoting the first "stable" version of the Framework. It is Google's toolkit for creating beautiful, native experiences for iOS and Android from a single codebase.
Major components of Google Flutter
In Android, Windows, Mac OS, and Linux, Flutter runs in Dart virtual machine which features a just-in-time. One of the features of the Dart platform is its support for "hot reload" where modifications of the source files can be injected into a running application.

Flutter engine provides low-level rendering support using the Google skia graphics library. It has interfaces with platform-specific SDKs provided by Android and iOS.
The Foundation library is written in Dart which provides basic classes and functions which are used to construct applications using Flutter.
A widget in Flutter represents an immutable description of the user interface. All graphics including text, shapes, and animations are created using widgets. More complex widgets can be created by combining many simpler ones. The use of widgets is not strictly required to build Flutter apps. An alternative option is to use the Foundation library's methods directly, interfacing with "canvas" commands to draw shapes, text, and imagery directly to the screen. This property of Flutter has been utilized in a few frameworks, such as the open-source Flame game engine.
The Flutter framework contains widgets and material design. A Widget that conforms to specific design languages and Material Design widgets implement Google's design language of the same name.
Features of Google Flutter
It provides faster app development
Flutter is an amazing way to build our apps to life in the quickest manner. The tools work on all platforms which help to get the job done quickly and perfectly. Flutter can be able to support glitch-free, Jank-free graphics at the native speed of the device. Flutter code is a world-class Dart platform that enables compilation to native 32-bit and 64-bit ARM code for iOS and Android.
Flutter can be free to use. Since the platform is built on a thin layer of C/C++, the developer can easily change any aspect of the language and remove or replace different aspects as well. This provides quick decisions on composting, gesturing, animating, widgets, etc. As a mobile app developer, we will hold all the powers and controls to building mobile apps efficiently.

Flutter is versatile and impressive UI's
Flutter is an open-source platform that helps generate reliable and quality mobile apps for Android and iOS. It provides beautiful interface development by decreasing the amount of coding needed for the app interface. The basic set of designs available on the platform allow you to make the app building process easy, fun, simple, yet beautiful. It provides immense choices for navigation patterns, scrolling, and fonts, and so on.

Flutter introduces a state full hot reload, a revolutionary new capability for mobile developers and designers to iterate on their apps in real-time. With state full hot reload, it can make changes to the code of the app and see the results instantly without restarting your app or losing its state. State full hot reload transforms the developers to build an app and in user surveys. The developers make their development cycle three times more productive

Flutter being a newer platform helps you design the most modern layouts and widgets, giving an elegant user interface. The platform is flexible allows you to play with everything to make your results fun and personalized. Flutter provides major benefits of creativity, functionality, tools and frameworks, and rich library sources.

Access all the native features
Flutter enhances app development experience like no other platform. Flutter allows accessing all native features and SDKs on all platforms. It will allow you to also reuse your existing Java and Swift codes which make everything approachable and accessible.

Unified App Development platform
Flutter is a unified app development platform that allows people to implement and produce all kinds of app ideas be it for an Android platform or an iOS platform.

Flutter is used for cross-platform app development
In a cross-platform, Google Flutter helps you strategize your codes for both Android and iOS platforms. Flutter does not need to compile native Android and iOS apps directly, rather they are going to run on a Flutter engine and Flutter framework.

Conclusion
With the release of Flutter 1.0, it established a new 'stable' channel with the existing beta, dev, and master channels. The stable channel updates less often than other channels, but it has higher confidence in its quality since builds have already been vetted through the other channels. We anticipate that we'll update our stable channel on a quarterly basis with our most battle-tested The Flutter community is one of our greatest assets as a project a welcoming, diverse, helpful group of individuals who volunteer selflessly because they also care about this open-source project.
---
---