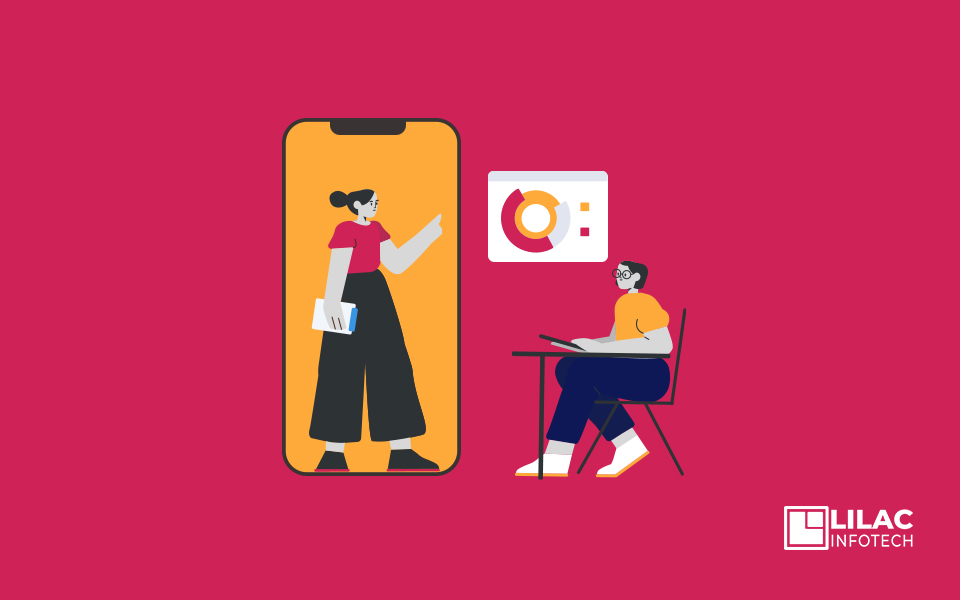 ---
Each business has embarked on a digital transformation path with something new in the tech world every day. Desktop apps have brought new levels of literacy to new heights of e-learning applications becoming an integral component of smartphones. You can currently install a smartphone app for almost every job. You will start studying from anywhere with e-learning smartphone apps. The best thing is that most of the functionalities are different and will even run offline. So you do not often have to navigate these courses via a dedicated internet connection.
Revolutionary changes have taken place in the education sector, such as smart classrooms, e-learning apps, and so on, which encourage a forum for children to learn, whatever the availability of their faculties.
Growth of Mobile Apps for Education and Learning
We now live in an environment in which nearly every part of our lifestyle - whether it be entertainment, fitness, or social connectivity - is managed. And every day, there is tenfold increasing demand for smartphone applications. When talking about the e-learning market, the need for online learning smartphone apps also grew exponentially.
The explanation for the speedy development of smartphone applications is essential because they give students or learners easy learning and comfort. All modern technologies – from the basic stage to the latter level – can now be learned by students and online learning applications with 24/7 access. Also, e-learning applications allow users to quickly upload homework, locate tutorials, get online tutor support, and much more. E-learning technology advances are certainly helping smartphone applications of students worldwide. Technologies such as Artificial Intelligence, Machine Learning, and AR/VR, also help students to learn better through mobile apps.
Advantages of E-learning
E-learning mobile apps enable users to explore the learning content through a podcast, videos, and other mechanisms. E-learning mobile apps encourage users to learn at their very own speed, and they can repeat if they fail to grasp a concept. E-learning applications have greater student commitment, which in contrast to traditional training approaches means faster completion and retention times. Students will interact and observe learning more participative. Mobile e-learning applications allow parents to monitor the success of their staff. The management of an organization can even monitor its staff's efficiency.
The online learning methodology is more suitable for anyone and the software development industry has boomed. This advanced upheaval led to marvelous improvements in the use, expense, chat, and sharing of content. Different officials who work in companies and housewives may take e-learning online courses when necessary. You can browse the course material many times, as opposed to classroom seminars for e-learning. This is expected especially at correction time when preparing for a test. In the conventional way of studying, you ought to prepare the whole subject on your own if you cannot attend the lecture. Though e-learning allows you to access the themes of your choice as needed.
The major benefit of e-learning is that it guarantees that the e-learning platform harmonizes with other students. This enables the student to access and if necessary, the refreshed material or program. E-learning is a fast-track solution. This style is relatively quick in comparison to the conventional form of classroom instruction.
Development Process
1. Think of a definite idea
This is a basic move without which development cannot begin. You have to ensure that the concept is original and has good market demand. Perform an in-depth study of competitors in the niche that you pursue, read the feedbacks of customers to know whether they are happy with the service that your competitors are offering, and also to know what you can change in your model.
2. Recognize your target audience
The validation of the concept can help you consider the holes that can be filled in the rival apps to have an improved user experience. This move in the development of e-learning mobile apps helps you figure out who your e-learning app is about. It's time to ask customers about the solution and figure out what they expect. You should attend conferences and speak to the audience or hear the views of the audience. This gives the feature list that you should incorporate a more accurate view. You should check discussion forums to know the audience and to know their views & opinions. This gives the feature list that you should incorporate a more accurate view
3. Start with UI/UX design work
The design and appearance of your e-learning software are other key features. You must ensure a good working out of aesthetics and deliver an excellent user service to the computer. The collection of colours, features, functions, and navigation support the advancement of each part of your learning app. You can quickly develop what you want from the design team of UI/UX, be specific about what you want.
4. Consider MVP
Minimum Viable Product or MVP is a variant of a product with several distinct functionalities. It has only sufficient capabilities to please initial users. Thanks to the focus on the most critical elements, the biggest benefit being a shorter time to market development. Lower production costs are associated with faster market time. MVP gives enormous scope to grow. After release, you can still add extra features. Furthermore, MVP allows you to consider and adapt your product-market fit.
5. Fix a monetization model
We are making every attempt to make those gains in the industry. So choose a monetization model that will allow you to make the greatest return. In the next part, we will explore different models of monetization. Choose the one that's right for you and you will do well. These are some of the basic things you have to remember before the development team takes over the job. You would put what you want on the computer, but you should share your idea!
Some must-haves in an e-learning application
Development of E-learning apps begins with the feature list definition. While there are many kinds of e-learning applications using various learning methods and functions, all applications have several basic features.
Student Module
Registration
Login
Course Catalogue
Search Bar
User Profile
Course Details
Payments
Subscriptions
Teacher Module
Registration
Students Management
Test Management
Course Management
Content Updation
Payments
Doubt Clarifications sessions
Chat Managements
Parent Module
Registration
Progress Tracking
Attendance Tracking
Reviews
Payments
How e-learning apps are monetized
An application owner may incorporate online or offline purchasing of courses and materials. The consumers buy their preferred courses and just pay for the courses that they want. To hook users to the app, a function that allows users to access about 20% of the content and then call for the purchase of the material can be added.
Membership & Subscription
In this model, all consumers have a standard application free of charge available and sold as free-of-charge. This strategy allows you to get a clearer idea of the functionality of the application and determine if it fits best and which subscription model to use. Alternatively, for a certain amount of days you can have a fully equipped e-learning app for free. Another option is to encourage users to make use of some software features and invite them to pay for paid features.
The aim is to make the consumer more e-learning relaxed. The paid edition will be pushed carefully until the user gets hooked on the free version of the app. It can provide features such as clearing your doubts by teachers, selecting your favorite teacher by subject, a wider spectrum of learning history, early entry by the bird to new courses, and other advantages.
In-app advertisements are a common way to monetize your e-learning app. This monetization approach means that the software is free for consumers, which contributes also to the fast spread of the application between users. The publicity can be relevant enough that it doesn't seem to be stubborn.
Cost to Develop an E-learning platform
The factors that play an important role in determining the development costs of the E-learning application:
Features and difficulty of application included
If only the core features are used in the program then the costs are comparatively lower. Besides, if an application has advanced features and incorporation of audio-video, it can cost a lot.
Platforms for the development of the program
The cost would be lower if the app was only designed on one iOS, Android, or Web site. On the opposite, the price would be high if the software would be built for many platforms.
Scale and position of the development team
The hourly price of the development application is different in every region. The prices also depend on the experience of the developers you hire and also the expertise of the company you choose. The development cost will increase if advanced features are integrated.
Conclusion
E-learning smartphone apps are a rising trend and now are the time for you to enter the digital realm in response to this trend. If you have an idea for an application and want it to become a working reality, recruit the best eLearning mobile developers or choose the best app development company and prepare to get ready for your growth.
We, Lilac Infotech, are a pioneering mobile app development firm that offers potential for a variety of services to our consumers. Rigorous insights and suggestions will be sent to clients before the start of the project. Our background in designing applications is something that we proudly keep put across. You can also recruit our mobile app developers to help you grow your mobile app

---
---