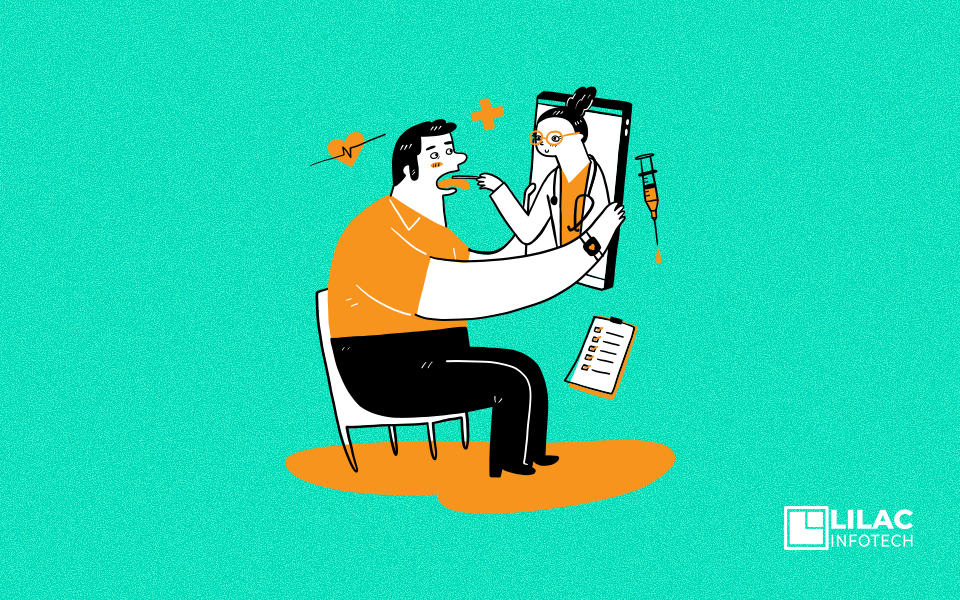 ---
In all industries, digitalization makes changes and healthcare is no different. The application creation is an excellent way to simplify doctors' and patients' lives by offering a variety of changes in medical facilities that applications can provide.
Healthcare applications can enhance health data collection, provide prompt treatment despite their position, reduce medical errors and decrease expenses in hospitals and patients. They also improve contact between doctors and patients, increase consumer satisfaction and involvement.
Healthcare applications are developed to help consumers better monitor their medical needs, fitness goals, hospital appointments, or insurance premiums with an interface for mobile equipment. This covers telehealth, review of laboratory reports, supervision of medication & appointment, and more.
MHealth (mobile health) refers to the use of the medical field of mobile phones and other technologies. Mobile phones are often used to educate patients and health care providers about prevention strategies in the field of nursing, recovery assistance, follow-up, and support of clinical trials.
There is a value, but do healthcare organizations ready with their digital transformation efforts to implement mobile technologies? The reply is not cut off or dried. The fact is that it does not always function as intended to create the first mobile healthcare application.
In the health sector, the overall success of mHealth leads many IT companies to do their hardest.
Reasons for developing your own Healthcare Application
We are the leading supplier of mobile healthcare apps. So we advise you to develop your approach. Patients engage through our experience in hospitals with a special framework. Overall medicine delivery applications and patient monitoring systems in the last five years really have been taken on board. A vast range of healthcare suppliers have plunged into this growing crowd which has generated more than hundreds of millions of patients worldwide. Common patient tracking applications also log user positions to get assistance as quickly as possible when they need help.
Benefits of Developing a Healthcare application
The advantages of healthcare applications are so numerous that the advancement of medical care is undoubtedly brought in. But how do patients and health care providers prosper from these healthcare applications?
1. Reduces medical costs - In most cases, the idea of medical bills prevents patients from receiving proper treatment. Medical counseling has been an expensive affair with many private hospitals and clinics appearing and loading patients as they choose.
The creation of healthcare apps helps people here by lowering many cost factors. It enables people to find the one that is most affordable for them across different healthcare providers. It also reduces the costs of flying, booking appointments, etc.
2. Enables instant access to healthcare- The door for on-demand treatment is opened by health apps. One of the best services a health system can provide is that it can deliver coverage as soon as necessary. A solution to this is provided by health apps.
Regardless of where you are in the country, what time of day, or what health problem you are facing, with your medical apps you can find suitable practitioners. All this can be handled with a couple of taps!
3. Fixes clinical diagnosis errors -Even a minor failure by physicians will cause serious harm to patients in healthcare. In the past, diagnostic mistakes have created several problems. Health applications contribute to several ways to minimize these defects.
One of them is to provide an integrated database of the clinical records of a patient. If a doctor has access to all a patient's data, it prevents errors that arise from a hypothesis or a lack of evidence. Another approach to providing intelligent diagnostic applications with great accuracy and marginal error rate is to use technology like artificial intelligence and data analytics.
4. Personalized attention - Medical care is different for every patient. Each one has its medical conditions requiring special, customized treatment. The medical records will be different; the reactions to drugs will not be the same in such circumstances. This may be a difficult procedure in a physical situation where a significant number of patients are present. It is a complicated method to store all patient records, access them as required, and easily locate the correct information. But medical apps allow fast storage, access, and reliable searching of information. Thus, healthcare app development allows personalized treatment.
5. Promotes Personal Healthcare - Healthcare applications have empowered people to take care of themselves. As the ancient phrase states: "Prevention is better than cure," people take health care more seriously to prevent disease.
Technologies such as smart equipment, exercise trackers, and so on assist with this phase by the regular monitoring of wellbeing. Fitness applications encourage the monitoring and control of your diet, workouts, and other physical activity to maintain your body.
Features to be included in Apps:
There are different interfaces used by the patient and the doctor or the medical professional. Let's try to list out the features in each one of them.
Patient App
Patient applications are used to preserve the health of customers or individuals, in general, to remain up-to-date on healthier lifestyles. The key characteristics to ensure that patients have a healthcare application:
Scheduling: A function that requires a specialist to be selected for consultation, an appointment to be planned and approval received.
Reminder: Terms, pills, or patients should tailor reminders for water consumption; workout time, etc. can be reminder.
Tracking: A patient's app should be prepared to track vital signs like blood pressure, heartbeat, blood sugar level, etc.
Chats: It is a valuable function that allows patients to get prompt medical attention.
Feedback: It will benefit other people who use the app to find the right doctors to suit their needs by providing patients with a shared consultation experience.
Location Management: integration of a patient interface can assist patients in emergencies to identify local hospitals or clinics.
Payments: Patients' provision for payment through a convenient and reliable access payment portal for accounts, hospital bills, benefits, etc.
Doctor Application
To boost care, doctors and other physicians use doctor apps. Certain features that are to be included are:
Appointment Management: A must-have feature that allows doctors to view, arrange and edit all appointments.
Patient View: This role provides the physician with a full rundown of the symptoms of the patient on a single screen. It may include information such as patient history, medications, special comments such as asthma, etc. It may include information.
Reference Library: Doctors compile data in a database for more reference on various illnesses, medications, and symptoms.
Community Healthcare: An engaging healthcare provider community that can debate, exchange, and continuously update information.
Digital Prescriptions: It enables medical professionals to write electronic prescriptions. It is an effective procedure in which physicians can view and recommend patients' past medical records.
Some best Healthcare Apps in the industry
Conclusion
These are the key facets of building a future-oriented healthcare application. Following these moves, you will build a leading healthcare application for you to improve your business Or you can simply hire the best mobile app development companywho can help you take care of your healthcare app development.
---
---