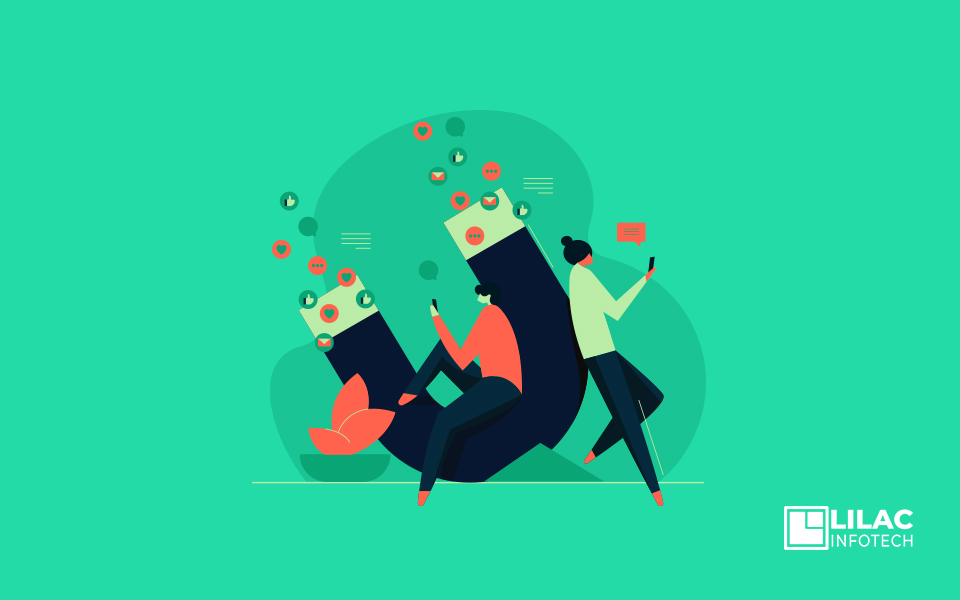 ---
The Internet has transformed the way people communicate, as well as the atmosphere of work, and these developments have arisen first on social networking platforms. This is why social networks are critical for applications. Social media allows users to build closer connections with their families and friends, and networking networks also demonstrate their importance for applications.
That's why people spend a lot of their time visiting social media online and the use of smartphones and tablets has only increased. Comparing other means of internet access, mobile devices gain more and more space between users. The reason is that rates and plans have become more and more available and sustainable. Mobile convenience, on the other hand, encourages users to still be online and therefore to spend more time on social media.
Now let's check how do social sites support an application in this regard?
Companies can activate social media platforms to elicit constructive feedback and engagement through a frequent appearance on social media platforms.

Importance of social networks:

The use of social networks for your business applications could initially be regarded as a problem. After all, this will be another contact channel for the management of the customer relationship. It's worth noting that your audience is already there, the main reason for making social sites so fun for your brand. This makes it easier to communicate with customers.

Every second, thousands of people exchange valuable data online, either via a blog post, their status, in different ways regarding their profile or their desires which demands and can generate business insights and value-added.

So, it is clear that the implementation of a healthy work schedule that represents new customers' acquisition and therefore improves purchases and downloads on social media is crucial.

These platforms can be used differently by companies and many advantages and benefits. For the extension of your app, see the following key social pages.

If you are investing in social networks with your app, there are many benefits to remember.

Reliability - It is certainly one of the most sought-after qualities today, and as an entrepreneur, you generate loyalty by using social facilities. The trust that builds on this connection would be more tangible and true, keeping your customers faithful to your app's product and service. Social Media is also cost-effective.
Brand consciousness - Certainly, the use of social sites as part of your marketing campaign would make the company more visible worldwide. Since the internet is groundless and you can reach a new audience through this forum, thus expanding your market.
An increase in downloads - If you develop an efficient strategic approach that will give your company a higher exposure, the number of downloads will almost definitely increase. However, it should be said that the findings are not necessarily present, a partnership with the customers is first important. These channels are a way to encourage business-customer interactivity and should be incorporated into the sales plan to produce the desired results.

Improved traffic - Naturally, you are the leading social media follower to the download list, if you articulate the benefits of your smartphone. The consequence of this process is a boost in traffic and the reputation of your search engine front page. In this manner the internet address emerges on the top search and the chances of materializing a download, allowing sales or service provider is even greater as someone looks for a specific product and service that is affiliated with the company.
Decreased business expenses - Since social networking is free to use, applications to advertise your company would not be expensive to use. In addition, it is easily possible to plan the whole process on these channels, which won't take too much time to arrange the posts.

What it takes is a little time to scan the applications on your accounts in top social networks each day and to keep them informed of the news most frequently for your consumers.
Improve the reputation of the brand - It's important to remember that you as an entrepreneur don't just improve revenue and downloads by using a social network for a business. The channels also help boost the reputation of the brand in the minds of your customers.

Since businesses registered with a social network and their app are mainly concerned about their customers, this is another way to let them know like the product and service they provide are important to their views. Social media helps in digital marketing.

Social networking promotes double-way contact - Social networking enables you to learn from and gather input from your followers. You can share your suggestions, questions, and ideas with your clients to better understand them. Without needing to take the phone or worrying the customer does not see your answer, you will answer just as quickly.

Better Customer Service - It is probably already a high priority for your little company to have stellar customer support. However, it also provides a rare chance, alongside the twofold contact that social media provides, to strengthen your game and provide the target audience and engaged consumers with immediate gratification. It will show you what a memorable experience you care about and ensure that no question from customers is overlooked. And you can achieve real market outcomes by tracking social media for customer input and providing a response.

Increased conversions - Your company gains further opportunity for conversion with improved exposure. Any post, picture, video, or comment in a blog will bring visitors to the website of your organization and boost traffic. Social media marketing enables the company with a humanizing aspect to offer a good image. As brands interactively share content, update, and post social media status, they personify a brand. Social network programs help by increasing leads.

To Wrap Up

It's obvious that selling in social media has its benefits, so if you don't already have the right accounts, build them! Fill in the details of your company and post some useful material to help you. As stated, request that you "like" and "post" your company-related people to help build your profiles. Consistent updating will increase traffic, Social media helps in SEO boosting, increase conversions, improve brand loyalty, and much more with the correct social media marketing approach. There are almost no reasons why the marketing campaign does not include social media. Since it's so economic, nothing can be lost. Your competitor in social media is most likely now, so don't allow them to steal your future clients. The sooner you begin, the sooner your company will develop.

To set up the best social media app for business you need to contact one of the leading app development companies who will provide you with an apt solution for your requirements.

---
---