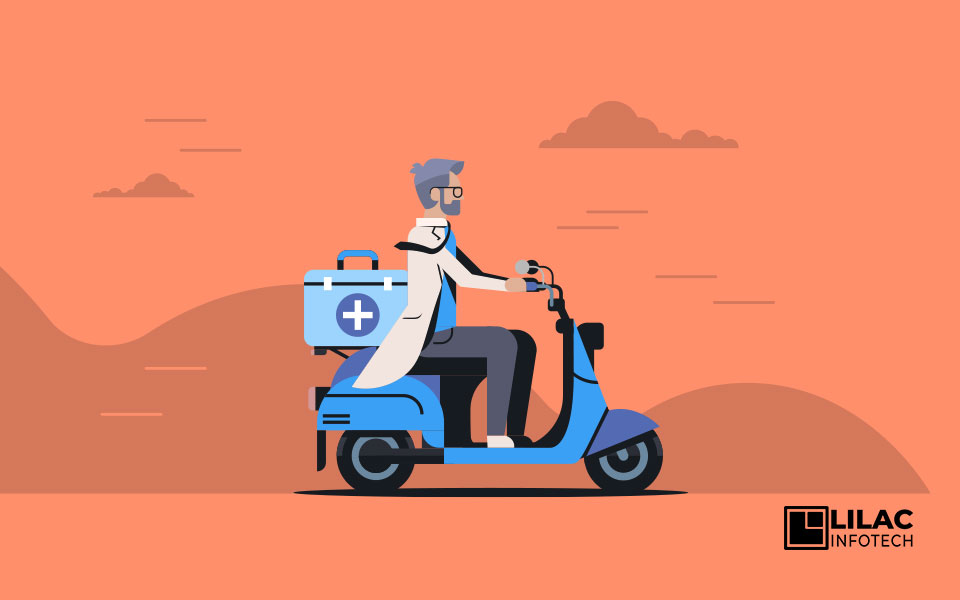 ---
The drastic transformation of health sectors changed the lives of patients by delivering medicines to doorsteps through a mobile app. Most pharmacists could not imagine the door delivery of medicines for the patients and healthcare sectors. mHealth apps transformed the medicine sector and marketing digitally well. It is really a boon for pharmacy and medical stores. We all know that Pharmacy is the most challenging industry where a lot of companies compete to reach the top. With the help of the Mobile health industry, it is much easier for them to do their service.
The new studies of Global Industry Analysts(GIA) report that the Global Mobile Medical Apps Market to Reach $16.5 Billion by 2026.
Health care industries have that much disruptive transformation in healthcare management. They have stepped into the digital world fastly and mHealth apps helped the healthcare system to act advanced. Now a lot of mobile healthcare apps are used by pharmacies and it helps to contact the clinics, doctors by mobile from anywhere. The emerging growth of the healthcare industry by Mobile app helps patients to contact doctors over the phone and consulting patients through phones.
How Mobile medicine delivery apps help patients and whole health care management
Mobile healthcare app helps patients to invest in their own health this helps patients to consult a doctor over the phone
Medicines can be ordered online
Doctor tips can be accessed over mobile apps
Mhealth app helps to redeem check-ups and hospital care cost
Health care sectors can regularly analyze their patients
Online records and the live reports will be there for patients and doctors to check
Availability of medicines and Consultants can be checked
Doctor appointments can be done in Health care apps.
What are the different types of medical apps?
In Mobile health technology remote monitoring is the main one used in health technology. medical apps may vary like
1. Medicine reference app
2. Diagnosis app
3. Medical news
4. Doctor on-demand app
5. Medicine delivery app
The medicine delivery app is the most ongoing mobile app used by more people. Sick people can order medicine online and consult with doctors by pre-booking. They also get medical references and treatment plans through mobile health apps. One of the famous medical delivery apps is 1mg. Here we are going to discuss how to develop a medicine delivery app like 1Mg-its cost and features. Come let's go deep.
We all depend on medicine sometimes or for life long, right? Getting the required tablets and other medications in rural areas is tough. Getting medicines by waiting in a queue is really hectic too. People who are not well can't go to the medical store also. So, the solutions for all these problems ended with an online medicine delivery app. Developing an online medicine delivery app has gained enormous popularity at this time of the pandemic.
How does an on-demand medicine app like 1mg help your business?
Investing in pharmacy app development is the greatest trend and best business solution for making money. This helps both users and Pharmacists. On-going pharma app development helps your business and others in various ways. An app like 1mg helps to reduce our time and effort by not going to medical stores for buying single or multiple medicines and drugs. By ordering through medicine apps users get discounts and cashback which is delivered on time also. For the pharmacy, it is very helpful to increase their sales and business. people can choose nearby and famous pharmacies to order medicine via the app and thereby more sales of medications. If you are investing in pharmacy medical apps it will bring you increased growth of wealth and better brand recognition. Some of the famous medical delivery apps include:
1mg
Doximity
Practo
Med life
Medplus Mart
Best features for on-demand medicine delivery apps like 1mg?
Essential features of a medicine delivery app include,
User Dashboard-Pharma Application-Driver Application-Admin Dashboard
Sign in/Sign Up-
Registration and login can be done easily to access your account
Prescription uploading
Doctor's prescriptions can be uploaded and medicines can be ordered easily. No need to search for medicine and drug from the list.
Order tracking feature
Users can track their order placements and shipping. they can know the delivery date of medicines
Push notifications
Notifications help people get to know new features, order tracking, other messages, etc.
Payment integration
Online payment by various methods can be done in a medicine app. this helps to make medicine order easily
Online counseling
The best feature on-demand medicine app includes users can consult with experts for their doubts and treatments online by call and videos.
Product management service
By this, you can manage the important information like benefits, medicine details, nutritious information, etc
Offers and rewards
By ordering through online mobile medicine apps you may get offers and discounts so cash benefits can be enjoyed by users.
Reviews
If users are satisfied with the app and deliverance they can rate and add reviews to the app for more reach to new customers.
Development steps to be taken for online medication app
Technology is important for every medicine app. Choosing the best mobile app development company is also a crucial part of the business. a well-experienced team who is keen on developing apps helps to get your successful application building. Creating a robust, fully functional online medicine app needs proper planning and materials. you can go for a well-structured team who can handle all fields like
Research for your app
Proper research and study of online medical mobile applications help to develop a successful app. a team that is ready to do all kinds of research is needed first. After getting a brief idea you can step out to develop.
Reinforcement of app
Development of online medicine apps needs more manpower like frontend and back end development, platform to design apps, database, payment integration, GPS, Social media integration and so on. skilled people work over it and design your app user-friendly to deliver it successfully.
Resolving Bugs
A team of testers will regularly test your app to rectify the bugs and make them clear. The quality analyst team will check development issues for the smooth launching of your medicine app.
Successful Delivery
After the whole completion of the project, you can successfully launch your app and move for the marketing strategies for the business growth. Brand recognition is very important in marketing.
Tips for making reward with medicine delivery application
Health care apps are best for revenue-generating businesses. Once you decide to develop your own mobile healthcare apps, you should know the marketing and profit methods which return from your business. some way to make money from medicine delivery application is
Based on the commission model- The online medicine app makes a big platform for pharmacies to sell their medicines to patients. thereby you can charge a commission based on those who use your app to sell their product.
Spacing for Ads- Through your app, you can give space for ads which helps advertisement companies to showcase their product, and for that, you can charge money from them.
Listing pharmacies- In your medicine delivery app, you can make a search option for an e-pharmacy listing to users. The sponsored medical stores will appear in the search bar and thereby make an amount.
Expenditure to develop an app like -1mg
To calculate the cost to create an app like 1mg is a bit difficult because we can't predict the tools, manpower, technology, and other resources for the development of the e-pharmacy app. But, if you are not worried about the development cost and focusing on better applications,( $10,000 to $15,000+ approximately). surely you will get a good result, we people are here to help you tremendously.
In business, investing first and taking back is the rule, right? So, putting effort into developing your pharmacy app will give you more profit. Go mobile is the latest trend and according to that, you can win the market easily by the mobile app solution.
The medicine industry is entering the online and on-demand apps world to transform the old trends by making easy delivery and online consultation for patients. With a medicine delivery app development you can manage a single store or a multi pharmacy. All you need is a platform where you can explore the business. If you are planning to build a medicare app, Lilac Infotech helps you with your custom-made ideas. If it is in IOS or Android we are ready to do it. Moreover, this noble business helps people to save others' lives. What are you waiting for? contact us for more specifications and a discussion to launch your medical app.
---
---