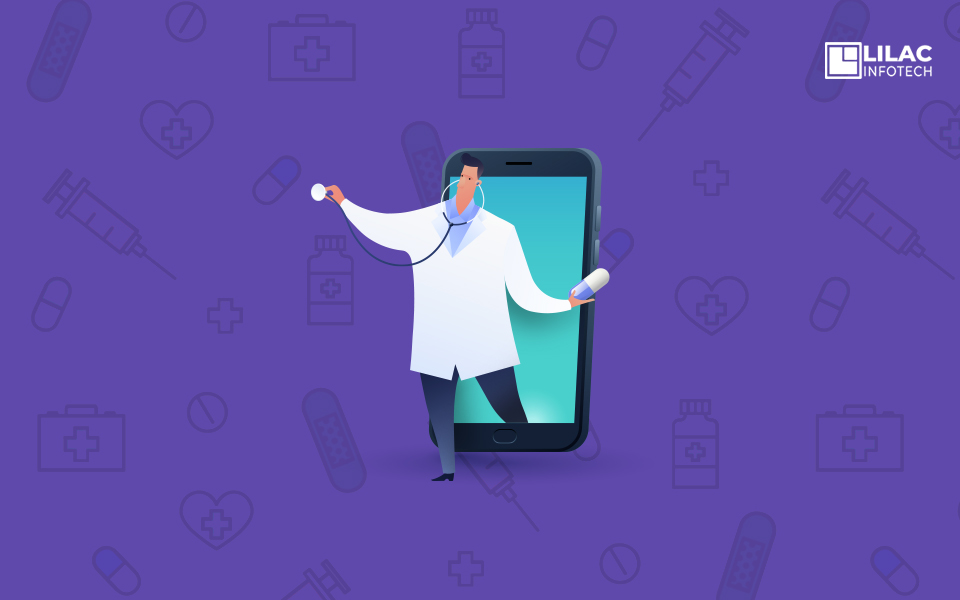 ---
Imagine coming home after a long tiring day and you suffer from severe back pain and you have no medicines at home for pain relief. What is it you'd do? The whole night you would bear the pain? This is what could happen in a world without medicine-on-demand applications. You can search for the medicines you need and get it delivered to your home through the telemedicine-delivery application.
What is a Telemedicine app?
The telemedicine software helps patients to consult physicians remotely. This smartphone telemedicine app runs 24*7, enabling patients to pick up their doctors and speak to them by phone or video. The healthcare software helps people select & consult a doctor and make a video appointment with them. Doctors will then give prescriptions and the app also.
Today, people can purchase food and clothing online. In fact, people can even pay bills without leaving home. Telemedicine upgrades the delivery of treatment to suit the needs of modern populations. Health care providers also provide websites for telemedicine and smartphone applications. It turned out to be a good thing—when the coronavirus pandemic struck us, we were at least partly prepared.
Benefits of Telemedicine:
The pros of telehealth are evident to patients. Think of how many days you felt you were so busy, that you don't have time to visit a doctor over anything you feel is insignificant. Many clinical issues can be prevented or treated on the go at an early stage with the aid of telemedicine apps for healthcare. You just dial a doctor at work over lunch; you don't need to go anywhere.
In the case of a clinic or hospital, providing telemedicine services is useful in many ways:
Decreased waits and hospital load attributable to a portion of patients visiting physicians online, which was a significant advantage during the times when the pandemic hit the world
Maybe less transmission of infectious infections in the laboratory.
Doctors are free to work, even if they can't be in the clinic (this can help them when they are ill or face difficulty in visiting the hospital for some days)
Rise in the total number of patients - people would be more likely to take care of their health if it doesn't take too much time or entail additional commuting.
Why does Telemedicine App Development gain a lot of visibility?
Booking appointments in advance, driving to the hospital, and waiting in a long queue is not convenient way to get medical help. Using the telemedicine app, patients do not need to wait in long queues to visit different specialists. Instead, they can schedule a remote appointment with the doctor and connect to the doctor as soon as possible. It helps to start the necessary treatment quickly and effectively.
Maintenance of medical records:
Telemedicine applications allow physicians and patients to access patient medical records easily. It overcomes the issue of interoperability by helping multiple doctors to easily obtain access to the patient's prior documents. As a result, physicians can treat patients in a much better way by looking at their historical medical records. Patients can also share their medical records with family members, friends and doctors. They no longer need to keep paper-based medical files or reports in their lockers or drawers.
Time Utilization of Health Professionals:
Health care professionals can organize their activities more easily through the telemedicine app. When physicians will treat patients and give advice from the convenience of their home or office, they may be able to consult more patients at once. Telemedicine software solutions can provide a better work-life balance for physicians.
Cohesive tracking and module for patients:
Telemedicine apps can help patients with prescription updates, follow-up consultations, chronic disease surveillance, and more.
How to develop a telemedicine app
1. User Application Features:

When a potential person signs in to your app, you need to build an account with details about health illnesses and provide information about age, gender and health conditions etc.
If the patient needs to locate the necessary doctor, a geo-location search is used to find the closest doctor available to book an appointment. To ensure that your application complies with the medical regulations, we recommend that you incorporate the Google Maps platform through a third-party API that decides the location of your patient and local pharmacy before a video consultation starts.
Video calls are an essential feature of any mobile telemedicine app. Video calls connect patients and doctors and enable live communication. However, you need to consider using telemedicine solutions that keep your app safe from data breaches. Thus, to keep the app users' information safe, we recommend using safer API's.
After the consultation, the patient shall pay the doctor for the service rendered. You need to implement the payment gateway through the API to do this. In one of our previous posts, we mentioned the process of incorporating the payment gateway into the app.
When a patient has received medical attention from a physician, he or she may leave a review about the experience.
Read More: Top 10 Telemedicine Applications in India

2. Doctor Application Features:
This panel is part of the Doctor Telemedicine App, combined with electronic health records containing patient history, prescriptions for medications, and a calendar of planned appointments.
If the patient has located a doctor, it is necessary to book an appointment using the app and, if necessary, to provide updates about health conditions and medical history. The software can automatically control time slots and display when one or the other expert is available
To encourage patients and physicians to share safe messages inside the app, provide medications, notes, and upload x-rays or other medical reports, you need to pay special attention to the technological solutions you select. All the details listed above pertain to confidential patient data and require conforming to telemedicine regulations.
Telemedicine smartphone apps benefit the lives of both patients and doctors-as patients undergo medical care in the safety of their homes, medical professionals may deliver more reliable medical treatment while paying for appointments promptly.
Conclusion
Telemedicine App Development involves a great deal of attention to detail. Apart from defining the functionality to be used in the software and the technology to be used, you need to consider that the app complies with the regulations of your target country or region. You need to add specific details about the doctor and encourage patients to score and monitor physicians to make the telemedicine software trustworthy for the customers. All your concerns can be solved by a mobile app development, which will provide you with an apt solution to all your development problems and will provide you with an app that exactly meets your business needs.
We, Lilac Infotech, are a pioneering mobile app Development Company that offers potential for a variety of services to our consumers. Rigorous insights and suggestions will be sent to clients before the start of the project. Our background in designing applications is something that we proudly keep put across. You can also recruit our mobile app developers to help you grow your mobile app

---
---