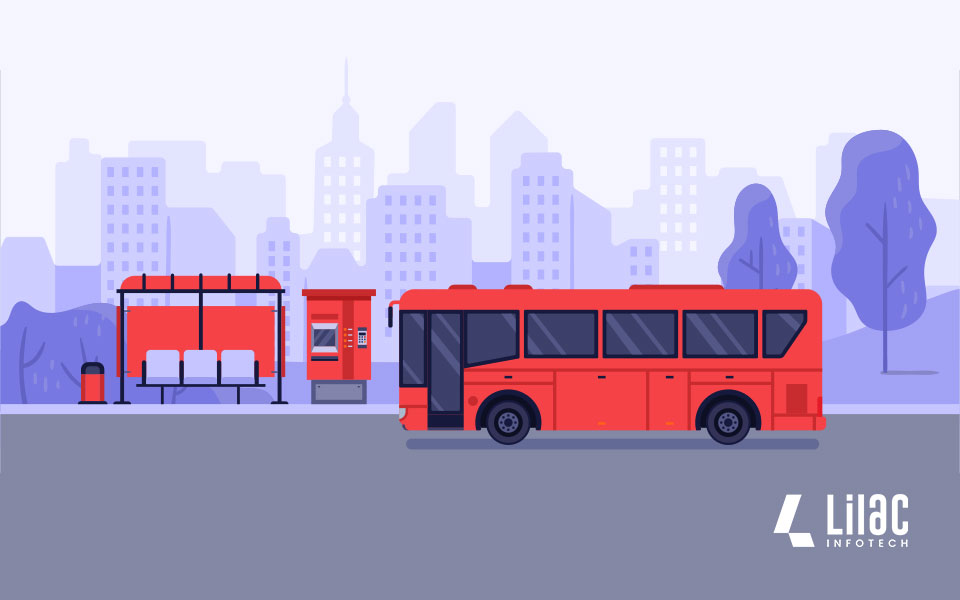 ---
People love to travel more. Traveling should be different for people and the traditional way of a bus traveling to online ticket booking for any place is the technology development and it helps the transportation industry to grow well. Bus booking app helps travelers to avoid a long queue for ticket booking.
There are a lot of bus ticket booking apps like RedBus, BookBus, MakeMyTrip, etc. A digitized world helps you to do your work easily and to connect with the world. Like that Bus, the ticket booking app is a mobile application through a network-managed system. A single platform to buy tickets, check seat availability, online payments, ticket canceling, and also if you face any issues you can solve instantly with the app.
What are the new trends in online bus booking apps?
When it comes to the bus booking mobile applications, there are a lot of features included in the bus booking app for making it more user-friendly and successful. It includes,
Pick-up & Drop facility
One of the essential and critical trends of bus booking apps. Users need pick-up and drop facilities for their choice.
Giving information inside
This will provide details like the availability of food types, other notifications, and arrangements, etc. It will improve the app experience and make more customers your business.
Travel insurance
Travel insurance is the most important feature in a bus booking application agency. With this feature, you can attract your app. Health is important for everyone and it is better to give travel insurance to him.
Rating and Review
To get more customer testimonials and ratings help your app to reach more travelers. Moreover the bad reviews and suggestions you can take to change it better.
Chat support and QR Code
On-time chat support makes customers resolve their doubts and issues with your service and app. QR Code makes scanning tickets easy digitally. Easy validation of tickets can be included in your app.
Why do you need to start a mobile app for Bus booking business?
Today a lot of online app businesses are starting to make more money. On-demand applications really help these industries to grow well. The bus booking app with automated features helps entrepreneurs to enhance their business. Bus booking app created by travel agencies for online ticket booking, route allocating to different bus owners and vendors to arrange the trip. You can control many vendors and users in a platform with admin applications.
Going to the market size and travel agency, transportation industry growth the smartphone uses are increasing andmobile app development for each sector makes more competition with trends. The market growth in bus ticket booking is going to increase two times by 2025 from now. So starting a bus booking app for your travel agency is better in any way.
What are the common features you need to include in your bus booking app?
Login/Registration
View routes and offers
Availability of bus and dates, seat to book
Customer support
Multi-language support
Multi-currency support
Tracking the live location of bus
Searching destination, packages, and offers
Notifications and message
Email support
Refund and cancellation of tickets
Tips to start your bus booking mobile app?
The app development or execution of your bus booking app needs proper planning. Before that, you should research the market and competitors in your industry to get a vast idea.
Planning- planning of your app design and development makes a perfect landing to launch your app. It needs a budget plan, development team, technology and platforms you need, hourly rate plan, features you need, etc.
Discuss with the team- after planning you need to search for a development team who are experts in developing mobile applications. A well-established app development company can help you to fulfill your requirements easily.
Choosing platform and features for the app- You can choose the platform iOS/android for creating an app, the features and add-ons you need to include, etc. better developers can help to get these things done easily with their advice.
App development- After completing the discussions and plans developers start to build the app. The design, framework and everything should be user-friendly and more attractive. After the development testers should test every part of the app to make sure everything is working fine.
Launching and Marketing- By successful completion of the app you will launch your bus booking application smoothly. For growth and more revenue generation you can do marketing strategies to showcase your brand and attract more customers.
Cost for building a bus booking application development?
Mobile application development cost will always depend on various factors like your business plan, types of features you need, the team who are ready to work, their cost for development, extra budget for special customization of the app. Your bus booking application building needs to steady your objectives and needs with how you clearly focus your business with the app. These all things will clearly determine your app and its cost.
Revenue method for your bus ticket booking app
Bus reservation software needs revenue-generating methods to continue your business profitably. You can do
Social network connection
Making offers and discounts
Placing better ads
Giving better packages for trips
Amazing interior designs and facilities in your bus
Final words
For the successful running of your travel agency take it to the next level with new trends and mobile app features included in it. Better app development agencies like Lilac Infotech can easily help you in your app development and make it a user-friendly, profitable one. Customer satisfaction and comfortability are more important in bus booking app service and you can achieve it with proper planning and best methods. Need to know more details we are here to assist you. Let's get connected any time.
---
---