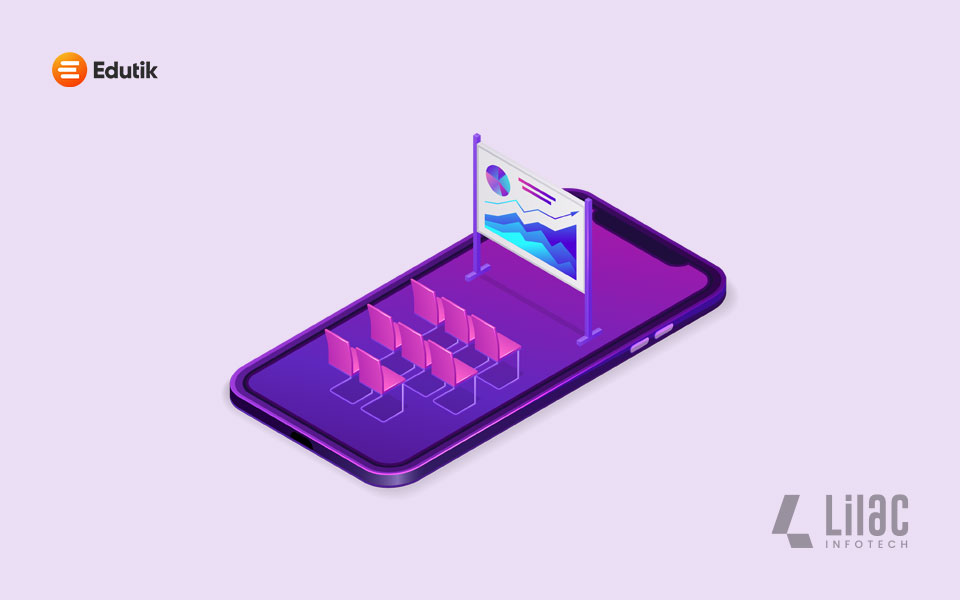 ---
In today's increasingly competitive market, it is critical to cope with the speed of new skills and technologies. As a result, e-learning software are becoming highly popular among people of all ages. For a few dollars, an online learning program can provide anyone with access to highly skilled experts. The incorporation of fun into learning through e-learning app development grabs learners' interest.
Experts from many sectors may share their knowledge with millions of people using an app like Edutik. The Education software provides a platform for more rapid learning and high-quality teaching. It is the ideal alternative for studying and teaching all around the world.
Developing an online learning app is a difficulty as well as an opportunity. The difficulty stems from the fact that schools are meant to teach students who are physically present in front of their professors in real-time. With the shift to the virtual world, schools must reconsider the basic architecture of their classrooms.
The possibility stems from virtual learning's ability to reach out to students all around the world. Different learners learn at different speeds. They can go to school whenever it is convenient for them, and also study courses that are not currently available in their current location.
Why Should You Invest in Edutik?
Here are some facts that demonstrate how swiftly the online learning business is growing in 2021. If you wish to develop an e-learning software, now is the time!
The virtual learning industry is expected to grow by 200% in the coming years.
As a reason for the epidemic, 90% of nations used distance learning.
Features of Edutik - User Application
1. Exercises and Tests
An online learning tool should include exams and quizzes. Teachers can determine whether or not the student has learned the material. It might also encourage the student to continue learning. An e-learning a software should provide examinations at the end of each class, regardless of how much or how little knowledge the teacher presents in that lesson.
2. Personalized Education
It is not enough to encourage individuals to view videos or listen to podcasts as part of personalized learning. The goal is to employ software to customize the learning experience to the way students think and learn.
3. Push Notifications
Push notifications are used in the app to assist & inspire students and boost their engagement with the learning process. Push notifications are messages that are initiated by the app developer and delivered to a user's device outside of the normal app delivery procedure. Notifications can be delivered at any moment and should be timely and relevant.
You may, for example, use push notifications to notify students of crucial events such as examinations or quizzes and to remind them to submit assignments, ask for comments on a previous session, or promote an online conversation.
4. Payment Methods
Payment channels might be useful when developing a mobile app for web-based learning. They can be used to construct a paywall or to charge for an in-app purchase. Payment methods also provide several other advantages, such as security and speed.
5. Easy Login
The login page is the first thing a user sees when they open your app. Users will be irritated if it takes too long to log in or if they must provide personal information.
If you want to make it easier for people to log in, provide a function that allows them to use their Google account. It will save your users time and effort by allowing them to utilize pre-filled profiles.
Admin Panel
Managing students and teachers
A user administration feature allows you to create and remove accounts as well as set up user profiles. Individual users can also be given extra rights and have their passwords changed.
The admin will be able to create a subscription plan and upgrade a user to a new project via the app.
The admin panel must create databases that organize student information that can be readily searched and updated by different departments or professors.
A content management feature allows you to add and change current material while seeing how it will appear on your app.
Cost of Developing an E-Learning App
If you're developing an online app, the best place to start could be from the learner's point of view. Consider what would be fun for them. Ideally, it will be the moment when you finally get something difficult after dealing with it for a while.
Then consider how the instructor may assist the student in getting there faster. Content should be updated now and then.
1. Characteristics and complexity
The first is the course content's intricacy. The cost of producing an e-learning software will be greater if you have a lot of video material, audio content, text information, or interactive activities. For example, if you want to include a chatbots function in the app that can engage and address questions from elementary school pupils, you will need to include it at the expense of developing chatbots.
2. Platform selection
The platform you select for your solution is the second factor. It will be more expensive to build your online education solution on iOS devices than on Android smartphones.
3. Team for app development
The number of individuals participating in the development of an app influences its price. If you only require a developer, you will have to pay them less than if you require an entire team for this project. In contrast, if your program is complicated, you will need more developers to complete it on time. Hiring an experienced development team is the ideal method to guarantee that all app elements are flawlessly merged if you are constructing a full-fledged Online Learning App.
Other considerations, such as the target audience, might also have an impact on your development costs. Your web-based education software will be more expensive as it grows in size.
Conclusion
Building an e-learning app takes time, money, and a large number of stakeholders. Many individuals believe that designing and developing online learning apps is difficult. A pricey task with various obstacles they don't know how to deal with.
With our affordable solution, Edutik, Lilac will assist you in developing a virtual learning app. We provide virtual management solutions such as web conferencing, online training courses, instructor lectures, and so on. All-in-one solution at a reasonable price!
---
---