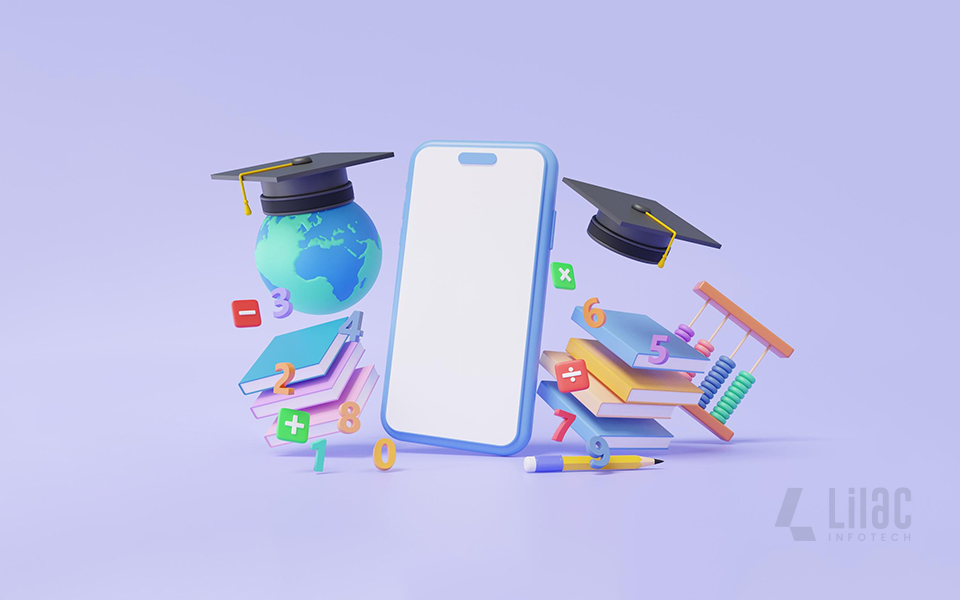 ---
Technology is not just a tool. It can give learners a voice that they may not have had before-George Couros
It is optional to use technology, but today it's essential. Education has undergone significant change because of technology in the modern world. The development of Learning management systems has made them potent instruments that are revolutionizing how we teach and learn. From improving accessibility to offering individualized learning opportunities, these systems have a wide range of advantages. Understanding the significance of E-learning software solutions is key to realizing the full potential of contemporary education, whether you are a teacher, student, or owner of a firm in the education industry.
This blog post will examine how e-learning apps have the potential to revolutionize US education by empowering students and changing established educational paradigms. We explore the world of e-learning app solutions to understand how they can empower students, spur economic growth, and alter the face of education.
How do e-learning apps benefit education in the USA?
The implications of e-learning apps for the future of education in the USA are vast. They have the potential to bridge gaps in access to quality education, particularly in underserved communities. The popularity of e-learning apps has been significantly aided by the widespread use of smartphones in the United States. Since 95% of people can access mobile devices, these apps have become more well-known and often used. Mobile devices like smartphones have many benefits for e-learning, including portability, flexible multimedia capabilities, seamless networking, and individualized learning opportunities. Students can access educational material at any time and from any location, make use of interactive visuals, interact with peers and instructors, and personalize their learning process. Smartphones continue to be an integral part of our lives and are tremendous instruments for empowering students, extending educational options, and revolutionizing US education.
These apps have the potential to transform education in the USA by providing personalized and interactive learning experiences. E-learning apps offer a wide range of benefits that can improve learning outcomes, accessibility, and engagement in settings ranging from K–12 classrooms to higher education institutions.
Learning management systems and Smartphones have the power to significantly change education in the United States. These innovations close access barriers, provide individualized educational opportunities, and promote ongoing learning. Due to the pervasiveness of smartphones, students can use e-learning apps at any time and anywhere and interact with instructional content. Through individualized instruction and support, learning management systems improve personalization. Students have access to a variety of resources, the freedom to learn at their speed, and a wide range of disciplines. Smartphones are effective instruments for democratizing education since they open access to information, improve communication, and allow for personalized learning. The future of education will be accessible and individualized because of, embracing new technologies.
Benefits of E-learning App for Businesses in the USA
Employee training and development have been revolutionized by e-learning apps, which are now essential corporate tools in the USA. These apps provide a wealth of advantages to organizations that enable them to improve the knowledge and abilities of their personnel, thereby fostering growth and success. Here are some major advantages of e-learning applications for US companies:
Personalized Learning Paths:
Personalized learning experiences through e-learning applications offer businesses in the USA significant advantages. By leveraging assessments, analytics, and adaptive technologies, these applications create tailored learning paths for employees. Assessments gauge individual knowledge and skills, while analytics track progress and performance. Adaptive technologies dynamically adjust the learning experience based on employee interactions. Benefits include increased engagement and motivation, efficient use of training time, and enhanced knowledge retention. Ultimately, personalized learning contributes to professional growth and the overall success of businesses in the USA.
Continuous Learning and Professional Development:
E-learning tools give employees the chance to study new topics, pick up new skills, and broaden their knowledge by providing a variety of learning possibilities. This approach to lifelong learning goes beyond conventional training courses and gives workers the freedom to follow their hobbies and passions. E-learning programs give employees a platform to take control of their learning process, whether it's acquiring a new software product, gaining leadership experience, or gathering knowledge in a particular industrial subject.
Employees are given the ability to tailor their learning experiences owing to the abundance of courses and materials offered by e-learning platforms. The subjects and educational resources they select can be tailored to their professional aims and personal development objectives. With more freedom, employees are more motivated to learn new skills and advance their careers.
Interactive and Engaging Content:
Organizations can provide knowledge in a visually appealing and engaging style by integrating videos into e-learning tools. Videos with subject matter experts, examples from real life, case studies, and demonstrations can help to make learning more relatable and interesting. Videos that use visual storytelling to explain complicated ideas grab the attention of viewers and make course content come to life.
Moreover, employees get the chance to test their knowledge and put what they have learned to use through quizzes and evaluations included in e-learning programs. These interactive components provide quick feedback, enabling workers to assess their comprehension of the subject matter and pinpoint areas that need more attention. To make learning more fun and engaging, quizzes can be created as self-assessments, knowledge checks, or even gamified challenges.
Assured Professional Development:
As it frequently requires significant resources and logistics to give training to many people, scalability is a big barrier to traditional learning approaches. E-learning platforms, on the other hand, deal with this issue by offering scalable solutions that may efficiently and effectively reach a large audience.
Online learning removes the limitations of physical classrooms and enables businesses to provide training to staff members in various locations and time zones. For multinational corporations (MNCs) with a global workforce, such as Apple, Google, IBM, and many others, this scalability is especially advantageous. These businesses can give consistent content to staff members no matter where they are in the world by using e-learning technologies.
Tracking and Reporting:
Businesses can track employee progress and determine how well users are interacting with the online learning material. They can simply track each employee's progress toward training objectives, the modules or courses they have finished, the amount of time they have spent on each module, and more. This data aids organizations in evaluating the success of their training initiatives and locating any areas that might need further assistance or resources.
Completion rates are yet another crucial statistic that e-learning software monitors. They give firms a clear idea of the number of employees who have successfully finished the course. Low completion rates may point to difficulties or obstacles that workers are encountering, such as the need for more interesting material, better accessibility, or greater assistance. Businesses can grow by identifying and resolving these problems.
Cost-Effective Training:
By removing many of the costs related to conventional training techniques, e-learning apps provide organizations with a cost-effective training alternative. E-learning apps offer digital content that can be accessed online, in contrast to conventional methods that entail employing trainers, reserving physical training spaces, and printing training materials. Costs associated with travel, lodging and the creation of materials are greatly decreased as a result. Businesses may give training to staff remotely using e-learning tools, doing away with the requirement for pricey in-person training sessions. Additionally, e-learning programs' scalability enables companies to teach staff of any size without incurring extra expenses. Businesses may maximize their training expenditures, manage resources more effectively, and save a substantial amount of money by utilizing e-learning tools, all while assuring high-quality and efficient staff development.
Want to create a solid E-learning Application?
Get expert consultation on E-learning App development.
Wrapping Up
In conclusion, the creation of e-learning app solutions offers a variety of advantages that have the potential to revolutionize US education. In addition to offering sophisticated tracking and reporting functions, these apps also offer accessibility, customization, interactivity, and chances for ongoing learning. An effective e-learning app must be developed using a well-thought-out strategy that considers both user needs and organizational objectives. You can create a positive learning environment for your staff or students that will inspire them to become lifelong learners by concentrating on offering a high-quality product with dynamic content and simple features.
Lilac Infotech is a team of professionals that shares your passion for new knowledge. Our programmers have the necessary knowledge, experience, and skill sets to produce interesting e-learning software for your company that will help you on the path to corporate innovation and expansion. Contact us so we can work together to make it happen.
Read More: Top 10 E-learning Mobile Applications in India
---
---