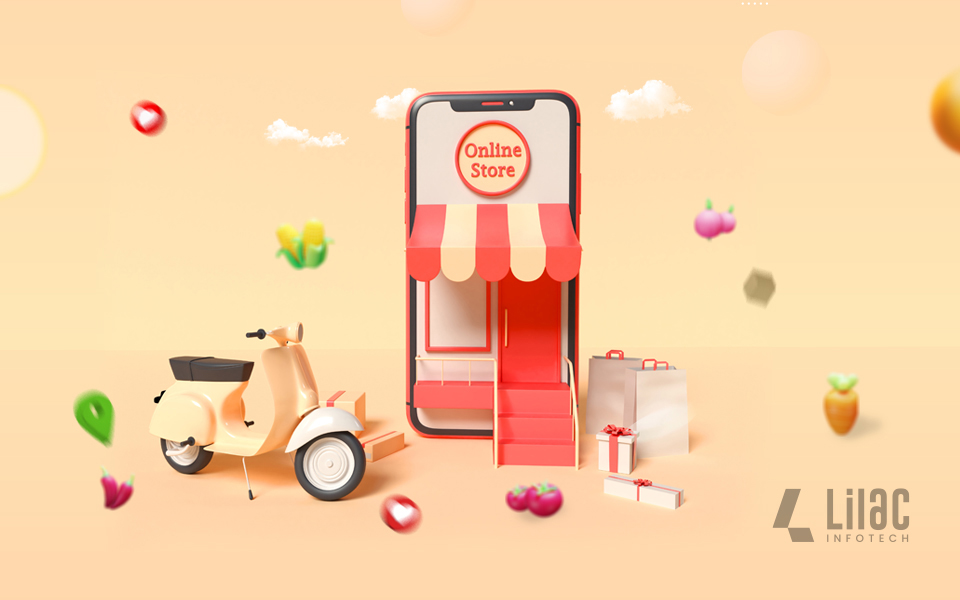 ---
The majority of supermarket shoppers and sellers are most concerned about online grocery delivery. Perishables, edibles, and other grocery-related items must be delivered on the same day.
That is when the on-demand grocery delivery business comes in. The on-demand grocery business concept is based on the premise of fast delivery of groceries at the customer's desired time. Indeed, online grocery shopping and CPG (consumer packaged goods) rely on this sort of delivery approach to keep their businesses functioning.
Online grocery shopping is no longer a trend amid the Coronavirus; it is only up to service providers, notably online grocery delivery service providers, to ensure that things move swiftly since clients do not want to wait.
The Advantages of Starting an Online Grocery Store
1. Grocery Automation's Rapid Adoption
Several grocers experienced a two- to three-fold rise in order volume during the outbreak. Even when the globe observed a decrease in a lot of cases, fast growth persisted. E-commerce app development, according to experts, will prosper if things return to normal.
2. Rising Interest in Online Grocery Stores
The unanticipated surge in demand for online food purchases caused by the epidemic will continue in the same manner. This will be seen as a boon in the coming years. According to one estimate, by 2025, supermarket e-commerce sales would account for more than 21% of worldwide food sales.
3. A Better Future
Many analysts believe that the grocery e-commerce market will continue to rise in 2021. During the outbreak, many consumers began purchasing online and have continued to do so since it is more convenient, safe, and hassle-free.
4. Improving the Affordability of E-Commerce
Grocers are attempting to entice clients by regularly upgrading their online grocery app to increase product discoverability and make it simpler to construct customized carts on a budget.
Things to Think About Before Starting an Online Grocery Store
To be successful in developing and operating an online grocery company, you must focus on the following factors:
Choosing and, if required, enhancing a supermarket business model
Developing a road plan for altering the business model to be flexible, efficient, and precise.
Identifying your target audience
Differentiating the delivery zones
Examine your competitors
Grocery shopping websites and smartphone apps
How Do You Launch a Grocery Delivery Business?
As the markets appear to be lucrative for online grocery delivery firms for years to come, even after the COVID-19 effect fades, it is most suitable to take the first step in this direction. If you want to become the owner of a grocery business, following some expert advice can help you get started in the right direction.
We sought to sketch down the fundamental process flow that would help in establishing an online grocery delivery firm.
1. Register a Legal Entity
The entity of any firm is one of its important components. Ideally, the first actions should be focused on having the company/business registered. Official registration for a name, a type of business, and compliances can assist give the concept form and shape.
For the selling of commodities over the internet, online grocery delivery businesses must pay taxes. There is a sales tax and a services tax to be paid, thus enrolling in the right accounts to pay these taxes is required, even for online grocery delivery.
2. Complete your Business Model
In essence, this online grocery delivery business plan operates on the idea of picking up an item from the seller and delivering it to the client at the time specified by the latter. It's as easy as that, and the on-demand grocery delivery business works in various ways:
Assume you are launching a grocery delivery business and have agreements with offline grocery merchants that do not provide groceries home delivery. You create a supermarket marketplace in which you list all of the local grocery providers. The consumer selects the vendor closest to their location, purchases the things from your website, and has them delivered to their door.
The second option is to post the products on your grocery shopping delivery website, where customers may select the item they want and the quantity required. You purchase the things from the grocery store and deliver them to the consumers. They won't know where you got it from, but that's irrelevant as long as they have their groceries on time.
The third possibility is when a proprietor of an offline grocery shop chooses to create an online grocery delivery service and offers an ordering option. The owner of the website oversees all three components, from warehouse to logistics to delivery (this mostly comes under a single vendor online grocery business model).
3. Select a Pre-packaged Grocery Solution
Creating an online food marketplace from the ground up necessitates the participation of specialists and individuals from various backgrounds. From developers to market analysts, design professionals to business experts, many individuals must be involved at various stages to create an online grocery delivery firm. Connect with a team of specialists who provide grocery software solutions on which you can grow your business. Choose from the available alternatives for customization, on-boarding support, and business model creation depending on the services. A solution that offers speedy go-to-market assistance and dependable collaboration for a streamlined setup will accelerate a firm in all directions.
Key Features of an On-Demand Grocery Delivery Model
The elements that must be included in a website based on the on-demand grocery delivery business model have been divided into two stages: the front end, when users have not signed in, and the post-login stage. Let's take a look at the most important elements of a supermarket website from these angles.
This tool allows suppliers to add, update, or change information about their store such as name, address, delivery slots, operational hours, packing time, working days, and more.
The order management feature enables suppliers to manage several order requests systematically at the same time. They may examine, among other things, the number of outstanding orders, total orders delivered, order history cancelled orders, and withdrawal requests.
This functionality allows suppliers to easily add or delete items based on buyer demand and the current market situation. They can alter the product status from available to unavailable by updating or editing the product information.
Managing inventory operations without a standardized inventory management system may be difficult. An online grocery marketplace connected with an inventory management module assists sellers in monitoring their product supply and tracking inventory status regularly.
With this function, tracking and analyzing sales figures daily is no longer a time-consuming chore. Vendors may view their store's total profits and daily sales updates to assess how their business is performing.
Apps for Logistics Support/Delivery
A logistics support/delivery software-enabled online food marketplace supports providers in efficiently managing logistics operations. Vendors can deliver groceries to clients swiftly and easily.
Discuss About Your Idea?
Share your ideas and thoughts about Grocery app development for your business?
To Conclude
Grocery shopping is a fundamental human necessity, and individuals are increasingly reliant on internet purchasing. Despite the aforementioned problems, the online grocery company idea fits wonderfully in the present dynamics. The most essential thing for entrepreneurs wanting to enter this market is to be aware of these problems and understand how to overcome them by using the appropriate technology, trends, and methods.
Grocery shopping is a basic human requirement, and people are increasingly turning to the internet to meet their demands. As a result, the notion of an online grocery store is suitable for the present market. The most essential thing for entrepreneurs wanting to enter this market is to be aware of these problems and understand how to overcome them by using the appropriate technology, trends, and methods.
Setting up an online grocery business in 2022 might be a lot easier if you know the industry's basic trends. Alternatively, you might use a grocery app development company to assist you who will help your requirements in detail and provide a solution.
---
---