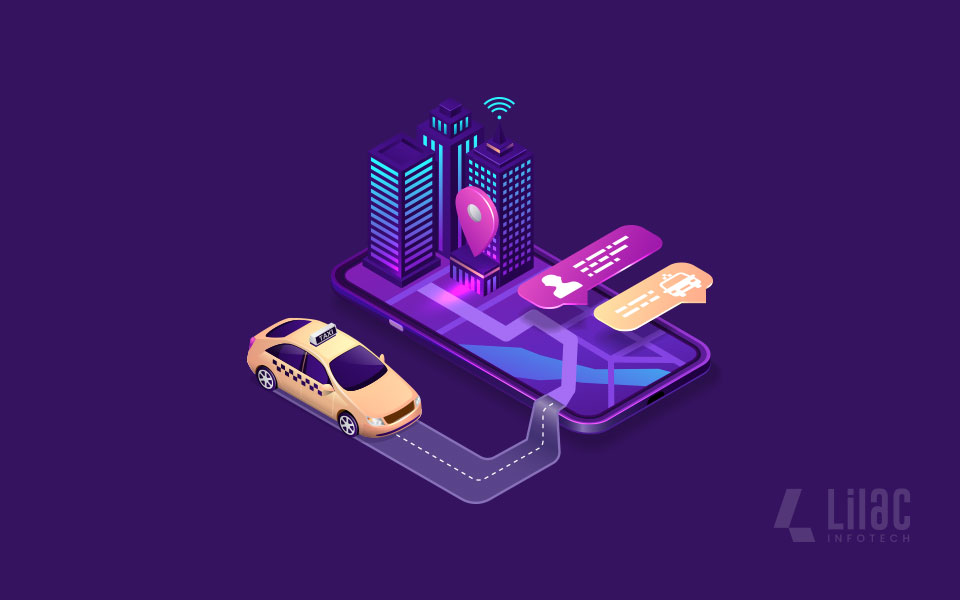 ---
How do you develop a ride-sharing app? – that's what Uber was thinking when they came up with the first-ever concept of people sharing automobile trips.
Car-sharing income may increase more in the coming years. And to think it all started with a single man's wish.
Ridesharing is now a reality. Nowadays, a user may schedule a journey and share the cab with their friends or co-workers to save money with a few taps. This ridesharing concept has aided entrepreneurs in overcoming the following business challenges:
Personal rides are more expensive for users.
Address the issues caused by environmental changes.
During busy hours, cabs are assigned
Given this, we decided to offer our experience in developing a ride-sharing app, analysing the ride-sharing industry and identifying the essential characteristics that ride-sharing applications must have. Let's take a journey into the realm of worldwide car-sharing. If you want to take advantage of this opportunity and learn how to construct a ridesharing app, we have created this complete guide with the help of our expert ridesharing app developers who have created a ridesharing app. Let's get this party started.
The Incredible Rise of Ride-Sharing Apps
The notion of a ride-sharing app is currently quite popular among the general public. However, before entering this business, it is vital to have fundamental knowledge about it. As a result, let's have a look at the market valuation of the industry's leading companies.
You may have heard about the phenomenal expansion of ride-sharing applications. This presents an opportunity for any entrepreneurs interested in developing a ride-sharing app. Let's take a look at the step-by-step approach for creating a ridesharing app.
So, what exactly is Ride Sharing?
Ridesharing is a service that assists travelers in locating a one-way trip promptly. The most significant part of the sharing economy is the technology that connects service or product owners with customers. In contrast to the old paradigm, in which private firms own the equipment, in this example, vehicles, the sharing economy model just allows connections between individuals.
The drivers are vehicle owners who use the ridesharing business model and are not affiliated with any taxi company. Typically, the drivers work as independent contractors. That is why rideshare businesses do not deduct taxes from drivers' wages, provide flexible hours, or enable drivers to work overtime.
Are you thinking about how to start a rideshare company by adding value to it?
Allowing your passengers to schedule trips in advance or whenever they need it will provide them with the peace of mind they have always desired. A ridesharing app allows your customers to communicate their journey status and location with friends and family, providing them with a sense of security. There's no more waiting and waving in a lengthy, boring line, and payment is as simple as a few touches.
A conventional ride-sharing app's primary feature is its ease of use. Users may order transport from any place in the city or nation without waiting in line or waving at drivers. As soon as the booking is completed successfully, the ride is dispatched to the user's location. Passengers may now effortlessly order a cab and reap the rewards of referrals thanks to the referral system features.
Passengers no longer have to guess about prices or even dread negotiation. They may know the price before scheduling a ride, which eliminates the possibility of a passenger-driver disagreement over a minor fee.
The live tracking function of ridesharing software or apps, often known as in-app route planner technology, offers passengers an ETA (Estimated Time of Arrival) of the scheduled trip. Tracking also allows them to communicate their destination to their relatives and friends while on the road. This gradually increases the users' trust and safety.
The distinction between Ride-Sharing and Taxi Services
1. Agility
Passengers using car-sharing may find a ride via a smartphone app. A ride-hailing app locates the nearest accessible vehicle and pairs it with a passenger.
Passengers know when a car will arrive and can accept or refuse a trip with a driver depending on this information. They don't have to wait for a taxi with a driver to appear on the street so they may hail it, or phone a taxi company and wait 15 minutes for the car to arrive.
2. Ability to choose between different types of vehicles is a feature.
There is a large selection of vehicle possibilities in the ride-sharing program or app, so a user may select one based on their preferences. As a consequence, the user experience improves, and users are more likely to choose an economical ride of their choice.
3. Price Change
Passengers in taxis do not have the option of deciding how much they want to pay, and they frequently do not know how much the journey will cost them.
Passengers using ride-sharing applications may select whether they want a basic or luxury car with a driver. Second, before getting inside the car, passengers are always notified of the ride pricing.
4. Payment Options
Users of ride-sharing smartphone applications may pay with a credit card instead of having to worry about having enough cash for a driver. Most ride-sharing applications enable users to leave tips for drivers, which may then be paid with their credit card.
There are three types of applications that allow passengers to share a trip or a car with a driver:
The driver selects the place for carpooling; the passengers just accompany the driver to the same destination, which is commonly interstate travel. Carpooling can be done for free or for a cost.
Passengers choose their destination while using ride-sharing services. It is not always necessary to share a ride with other people. It may just be a terrific alternative to taking a taxi. However,
the major advantage of ride-sharing applications for passengers is the ability to split fares.
Peer-to-peer car-sharing applications
Peer-to-peer car sharing is a technique in which a car owner or corporation leases out their automobiles for a set fee and period.
Renters and automobile owners alike can benefit from such a scheme. Renters do not need to travel to an automobile service to hire a car. Renters can discover a nearby automobile, and car owners may earn even when they aren't using their vehicle.
Steps for Launching a Ride-Sharing Business
It is easy to become bogged down in the concept stage of a project. Knowing how to make a ride-sharing app might be eye-opening since you will have a better understanding of:
Cost of development
Features
Comprehensive procedure for product development
We've compiled a list of the important actions that all of our clients have always completed to get the production started. So, we're all set to take a few crucial moves.
The first thing each business or entrepreneur should do is investigate their competition. Who can say? Perhaps your concept has already been realized in the way you see it. The competitive analysis provides information about
market
rivals' distinctive value propositions
how well competitors are performing
These are important elements to understand when starting a business from the beginning.
Make certain you research both direct and indirect competition. Direct rivals are those that provide the same items or services to the same target audience as you. Indirect rivals are those that offer similar products/services to you but serve the same market. In both circumstances, you must develop a UVP.
Identifying Your Product's Unique Value Proposition
After developing an Uber-like ride-sharing smartphone app, we learned that building a complete Uber clone is impossible. Whenever you think about how to start a ridesharing firm, bear in mind that your user experience should be unique.
The unique value proposition describes what distinguishes ridesharing firms and their products/services from the competitors. It is feasible to understand the gaps and issues that your product can help fill and address by researching the market and competition - this is where your unique value proposition will emerge from.
Choosing a Monetization Model
A firm cannot flourish and grow unless it is monetized. As a result, before you begin developing a mobile app for iOS and Android, you must first develop a ride-sharing business strategy. Choosing a monetization plan early on can save you time and money in the long run.
Choosing a Development Team
The primary dilemma here is whether to hire in-house staff or outsource. Everything is dependent on your money, time, and location.
Creating a Minimum Viable Product (MVP)
When considering developing a ride-sharing app, the most cost-effective and time-efficient approach would be, begin with, an MVP. However, before you leap, we recommend deciding on the main feature for ride-sharing mobile apps putting the features first.
Product Launching
After 3-6 months of developing an MVP, it will be feasible to launch the ride-sharing app with essential functionalities. This stage establishes how effectively the product is accepted on the market whether there is a genuine demand for ride-sharing services among the target demographic.
Getting User Feedback
When the product is out, it is critical to collect as much consumer input (on both the iOS and Android platforms) as possible since it will indicate where to pivot and make adjustments to the ride-sharing app's technical and business aspects.
Enhancing Your MVP
Significant product enhancements can occur only after client input is obtained. You may then mould your product and develop the greatest features from there.
Creating a Full-Featured Product
You should plan ahead of time to scale your ride-sharing smartphone app. However, only do it when the timing is appropriate.
Models of Business and Monetization for Ride-Sharing Apps
A sharing economy business model, namely the on-demand ride-sharing model, has made it feasible to connect supply and demand effortlessly and smoothly.
What Uber created at the outset of its operations and afterwards set the tone for other companies. Uber devised a model that was beneficial to both parties.
Customers
drivers,
and the firm itself
Let's take a look at the primary monetization strategies used by Uber-like firms.
Fees for Commissions
This is the most common income arrangement for any ride-sharing smartphone app. A commission-based revenue model is a type of monetization in which a service fee is charged for each payment transaction. A ride-hailing app may charge the passenger, the driver, or both.
Advertising is a method of profiting from the placement of advertisements from third-party sources, particularly in a mobile app. Many ride-sharing apps do not utilize it because they are afraid of losing consumers by assaulting them with advertisements.
Collaborating with other businesses is a wonderful method to create relationships with trusted brands, gain visibility, and make money all at the same time.
Concluding
In short, ride-sharing has become a common pastime for individuals looking for transportation. "I'll Uber it" has become a typical line heard at every party or event.
The worldwide ride-sharing sector is expanding at a rapid pace. More local ride-sharing applications arise, vying for market dominance. We wrote this post to teach you all you need to know about developing a ride-sharing smartphone app. You may only need to contact the best app development company in town to assist you in developing your app according to your criteria.
---
---