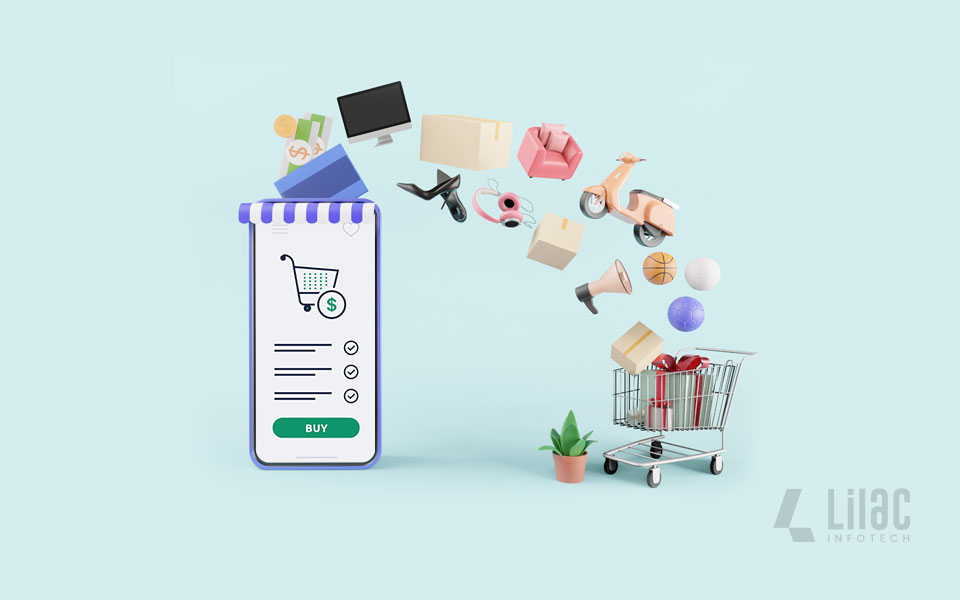 ---
E-commerce is the way of the future. Furthermore, e-commerce applications are no more considered luxuries but rather requirements.
E-commerce app development companies have transformed how organizations operate in the contemporary business landscape. E-commerce has evolved from a passing fad to a vital element for the success of enterprises. These crucial e-commerce applications that enable businesses to succeed in the digital sphere are made by specialized e-commerce app development companies, which are crucial in this process.
If you don't believe us, just look at how many businesses have moved their products and services online in the previous few years! So, if you want to stay relevant in today's industry, you need to do two things right away! Take your company online, for starters. Two, go mobile!
If you want to sell more effectively and gain greater online awareness, you must put your confidence in mobile devices. After all, they are a necessary part of our daily life.
Assess Your Needs
If you want to sell more effectively and gain greater online awareness, you must trust mobile devices. After all, they are an essential part of our daily life. The initial step in mobile app development is to take a deep breath and gather your needs.
What do you want to accomplish with your mobile app?
Is it necessary for your app to have access to device-specific features? If yes, what features will you include on the list?
Do you prefer an app that can manage heavy loads or one that is more visually appealing?
These are just a handful of the numerous questions you should think about before proceeding to the next phase.
Investigate e-Commerce App Development
Once you've decided what you want from your completed project, it's time to start doing your homework! That implies you should do as much research as you possibly can! Background research may provide you with a plethora of knowledge that will affect how your product evolves. You'll learn how open the market is, what your target audience's expectations are, and how excellent (or horrible) your competition is. Take a detour and return to this blog if you want to gain a sense of the sorts of research you'll need to perform.
You must set a budget for the development of your mobile app. And don't be too frugal here because an e-commerce app is a terrific long-term investment for your company. Because mobile business applications are no longer a novelty, you may discover a plethora of tech teams willing to assist you in developing a terrific app within your budget.
Why not look at the typical E-commerce mobile app development cost in 2022 to get an idea of how to budget your e-commerce app development project?
With a decent budget in hand, you must now create a strong blueprint for your possible app development project. For efficient implementation, e-Commerce apps need a great deal of meticulous planning and organization. As a result, you'll need a solid business strategy with clearly defined milestones. When setting timelines, provide some wiggle space for unexpected events.
Assemble a Reliable Technical Team
Then, to make your fantasy app a reality, you'll need a team of outstanding UI/UX designers. When it comes to selecting a tech team, be cautious because the fate of your ultimate product is in their hands.
Do you require more front-end or back-end developers? Should you instead hire a team of full-stack developers? The requirements you set in the first step will determine the responses to these questions.
As you're attempting to create an e-commerce app, it's a good idea to have at least one e-commerce developer on your team. e-Commerce developers have the extra abilities required to work with the technologies and platforms used by online businesses.
Plan the Key Features/Capabilities
You can now sit down with your team and decide on the core features and capabilities you want in your app. Always keep your target demographic in mind because your ultimate goal is to provide wonderful online shopping experiences for your consumers. Consider the following questions:
What characteristics are most desired by your target audience?
How can you make your app more appealing to your users?
Create a User-Friendly App
The goal of online shops is to make their customers' lives easier. And, no, it's not about the no-touch rules imposed by the current epidemic.
According to trends, most organizations were gradually but steadily progressing toward a complete digital transformation. The coronavirus just pushed enterprises all around the world on the path of digitization!
As a result, make sure your e-commerce software is user-friendly and easy to use. Don't forget to choose a development platform that is most suited to the demands of your target population.
Oh, at long last! We've arrived at the guts of the endeavor.
A step of your app development process is product development. If you don't execute the product development properly, all of your diligent planning and research will be for naught.
Examine the many steps of an eCommerce mobile app development project to become acquainted with the procedure. You might also find our list of tips for effective product development useful.
Assess Your App for Bugs/Defects
First impressions are the most important. So, before you offer your target audience their first sneak peek at what you've put together for them, make sure your product is devoid of flaws. Check your e-commerce app for issues and resolve them as quickly as feasible. Product development and bug-texting should ideally go hand in hand.
If you put off your QA testing, you may wind up with a mountain of technical debt, which you do not want!
Begin Your Promotional Campaign
You should begin promoting your product as soon as you have a minimal viable product. This will allow you to get a head start on your product's launch. Nowadays, digital marketing on social media is the most effective strategy to promote your brand and e-commerce software.
You may promote your e-commerce mobile app on a variety of social media channels, like Facebook, Instagram, and Twitter, to mention a few. This allows you to reach a larger and more diversified audience.
Prototypes can help you engage your audience
Apps for shopping are not uncommon. Great shopping experiences, on the other hand, are. Once your prototype is complete, go out to your target users and assist them in becoming acquainted with your user flows.
Show them what you have to offer that provides you with a competitive advantage. Is your e-commerce app design clutter-free and simple to use? Perhaps your varied payment alternatives provide your customers with greater purchasing power. When engaging your audience, be sure to promote your USPs (Unique Selling Points).
Take Feedback and Put It into Practice
Real-time feedback is critical to the success of your e-commerce app development. If you include all of your stakeholders in your feedback loops, you will be able to collect meaningful feedback from them about your app and its features and functions.
Promote Your App to the App Store
Your completed output is now ready for public consumption! Now it's time to go to the app store! Don't forget to promote your software on the app store of your choosing. You don't want it to be lost in a sea of faceless applications, do you?
To boost the exposure of your app, you must use a good ASO.
Market Your App Effectively
It's time to go on a full-fledged marketing campaign! Let the world know what you have to offer and why they should use your e-commerce software to do their online shopping!
The appropriate marketing may make or ruin your online shop, so make sure to hire skilled marketing staff.
Proceed to fine-tune your final product
There is no limit to how much polishing you may do on your product. Ascertain that your product evolves. A stagnant product quickly loses market attractiveness and becomes irrelevant. Inquire with your clients about how your e-commerce app can improve their whole online purchasing experience. Could you perhaps include a function for push notifications? Perhaps they'd want to have additional payment gateway alternatives. Pay heed to the consumer's needs since they are always accurate.
Closure
Creating an e-commerce mobile app is not easy, but it is also not difficult! With the proper technology partner, you'll be able to create a distinctive and engaging mobile application for your company in a matter of months. Mobile app development may be straightforward if you choose to outsource your project to trusted suppliers.
The goal is to guarantee that you meet all of the e-commerce software development milestones listed above, and you'll soon have a fresh new mobile app that will put your firm on the map! So you've decided to invest in mobile commerce for your company! What comes next?
Do you want to know how much it would cost to create a mobile app? Or maybe you'd like to know where to discover the greatest web developers. Perhaps you're looking for solutions to the most commonly asked questions about mobile app development.
---
---