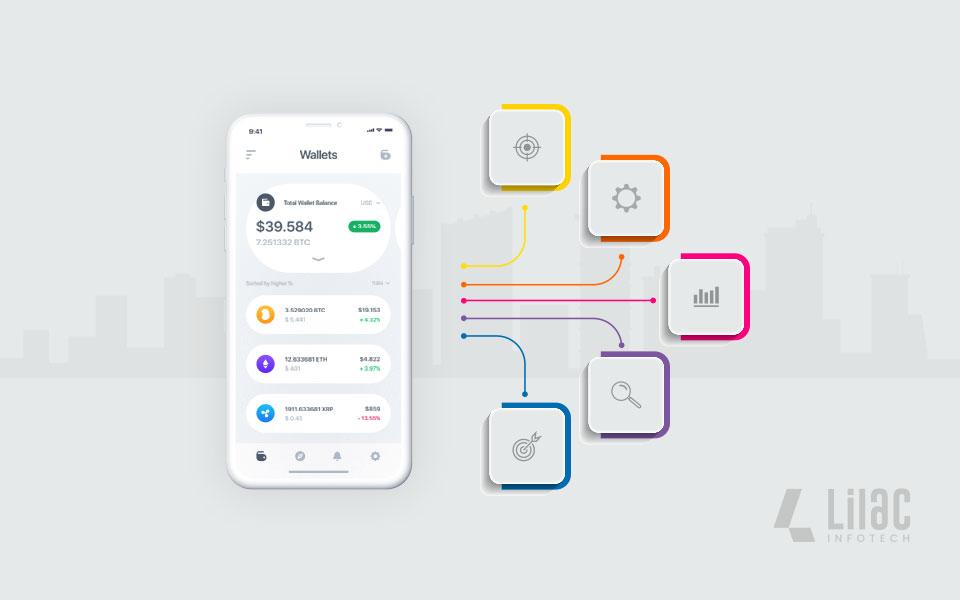 ---
The retail business has seen numerous significant developments in recent years, the most notable of which has been the growth of retail applications.
Retail applications have grown in popularity among consumers because they make purchasing more flexible and easy, especially when compared to traditional brick-and-mortar establishments.
Having said that, due to a large number of retail applications on the market, merchants are finding it increasingly difficult to use retail mobile apps as an efficient tool to improve sales and create money. As a result, we've prepared a detailed list of the characteristics customers want in retail applications.
Every company should use the five criteria stated below in their retail app development to significantly increase sales conversions.
5 Essential Retail App Features That Customers Want
1. Product Specifications
Consumers who shop online want complete access to product data since it helps them decide whether or not to make the transaction. As a result, shop management software should display the pricing and availability of all items mentioned, as well as accurate product reviews and demos.
Consumers must be able to price check an item since knowing how much something costs allows them to determine if it is within their budget. Furthermore, retail businesses might look more trustworthy to clients if they are straightforward about their costs and products.
Customers always want to know if an item is available for purchase, whether they are browsing in a shop or online. Product listings that include information such as the number of things left, if the product is sold out, and when it will be refilled make consumers far more inclined to purchase it.
Customers commonly visit traditional retailers to assess the product's look and functionality. This is also achievable with retail mobile applications that include product demonstrations. During the e-commerce application creation process, you can request that the developers create an application that gives a variety of product reviews, including static visual pictures, videos, and even a 3D or AR model.
2. Customized and Interactive User Experience
The best retail trading applications figure out who the user is, what brands they favor, and what they buy, and then offer suggestions based on the user's unique and specialized interests. As a result, good UI/UX application development is essential for retail apps.
In terms of back-end operations, leverage technologies such as AI and Machine Learning to quickly collect user data. Based on consumer preferences in a certain geo-targeted area, this data helps the shop to always keep adequate amounts of specified items, styles, and brands on hand. As a result, the user experience has been substantially improved, and they will continue to use your retail application regularly.
3. Loyalty and Discount Initiatives
By utilizing the power of push notifications, retail applications may remind their customers about new product releases and unique discounts. If you're thinking about developing a retail app, a well-thought-out push notification strategy may be an efficient way to convert as many users as possible into paying customers.
This may be performed by periodically reminding customers about new discount offers on items in their wish list or cart based on consumer behavior insights, preferences, and historical purchase history.
In addition to discount alerts, loyalty programs are an excellent approach to attracting new consumers and keeping existing users by providing rewards for repeated purchases.
4. Faster Checkout Process, Hassle-free Payment Options
Retailers want to profit from potential impulsive purchases. However, any hiccup in the checkout process might make the difference between a successful purchase and a missed opportunity. Furthermore, any difficulty or delay may cause doubt, resulting in second thoughts and, finally, lost money.
The goal of mobile app purchases should be to create a quick, easy, and error-free ordering and purchasing process for customers.
Customers should also be able to pay for their products using the method of their choice. With the advent of mobile payment systems like Google Wallet, Apple Pay, and PayPal, cash is becoming obsolete, and debit and credit cards may follow suit soon. Customers who wish to utilize these alternatives may opt to go with a rival who does if they are unable to do so with your app.
5. Wish Lists
Wish lists are a customer favorite in a variety of retail applications. Wish lists allow users to save, share, and purchase things while they are on the go. Essentially, wish lists allow users to bookmark their favorite things that they want to buy or intend to buy soon when exploring shopping apps.
The wishlist option is extremely useful to mobile customers since it saves them a lot of time scouring the product catalog for their desired products. Aside from that, the wishlist function is highly beneficial to companies. This feature aids online retailers in improving their customers' purchasing experiences while also increasing retail mobile app sales.
Wish lists offer numerous advantages to both businesses and their customers. Failure to implement the feature may have serious consequences for both the customer experience and revenue.
Conclusion
The market for mobile commerce shops is favorable, and retailers that can include the abovementioned elements in their applications will be able to attract consumers' attention and distinguish themselves from competitors. Keep an eye out for new features and enquire about consumer expectations. Find out the cost of app development at the same time. Finally, create a unique and complex mobile retail application.
Retail store applications may help with buying and selling in a variety of ways. Retailers may customize special offers and forecast when a buyer needs a final push to purchase by collecting data from their customers' mobile devices, beacons, or GPS. Apps may also provide customers with more information about any item (pricing, previews, and reviews) and allow them to purchase without having to wait in huge lines. All of these options make shopping a more pleasurable and efficient experience for both customers and retailers.
What other features do you believe retailers should consider when developing mobile retail store apps? Please let me know in the comments section below.
---
---