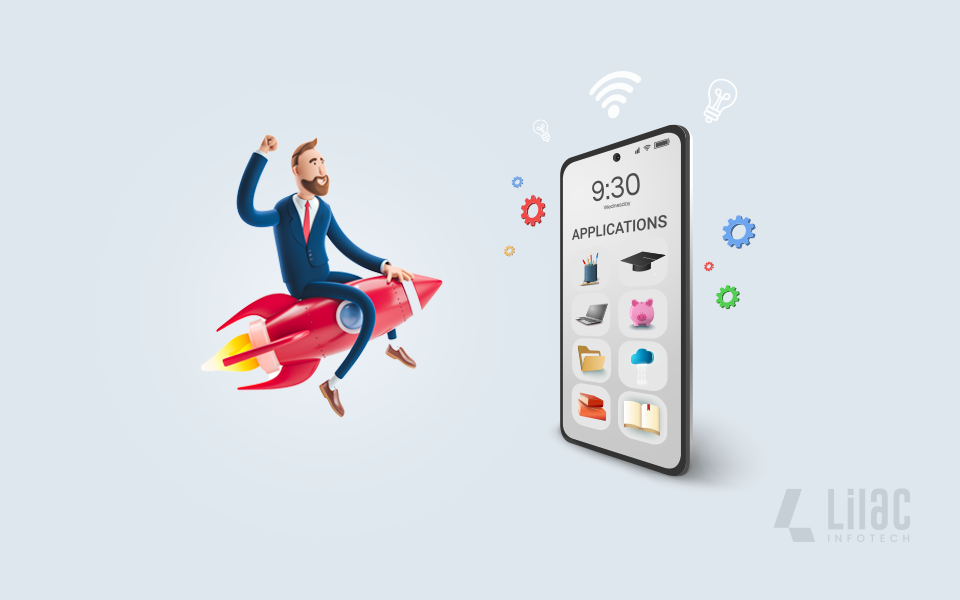 ---
Did you know that there are around 5.15 billion unique mobile users worldwide and that 69% of internet users seek online presence and reviews before making a purchase choice or visiting an in-store executive?
As a result, it has become common for businesses of all kinds to make their services available across many devices and platforms. Custom mobile applications, on the other hand, may help you strengthen your brand identification and develop your business.
Are you considering developing a bespoke mobile app for your company now or in the future? Then, keep in mind that mobile application development is a long-term investment and commitment that necessitates a significant amount of work and resources. However, developing a mobile application with a personalized user interface and customizable features would provide the best results in terms of sales, revenue, and customer experience.
Let's go through why you need a bespoke mobile app and how it may help you expand quicker than your competition. Before we get there, consider the growth of mobile apps in 2022
How can SMEs benefit from custom mobile app development?
Small and mid-size organizations have limited finances and resources when compared to larger enterprises or established firms. Nonetheless, by implementing contemporary business practices, companies may compete with the market's major competitors. It is also no secret that mobile applications are one of the most effective strategies for SMBs to expand quicker than competitors.
If you work in the food and beverage, hospitality, healthcare, personal care services, legal, manufacturing, or retail industries, a mobile app has become a go-to-market option for staying on top of the user's minds and meeting their business objectives.
Several category apps have grown in popularity during and after the epidemic. Telemedicine, online conferencing, electronic signature services, remote desktops, video platforms, and so on are examples.
Affordability
What keeps you awake at night during the early stages of your business's development? It may be visible, after all! With a customized mobile application in place, your company may be visible to clients at any time and from any location. It also aids in the improvement of client relations and sales. Despite having many mobile applications on their phones, people are more inclined to choose apps that offer an enhanced user experience backed up by sophisticated functionality.
For example, if you work in real estate, creating a unique mobile application with VR and AR elements will provide you with a competitive advantage. If it truly entices users, you will gain more exposure through word of mouth.
Gains trust and loyalty
For every firm, trust is priceless. With bespoke mobile app creation, you can send tailored messages and offers to clients, increasing trust and engagement. Along with normal marketing operations, you might offer customer loyalty programs that encourage your prized consumers to engage and receive unique benefits.
Interactions with Technology
Customers are more likely to evaluate a product online before visiting a brick-and-mortar store and making a purchase choice, as time spent on mobile applications has grown dramatically in recent years. Having a mobile application for your business may therefore enhance digital engagement as well as income.
Promotes you locally
Is your company restricted to a single location? Then, how do you get your target customer's attention, and how much money do you need to spend to reach and persuade them? The solution may be a few thousand bucks. However, it may be more than you anticipated.
Save money and time
Mobile applications, as opposed to traditional or mass marketing, allow you to monitor and modify marketing efforts in real-time. You may track your target customer's activity and tailor your approach to capture their attention. When compared to traditional marketing approaches, this will save you a lot of time and money.
Post-pandemic increase in mobile applications:
Targeting local clients has become critical due to dynamic changes in customer purchasing behaviour. If you own a physical business, such as a boutique, café, or restaurant, a mobile application can help you reach out to local clients and entice them to visit your establishment. If you are in the software industry, SaaS apps, in particular, are expanding faster than other applications.
Having a mobile app for your insurance company may help you improve consumer interaction and easily expedite procedures such as policy registration, claims, underwriting, and mistake detection. A mobile app may significantly cut processing time and unnecessary paperwork. As customers have come to demand a mobile-first experience, many organizations have shifted their attention to bespoke mobile app development to make everyday life faster, easier, and cheaper.
Why do you require a mobile application?
This is a typical question for SMEs with limited money and resources. A responsive mobile website is unquestionably beneficial to any business. A tailored mobile application, on the other hand, may boost a company's brand marketing operations by contacting and nurturing clients and increasing revenue. With the massive increase in mobile usage, clients are likely to spend the majority of their time on mobile applications rather than mobile websites.
Instagram is one of the finest examples. Though we can access it through a browser with limited functionality, we are more likely to access it through a native app. Similar to Instagram, there are several programs accessible on both mobile websites and native apps.
Here are some of the characteristics that favor mobile apps over mobile websites:
Offline access to mobile websites is not possible. You may create offline-capable mobile apps.
Mobile webpages are slower than mobile apps and have fewer capabilities.
Because mobile websites are not maintained on a database like app stores, they might be difficult to find.
The main challenges with mobile websites are quality and security.
Is an app right for your company?
To be honest, you should ask yourself this question before advancing. You must have this checklist before you contemplate constructing a mobile app for your company.
You must have a comprehensive awareness of the company's aims.
What are the services you provide?
What is your product's distinct value proposition?
Where is your intended audience located?
What exactly is their platform?
How will you monetize and optimize your app?
Examine your internal resources.
Ensure consumer data privacy and security.
How do you create a mobile app when you don't have an internal team?
As previously said, bespoke mobile app development is a long-term commitment and a process to which a corporation must devote sufficient time, resources, and cash. You do not, however, require an internal staff of app developers, UI/UX designers, graphic designers, and testing specialists.
Outsourcing to a reliable bespoke software and app development firm is the ideal option to construct a mobile app without an internal staff. An app development outsourcing business may assist you by bringing in the best resources to work on your project on a contract or long-term basis.
Long-term involvement model vs. contract-based app development
The outsourcing provider will deploy resources to produce your app within the stated timescales and budget under the contract-based app development model. The resources may be assigned to another customer at the same time, resulting in project delays and poor quality. In the long-term app development engagement model, the outsourcing provider will assign a dedicated or extended development team to your project. In this engagement approach, external resources act as your internal team, developing the application in response to your changing demands.
When compared to the contract-based engagement model, the extended team's approach provides greater attention, increased productivity, higher quality, and faster delivery.
Lilac Infotech - India trusted Mobile app development company. We are specialized in Android and iOS apps development services based in Kerala, India. We're connecting you with the latest mobile app models that can turn your next app concept into a productive Android or iOS platform app. Our professional team has updated their understanding of the new iterations of mobile design platforms.

---
---