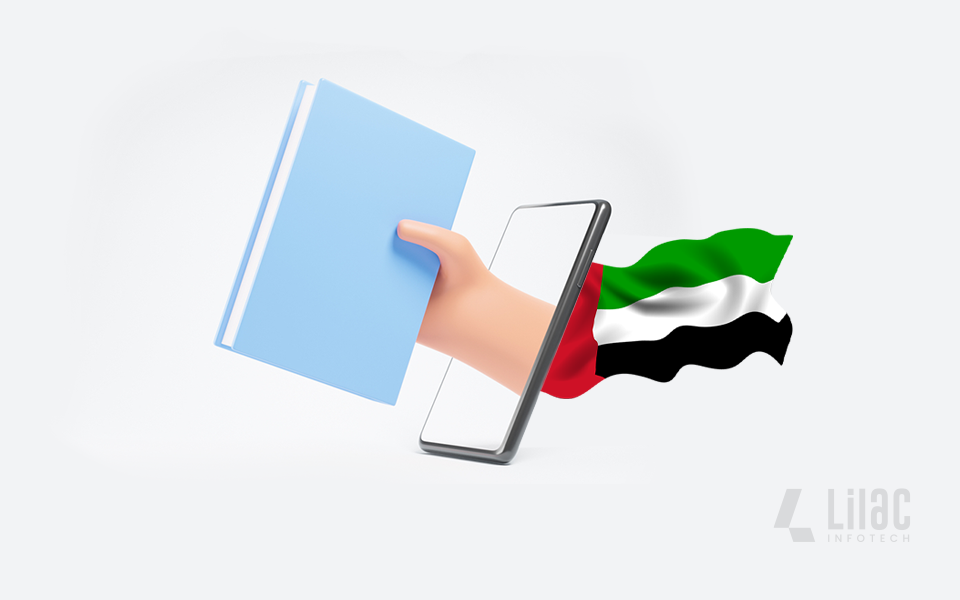 ---
The previous educational approach was quite clear, with pupils sitting in a classroom and a teacher guiding the process. Some of the most significant innovations in education have occurred since the advent of the internet.
The rise of e Learning, or electronic learning approaches, has enabled us to broaden the scope of education beyond the physical limits of a classroom.
The market for building Educational app in UAE
The previous paradigm of education was very clear, with pupils sitting in a classroom and a teacher guiding the process. Some of the most significant advancements in education have occurred since the Internet's inception.
The rise of e Learning, or electronic learning approaches, has enabled us to expand the scope of education beyond the physical limits of a classroom.
While the word "e Learning" was first introduced in 1999, the underlying premise has a long history. Evidence shows that early types of e Learning occurred as early as the nineteenth century. The timeline below shows the evolution of e Learning.
The late-twentieth-century computer revolution, as well as the rise of cell phones, significantly altered the learning landscape. It has thrown traditional learning methodologies on their heads, revealing new avenues for learning and personal development. The timeline below demonstrates the evolution of e Learning.
Users may now access vast amounts of data through the internet at any time and from any location, breaking down time and space constraints. Individuals are given access to programs by various colleges and institutions that allow them to get online degrees and broaden their skill set. These statistics show that the e Learning sector is expanding at an unprecedented rate.
The following are the primary drivers driving the e Learning market:
Low price
Simple accessibility
A trend toward more adaptable educational solutions
Animated learning improves efficacy.
Increased internet penetration
Increase in the number of smartphones
Despite the apparent benefits, certain challenges are impeding the growth of the e Learning business. E-learning and online education apps require a persistent internet connection to work properly.
Areas with restricted or sluggish internet connectivity pose a danger to the e Learning market's growth. Furthermore, the creation of this technology necessitates expertise, and people with no prior understanding of the technology are hesitant to transfer from traditional learning to online learning.
How to start an online educational business in Dubai
The Knowledge and Human Development Authority governs the requirements for launching any type of educational enterprise in the emirate of Dubai, whether online or offline (KHDA). This is a Dubai government agency in charge of overseeing educational institutes, colleges, professional training centers, private schools, and online education providers.
Before beginning a business in this industry, you must follow the KHDA's regulations and be approved by the organization. The KHDA is also in charge of upholding educational quality standards.
There are some steps to starting an online education firm in Dubai:
Find a company setup partner.
It is usually much easier to set up a business in Dubai if you employ the services of a company formation partner who can guide you through the entire process and ensure that all documents are accurately filled out. A company formation partner will have assisted many other firms with this procedure in the past, which means your license will be authorized much faster.
Choose the type of company.
You must choose the legal structure of your firm, whether it is a sole proprietorship, a limited liability company, a branch of a foreign corporation (such as a foreign institution launching a branch in Dubai), or anything else.
Your company name must comply with KHDA regulations as well as Dubai government regulations. It must explain your company while avoiding inappropriate terminology and some sort of abbreviation.
Following that, you must register the firm with the appropriate authorities, in this instance, the KHDA.
Apply for a license to teach online.
You must now complete all of the necessary documentation to become an online education provider in Dubai.
Important Features for a E learning App
Without a doubt, end-user functionality should include the option to adjust the app's design and personal preferences.
Let's look at the essential things to consider for personalized e Learning production.
The registration page will be the first and most important screen that your user will encounter. As a result, you must urge your partnered E learning app developers in UAE to incorporate this functionality into your app. Furthermore, on this page, you may inquire for user credentials such as phone number and email address, and if they are hesitant to create a profile, give them the option of signing in with Facebook or Google.
As a result, this key component is connected to my advice that if you want to choose a medium of communication for the lecture or any online course, considers a mix of video and audio. Also, make certain that your customized e Learning solution provides customers with an outstanding user experience and engaging lectures.
Allow users to establish profiles on your customized e Learning platform. Allow them to enter their credentials, configure their notification settings, and schedule their lessons.
This function eventually provides your audience with the benefit of remaining current on the selected course and completion percentage.
Custom e Learning Course Design
The original concept behind developing an eLearning app is the learning curve and the audience's benefit. As a result, at this critical phase, you must determine the ultimate purpose of your bespoke eLearning development platform.
It is unavoidable to include a dynamic searching feature in any custom eLearning program to provide consumers with complete comfort in discovering information. However, it is advised that you go beyond simple search functionality by offering your consumers something more involved.
I recommend that you develop a library and organize comparable courses together so that users can simply access courses connected to a given sector, topic, or even authors.
Chats and feedback are available.
We've all heard the adage "communication is the key," and it's true for mobile app development in the UAE and throughout the world. As a result, you boost audience communication by incorporating a talking and feedback function into your app.
All of these integrated communication possibilities will help your audience understand each other more effectively, whether it is a student to a teacher, a teacher to a class, or a student to another student.
Analytics for Reports and Progress
Analytics for progress and reporting enables your users to track their productivity and learning rate. This technique persuades your users to perform even better in order to outperform their competitors, hence increasing your interaction element.
Push notifications are a fantastic way to keep your customers returning to your eLearning software for more. Simply said, push notifications will notify your users of what they are missing while they are not using your app. As a result, it is advised that you approach your partnered app developers in Dubai to add this function to increase your engagement level.
How App development Companies can contribute?
1. Anybody can learn from anywhere
Previously, students had to be present in class to learn something, but thanks to mobile education applications, students may now access information about various courses from anywhere with just a smartphone app. Students can also work on assignments remotely, check their syllabus, courses, and test dates, and communicate with their professors to address questions and difficulties.
2. Several approaches for Interactive Learning
Many pupils are unable to learn much from standard textbooks and require more interactive approaches to excite their minds. Education applications are extremely interactive and include a variety of learning methods such as text, graphics, Q&As, audio and video courses, and more. Mobile applications are digital media that may contain a massive quantity of topic knowledge and data according to the curriculum and keep students involved in their studies.
3. Latest and Up-to-Date Content
Education mobile applications may provide a variety of learning techniques and media with up-to-date and relevant material. There are many subjects, such as IT and software development, that require the most recent and up-to-date content because their reference material and contents are updated more frequently, and no book or other traditional method of teaching can provide such fresh and up-to-date content as quickly as a mobile app.
4. Availability around the clock
Schools and institutes are not always open. Rather, they have a time when only students can go there and study certain courses, assuming they have obtained admission there. Since educational mobile applications are accessible and available 24 hours a day, students may access their preferred learning mobile app without worrying about their schedules. That is, students may study and learn whenever and wherever they feel comfortable and okay, and if they have any questions, they can merely contact their lecturers using mobile apps.
5. Real-time Updates
Students can use educational mobile applications to stay up to speed on on-campus activities, notifications, schedules, results, and other relevant information. Several educational applications allow students to pay their tuition, exam fees, library fees, and other expenses using their integrated payment modules without having to visit their school or institution.
How much does the development for e learning mobile app cost?
The cost of developing a mobile application is determined by several factors, including features, functionality, app needs, design complexity level, and development platform/operating system. Mobile app development firms in Dubai will estimate the app development cost based on these parameters.
Conclusion
We have just examined the scope of developing an educational app in Dubai and how app development firms, particularly those who handle Mobile App Development in Dubai, may contribute to the success of the educational app.
If you understand and use the above recommendations, not only will the educational app creation process be enjoyable, but it will also be a win-win scenario for both the promoter educational institute and the students who will use the app for learning reasons.
---
---