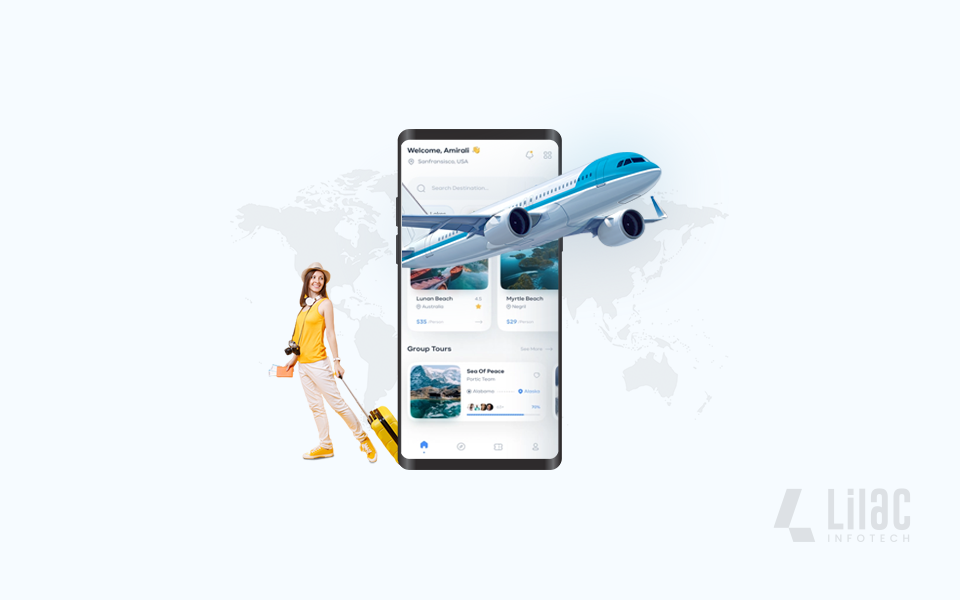 ---
People enjoy traveling, which is why the travel business is one of the most profitable. And these days, every travel company is keen to capitalize on the travel app craze. They provide fantastic services such as rapid hotel booking, airfare booking, a tour guide, easy online payments, and much more. After all, in today's tech-savvy society, more than simply a mobile website is required.
Based on various consumer studies, the tendency for mobile transactions in the travel sector is ever-growing. Thus, a mobile app is a solution for capturing and retaining the attention of today's mobile generation.
When considering developing a travel app, the first decision to be made is what sort of app to develop. The main thing to remember here is to develop an app that will be valuable to the intended consumer demographic. After all, if the app isn't about what users need, they won't use it. However, if the app provides exactly what consumers desire, the outcome will be fantastic. It will increase consumer loyalty and income while also allowing you to engage new customers in your business.
So, in this article, we've discussed several mobile app concepts for the tourism sector. You may select the concept that best fits your company's needs and present your audience with a helpful and functioning app as a result.
However, before we get started on the app concepts, let's look at the market research.
Market Research and Statistics on Travel Mobile Apps
According to a recent survey, travel-related mobile apps are the sixth most downloaded apps, and 60% of smartphone users prefer to use travel apps to arrange their leisure vacations.
Top Travel Industry Mobile App Ideas
To begin, we will concentrate on Mobile Apps for Locating Travel Destinations:
App for Niche Travel Experiences
This might be a traveling app that caters to a certain audience, such as a luxury-loving audience, those trying to create an experience, or even people searching for Home-Stay, similar to Airbnb. This app is designed with specialized audiences in mind, providing them with the information they require.
Hotel Reservation Mobile App
This might be a travel app that allows users to search for and book lodging while on vacation. As a result, app users will have access to hotel options based on where they are visiting. This option is useful when the user takes an unplanned trip or has to make an unexpected stop along the route. Even when the user is traveling, the app may assist him or she finds suitable lodging, such as a hotel room, couch-surfing, or home stay. This software may be pretty useful for users since it gives them a broad range of possibilities from which they can choose the property that best suits their needs. Users may search for hotels straight from the app and utilize parameters such as ratings, facilities, and pricing to discover a suitable location. This software benefits both the travel industry and the users.
Flight Booking App Development
This software allows users to search for flights to their desired destination. The app can help you identify forthcoming flights to that area, as well as seat availability and travel prices (so users can compare it with other flight companies). The program also allows you to track planes on a phone map by number, airport, or route. Users may check for weather, current delays, check-in, boarding, take-off, and landing times. The app provides relevant information. The app may be made available on Android, iPhone, Apple Watch, and the web.
App for Booking Bus Tickets
Bus ticket booking applications may exist in the same way that flight booking apps do. Many places are easily accessible by bus. For these reasons, a bus-ticket booking software that allows users to easily identify available buses to their location, ticket availability, boarding time, departure time, preferred departure station, and a lot more useful information may be developed. People nowadays prefer not to go to bus stops to buy their tickets because smartphone apps allow them to do it in minutes. As a result, this might be another useful app concept for the tourism industry.
App for Audio Tours on Mobile
This is more like carrying an audio guide in your pocket, providing you with a personalized tour guide experience everywhere you go. The app provides information on the city's most attractive attractions, such as museums, gardens, cafés, and restaurants. It also works in numerous cities across the world. Several such apps are available in the app store, but it is all about giving something different than the competition to rise to the top. The software may be used as an audio guide for a sightseeing tour or a museum visit. All that is required is to enable GPS geolocation and select one of the dozens of audio tours available based on the place the user is visiting. Each tour is jam-packed with checkpoints, maps, photo galleries, high-quality audio and video, and so on. Users may be allowed to download the tours ahead of time so that they may access the maps and information even when they are not connected to the internet. This is not only to prevent roaming fees but also to avoid getting lost when exploring.
Mobile App for Finding Local Guides
Often, tourists struggle to locate the perfect travel guide for their trip since they don't know where to look. In such cases, the Local Guide Finder smartphone apps are quite useful. These applications let travellers connect with local tour guides. The software essentially functions as a marketplace for personalized private trips. Local guides are linked to the app to deliver personalized tours based on the user's preferences.
App to Find Kid-Friendly Places
When traveling with children, parents prefer to be completely prepared to care for their children's comforters. An app can be used since families would like to have simple access to information such as kid-friendly retailers, cafés, restaurants, amusement parks, entertainment centers, and so on. They choose where to go and even which restaurants are suitable for children. This allows them to travel without worry.
City Tour Guide Mobile App
It is a fantastic idea to provide a mobile app with a variety of helpful, engaging, and instructive features for users to utilize as a companion when going to a place. After all, today's smartphone users like having quick access to information. As a result, with a City Tour Guide concept, your app will capture the interest of the audience and serve them successfully. It will improve client happiness and income. Through tools such as Taxi Fare Calculator and Public Transportation Finder, these applications enable tourists to get about an unknown city swiftly and without concern of getting lost. Calendars for performances, concerts, and other local events, as well as news updates and information on malls, hospitals, banks, embassies, hotel booking alternatives, neighbouring restaurants, city map locations, client ratings & reviews, and maps, may all be included in the app.
App for Gifts and Souvenirs
When visiting a new location, individuals have trouble selecting mementos for friends or family back home. They frequently become disoriented amid shelves crammed with diverse goods, with no notion of what would be appropriate for a given individual. An app is an offer that allows you to effortlessly search the entire nearest gift & souvenir stores, get the greatest bargains, read product descriptions, and compare pricing for such perplexing solutions.
Mobile App for Finding Bathrooms
Travellers sometimes have difficulty finding a washroom on the road; however, a Washroom Finder smartphone app may address this ever-present problem. The app will list all of the bathrooms that are available in a specific place or nearby. As a result, traveling is no longer stressful.
App for Locating Gas and Charging Stations
Many individuals have difficulty finding gas and charging stations while on the road, a Gas & Charging Station Finder App will entirely solve this problem. To discover the stations on their route to the destination, travelers must download the Gas & Charging Station Finder app. This is very useful while traveling with children.
Concluding
This article examined the most successful mobile app development concepts for the tourism business. If you want to construct a mobile app for your travel business, you'll need to hire a mobile app development firm with highly skilled mobile app developers who can start from scratch with your unique money-making app ideas. and will assist you in enhancing the return on investment for your travel firm.
---
---