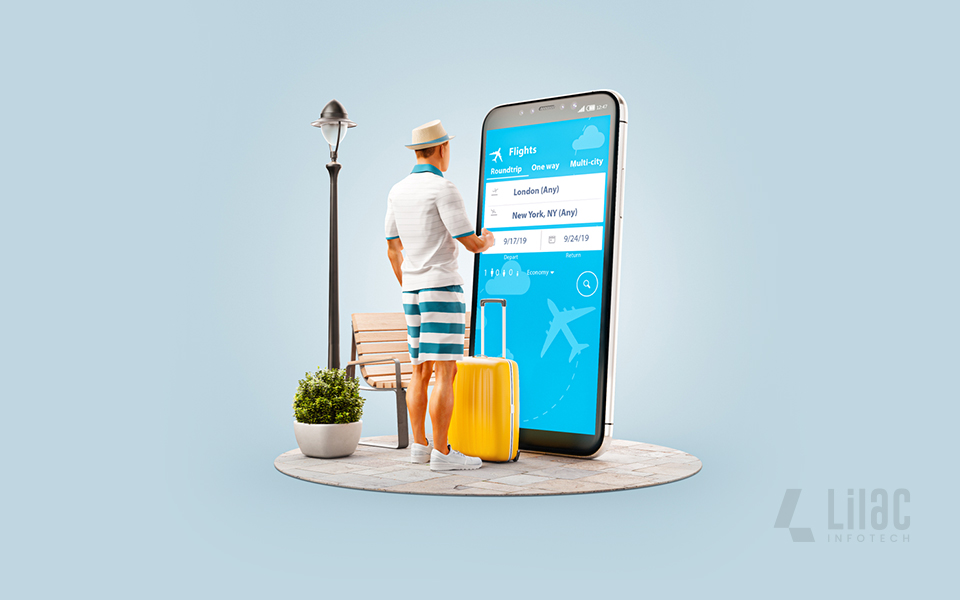 ---
Create unique travel applications for mobile platforms (iOS and Android), desktop operating systems (Windows and macOS), and the web without writing code. Building travel applications is simple, quick, and inexpensive - no technical knowledge is required. Begin constructing yours right away!
What types of travel applications may you create?
The travel business is one of the most competitive and full of possibilities for anybody trying to plan a holiday. In an industry with hundreds of applications on the market, you must provide a product that is faster, simpler, and smarter than the competition. We're here to assist you in developing bespoke apps that cover these gaps. Here's what you can create:
Create a hotel aggregator app similar to Booking.com, OYO, Agoda.com, and Goibibo. It's simple to create hotel booking apps for iOS, Android, and the web. No coding is required, just experienced assistance from our experts.
Flight booking apps: These make it exceedingly simple for travelers to book flights. If you have an idea for how to make flight booking even easier, we can help you implement it quickly.
You can't envisage a vacation until you have access to local transportation app. If you want to tackle transportation and travel challenges in your area and want to make something like Lyft, Uber, Ola, or something else, then construct that taxi booking app concept without coding with us. It's simple to get started.
Do you have an app concept for guiding tourists to make their journey more comfortable? Create a travel guide app similar to Waze, TripAdvisor, or Triposo — you don't need to develop any programming, just a good idea.
Features for your travel app
Using a mobile travel app is like having a travel agent at your disposal. To thrive in the travel sector, which currently has hundreds of apps, you must create a product that is better than the existing answer. Your app's features set it distinct from the crowd. Here are the essential elements for your travel app.
As with any other mobile app, simply signing up and sign-in in are essential features of a travel app. Get one-tap sign-in and sign up from Gmail, Linkedin, and Facebook to allow your users to use their current accounts to access your software.
It's difficult to conceive an aggregator or listing-based service without a search function. This feature allows a user to search for anything in the app just by typing a word into the search bar.
Another important app feature, filters allow users to organize search results based on their budget or other preferences. One of the most important elements for hotel and travel booking software is the filter.
Whether for airline or hotel booking or travel packages, this functionality is vital for aggregator applications. When users search for or click on certain categories, they want to see a selection of related offers.
Allow your users to score their experience so that other users may make better selections and enhance user engagement.
A user would like to check their booking history or itinerary after booking a service on your app. It's one of your travel app's most important features.
In today's world, an app without in-app payment possibilities is not called an app. Remember to include a multi-payment service.
6 stages to developing travel applications
Choose your software type: What kinds of travel apps do you wish to collaborate on? You may choose any mix of mobile apps, desktop apps, web apps, and other options.
Choose the app that is most comparable to your concept: Choose one or more applications that are similar to your app concept. If you're intending to construct something that currently exists in the world, there are hundreds of travel app templates to pick from.
Choose the features you want: Choose an auto-suggestion from our AI-powered collection of features for your travel app, or add any new ones you desire.
Choose your starting platform: iOS, Android, Desktop OS (Windows or Mac), or the web. Choose the launch platform for your travel app - use one or a mix of all.
Choose your team and delivery date: Choose the team based on your preferred worldwide time zone and delivery date (how quickly you want your travel app developed).
Start the app: You are now prepared to start your travel applications. We'll assist you in preparing for a successful launch.
Why should you design your travel applications with us?
We provide software that is as simple to use as ordering pizza, and by Developing your travel app with us couldn't be easier. Create any type of travel app without writing code at a reduced cost and in half the time. We provide everything you need to make your app-building experience simple, quick, and cost-effective. Here are some of the reasons why you should create your app with us.
Builder Studio: Instead of starting from the beginning, start Creating your Travel App using hundreds of reused features from our collection of reusable features. Simply choose the app that is most comparable to your app concept, and then select the features suggested by our human-assisted AI, and you are ready to spec your app idea. You may view your app prototype in 10 minutes or less — it's fast, and no technical experience is necessary.
Builder Cloud: With Builder Cloud, you may run your app on any public cloud, including AWS (Amazon Web Services), DigitalOcean, Microsoft Azure, and Alibaba Cloud. Choose our prepaid Cloud Wallet and you may access all public clouds from a single account – with no risk of overspending.
Builder Care: As technologies evolve, you must update their code to keep your software products working smoothly. We ensure that your product is always up to date with the aid of our backend technology, which changes your product codes as needed so that your apps function smoothly and with no downtime. We update it before you realize you need it.
Concluding
Travel mobile applications allow passengers to plan and arrange their journeys more conveniently, hence, the demand for traveling apps is increasing.
If you wish to create a traveling app, you may select a category and one of the monetization schemes. However, app development does not have to be expensive. We advocate starting the travel app project as an MVP and improving it over time with a continuous development methodology.
---
---