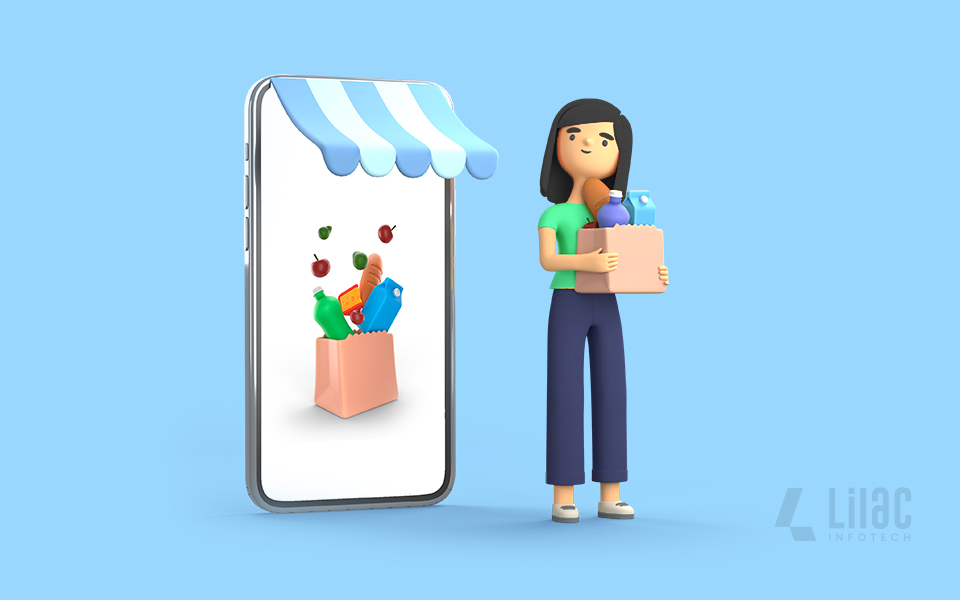 ---
Do you have any idea about the relevance of on-demand apps in 2023?
On-demand, as the name suggests, refers to giving customers the services they want whenever they want them. An on-demand company aims to deliver goods and services to consumers' doorsteps as soon as possible. One of the aspects of cloud computing is on-demand service. According to this business computing model, users only pay for the computing resources they use, which are accessible to them on an "as needed" basis.
Here are some things we should discuss about on-demand grocery delivery apps:
The Rise of On-Demand Grocery Apps
Shopping for groceries is a necessity in our daily lives. All of us have to stock up on groceries, whether we are busy working professionals, stay-at-home parents, or senior citizens. Traditional food shopping can be tiresome and time-consuming, particularly in congested areas or in inclement weather. On-demand grocery applications can help in this situation. On-demand shopping applications have become popular in recent years and changed food ordering. With the help of these applications, customers can order goods from their preferred neighborhood retailers and have them delivered directly to their houses. Since the apps provide simplicity and adaptability, it is understandable why they have evolved into a necessary tool for many people.
Search and compare prices
Make and store shopping lists
Schedule Deliveries for Convenience
Explore Exclusive Offers and Discounts
Provide Feedback for Improved Service
1. Search and compare prices

Using on-demand grocery applications has numerous advantages, like the opportunity to explore and compare costs across different retailers. You no longer need to visit various stores to compare rates; just a few taps on your smartphone are enough. As a result, you may choose the finest offers with no effort and make educated judgments.
2. Make and store shopping lists
The days of forgetting what you needed to purchase at the grocery store are long gone. You may make and save shopping lists using On-demand grocery applications, which help you remember everything you need. To ensure you never miss anything, add items to your list as you run out of them. Furthermore, some apps even provide recommendations based on your prior purchases, personalizing your shipping experience.
3. Schedule Deliveries for Convenience
On-demand grocery apps offer the convenience of scheduling deliveries according to your favorite time slot. This means you can order in advance and get delivery whenever convenient. These applications enable you to coordinate your deliveries with your schedule, whether you want your groceries delivered during your lunch recess or after you get home from work.
4. Explore Exclusive Offers and Discounts
Apps for on-demand grocery delivery frequently offer their users special deals and savings. You can significantly reduce your food expenses by keeping track of these deals. Also, some applications provide loyalty programs that let you earn points or cash-back for your purchases. Make the most of your on-demand grocery app experience by utilizing these benefits.
5. Provide Feedback for Improved Service
Most of the on-demand grocery applications provide a feedback feature that enables customers to score their overall satisfaction and offer suggestions. You help improve the app's service by contributing your ideas and feedback. Your feedback helps define the app's future and assures a better experience for everyone.
Unveiling the Secrets to Exceptional User Experience in On-demand Grocery Delivery Apps: Pro Tips for Success
User Experience Tips:
User experience (UX) plays a vital role in the success of any on-demand grocery delivery app. To create an exceptional user experience, consider the following tips:
Prioritizing interface speed and effectiveness
Consider displaying information on the UI at all times
Observe the platforms for the web and mobile applications
Ensure that admins and users can navigate easily
Add delivery service details on the interface with clearly
Prioritize the quality of services
If you have a Grocery Delivery App concept, we are here to discuss!
Let's customize the app!
Conclusion
The way we buy groceries has changed because of on-demand shopping apps. These applications have elevated themselves to essential tools for people from all walks of life due to their convenience, adaptability, and many other advantages. On-demand grocery applications can simplify your life, whether you're a busy professional, a mom juggling several obligations, or an elderly person searching for a way to store. Moreover, many of the top-notch app development teams are here for your ideas. So why not give it a shot and discover the convenience for yourself?
---
---