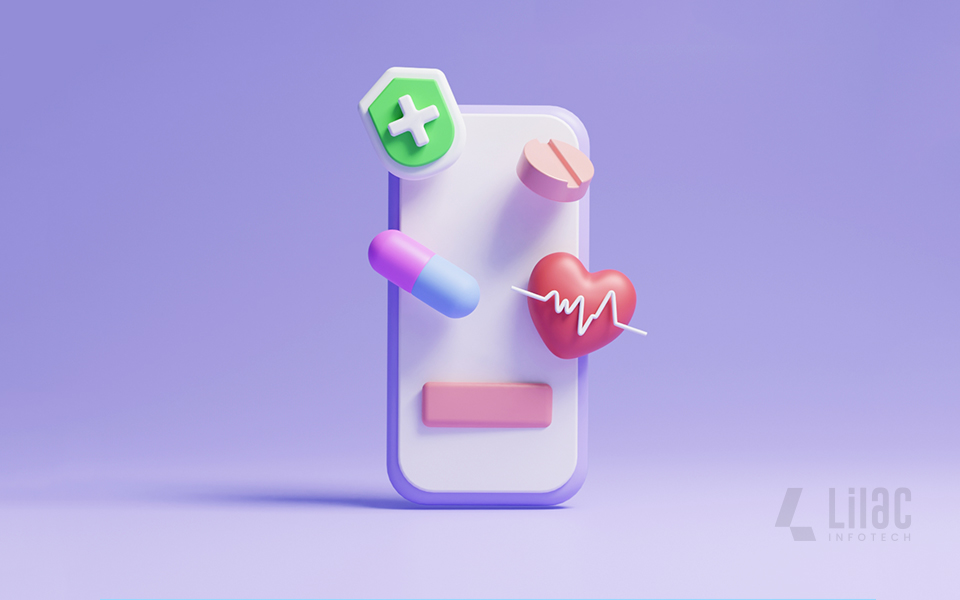 ---
Remote patient monitoring (RPM), health education, online appointments, doctor discovery platforms (DDP), and other healthcare applications are in high demand, and they provide investors with incredible returns.
Indeed, according to major data analytics portal Statista, the healthcare mobile application industry will surpass $300 billion by 2025, as more and more Internet users worldwide choose mobile app-based healthcare services.
The market for mobile-based healthcare services in Canada is rising at an incredible rate, with a CAGR of more than 11%, making it one of the largest in the world. Healthcare mobile applications will generate more than $3 billion in revenue by the end of 2026, far outpacing other industries.
This blog is for you if you are a SME or a start-up looking to design, build, and launch a healthcare mobile app. Lilac Infotech is a market leader in conceptualizing and producing ground-breaking healthcare mobile apps, and today we will reveal our trade secrets.
So, let's get started!
Step 1: What problem would your healthcare app solve?
To begin the process of designing a healthcare mobile app, first, define the problem that this platform will solve:
How will your app address your target audience's pain points?
Is this app currently required in your market?
Can this app outperform your competition in terms of features?
Deep, analytical, and complete market research is required to determine the USPs or differentiators of your healthcare mobile app, which gets us to the second phase, audience research.
Step 2: Identify Your Target Market
As your app will be used by customers/users, this stage will serve as the cornerstone of your healthcare mobile app development concept.
This process, classified as Market Segmentation, entails deciphering your target population and determining why they would install your app in the first place:
What is your intended audience?
What are their concerns about receiving healthcare services (price, location, features, etc.)?
How technologically competent is your target user?
What devices do they employ?
What do they want to get out of a healthcare mobile app?And there are more questions. To comprehend and interpret the target user, we usually develop a persona and essentially walk in their shoes.
Step 3: What Kinds of Healthcare Services Will Your App Offer?
Let's now finalize the sort of healthcare app you want to build based on the results and insights from the first two phases.
Some well-known instances include:
Health & Wellness App
Healthcare Training App
Ambulance Booking App
Medication Tracker App
Fitness App
Yoga App
Telehealth App
Doctor Appointment App
Diet Tracking App
Step 4: Complete the Healthcare App's Features
At this point, we understand the market need, have identified the target audience, and have decided on the category or type of healthcare app.
The following stage is to finalize the mobile app's functionality, which will assist healthcare app developers in creating the framework and design structure.
The following are some of the most popular and in-demand aspects of the healthcare app:
Appointment scheduling in real-time
Communication in real-time (for example, between a patient and a doctor)
Making Appointments
Chat and Messenger functions
Geolocation (assists both patients and doctors/hospital administrators in determining location)
Tracker (for example, recording the patient's progress or monitoring drug consumption)
Security and privacy (very needed to comply with government norms and regulations)
Notifications through Push
Cross-Platform Capabilities (so that users may use the software across all devices without losing any data)
Analytics of data (to monitor performance, user experience, and traffic)
Integrations with Third Parties
Step 5: Advanced Healthcare Technologies App
Lilac deploys the following innovative and future technologies for our clients:
1. Artificial Intelligence and Machine Learning:
With an AI and ML-powered healthcare app, you can provide customized, personalized, and highly targeted services to a specific audience, setting a new standard for service quality. Examples include analyzing a large pool of data to extract meaningful conclusions and personalized services, providing patients with preventative medical treatment, recognizing health trends, and more.
2. Blockchain:
Blockchain may be used to protect the data of patients, physicians, and hospitals, as well as to ensure that only the proper people have access to confidential medical data. The administration can simply track who accessed the data and who performed the adjustments with blockchain, ensuring that medically sensitive data is always secure and tamper-proof.
3. Internet of Things (IoT):
The Internet of Things (IoT) offers up a new world of possibilities in the healthcare application arena, particularly in the fitness niche. Service providers may easily engage with consumers and advise them in real-time using extremely accurate and exact data using IoT-powered wearables such as smartwatches, health gadgets, fitness trackers, and more.
4. Augmented Reality (AR) and Virtual Reality (VR):
Both AR and VR demonstrate great prospects for the healthcare applications industry, offering consumers some amazing features and capabilities. For example, with AR and VR-powered healthcare apps, you may provide remote physical therapy sessions, virtual medical appointments, healthcare education, and more.
Step 6: Stacks of Technology for the Healthcare App
At Lilac, selecting the correct technology for designing a mobile app is a mission. We have decades of expertise in selecting the best tech stacks for mobile apps, resulting in unstoppable success.
Here are some tech stacks that we propose for developing a healthcare mobile app:
Node.JS, Swift, Kotlin, PHP
Xamarin, Ruby On Rails, Flutter
Android Studio or Xcode
React Native
Capybara Or RSpec
Android Native, iOS Native & SaaS
Amazon S3
Mongo DB, MySQL, PostgreSQL, Redis
PayPal, Stripe
Google Analytics, MixPanel, Visual Website Optimizer
These technology stacks are suggested for creating a strong, scalable, and resilient healthcare mobile app. However, we may use different tech stacks based on your individual needs.
Step 7: Healthcare Mobile App Design, UX/UI, and Development
Finally, the design and UI/UX process for the healthcare app must be begun. For design and UI/UX, it is vital to understand the target audience's user behaviour and build an engaging, intuitive, and immersive user experience for maximum effect. After the mock-ups and prototypes of the mobile app are finalized and accepted, development of the application begins.
Privacy and Compliance Concerns
As previously said, healthcare mobile apps need to adhere to the region's data privacy and data security standards. We highly propose and advocate that the business model and app architecture be created in a way that ensures compliance with all government rules for smooth operations and long-term viability.
Why Choose Lilac Infotech to Create a Healthcare App?
Lilac Infotech is the brand that corporations, SMEs, enterprises, and start-ups trust and believe in, with great expertise in mobile app development. We have successfully developed hundreds of mobile apps for our clients, generating millions of dollars in revenue and attracting billions of views with strong, scalable, and aesthetically pleasing mobile apps.
Clinician, the future of efficient clinic management. With its intuitive interface, Clinician simplifies appointment scheduling, patient record management, and billing processes, empowering healthcare professionals to focus on providing top-notch care. And also, clinician software management is acquired through the use of innovative business structures, including as subscriptions and pay-per-use models

If you want to learn more about establishing a healthcare mobile app for your company, arrange a consultation with one of our mobile app specialists and take the first step towards launching an innovative healthcare mobile app for your company
---
---